How to start off a good pitch deck? First impressions are everything. When it comes to pitching investors for funding your startup, it is critical to start off well.
So, what makes a good start to a pitch deck?
How do you lead in with a strong cover slide to your pitch deck? How do you begin well with your verbal introduction when pitching investors live? How do you continue to keep up a good flow through your pitch to convert prospective investors into partners and dollars?
What else can you do to set yourself up for success before investors even see your pitch deck cover slide?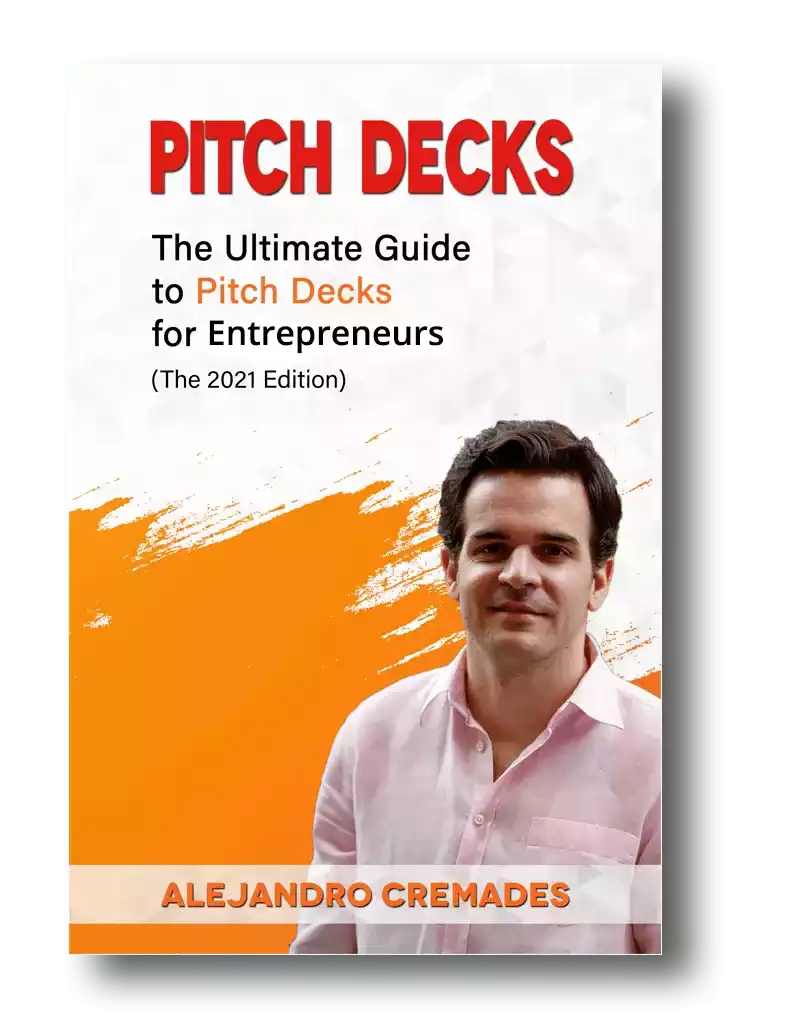 *FREE DOWNLOAD*
The Ultimate Guide To Pitch Decks
Here is the content that we will cover in this post. Let's get started.
First Impressions Matter
While your pitch deck cover slide may actually contain the least data of any of your slides, it matters.
Startup investors are bombarded with so many weak and bad pitches every day that they are already looking for a reason to dismiss yours, send it to the spam folder, and move through the next ones in their inbox.
This means that you cannot afford to turn them off with your cover slide and introduction.
In fact, it is vital to not only have a strong cover slide and be confident in your verbal introduction, but to make a great impression that grabs their attention even before you get this far.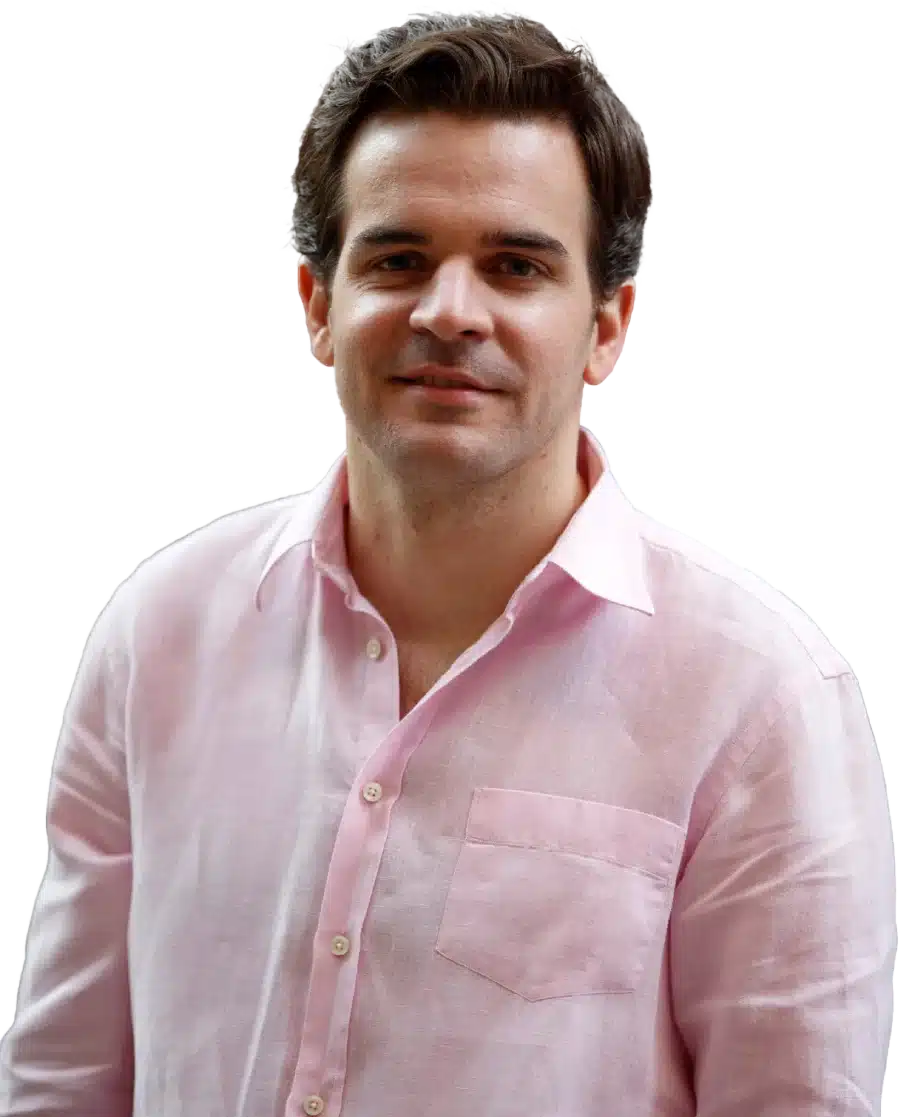 See How I Can Help You With Your Fundraising Efforts
Fundraising Process : get guidance from A to Z.
Materials : our team creates epic pitch decks and financial models
Investor Access : connect with the right investors for your business and close them
Keep in mind that in fundraising, storytelling is everything. In this regard, for a winning pitch deck to help you here, take a look at the template created by Silicon Valley legend, Peter Thiel (see it here) that I recently covered. Thiel was the first angel investor in Facebook with a $500K check that turned into more than $1 billion in cash.
Remember to unlock the pitch deck template that is being used by founders around the world to raise millions below.
Access The Pitch Deck Template
Your email address is 100% safe from spam!
Before Your Pitch Deck
Before worrying about ensuring you have crafted a winning pitch deck that covers the right data, in the right order, and is conveyed in a great way, you have to get investors to open it.
A lot of the battle for getting funded can also be won or lost even before they open your pitch deck. This is why you should know how to start off a good pitch deck. What they anticipate will make a huge difference in how they receive your deck and pitch. If they are expecting to be let down, they will look for any reason to justify that, including just having the wrong pitch deck layout and flow.
Whereas if you are able to establish that this is a great fitting investment that they don't want to miss out on in advance, they may be a little more patient in paying attention through your slides. Done well, they may make some extra allowances for you, and help you make it better, rather than just tuning you out, and sending your deck to the trash.
How you get your pitch deck to them is a huge part of this.
If you are sending a pitch email, then your subject line and the body of your email will be instrumental in setting the right expectations. And getting them to click the link to your pitch deck. Not to mention just ensuring that your email makes it through to their inbox, and is opened.
You'll want a strong cover letter or pitch email to show that your startup is fundable, is a good match for them, and motivates them to take action.
If you are sending your pitch deck through social media, then it is also wise to be sure that you've updated your social media profiles to highlight your strengths as the founder of this startup, and why they should bet on you.
You'll have a great advantage if you have already built strong personal relationships with the investors you are pitching. Or if you are at least benefiting from warm introductions and recommendations. Which transfers likability and trust.
As you lead up to your fundraising campaign, you can also benefit from showing up for investors in other places. Use press releases, content marketing, and articles to show up in the feeds they read, and position your startup to be an attractive investment even before you try sending out your pitch deck.
Then remember that even if you nail all of this, you probably still have less than three minutes of their attention. This means your pitch must be smooth, flow well and clearly, and keep up the momentum.
How To Share Your Pitch Deck
Again, it is best to share your pitch deck as a link to where it is hosted online. Do not send your pitch deck as an attachment.
This will go a long way to overcoming many of the common pitfalls and roadblocks in getting your pitch deck through and viewed in the best way.
It also gives you much more control and data on who has viewed your deck and how they've interacted with it. As well as ensuring they are always viewing the most up-to-date version of it.
Whether sending out your pitch deck in advance or pitching live in a room of startup investors, having backups is critical. Save it in the cloud, on a hard drive, and on a portable storage device. Be sure that you have multiple backup devices for presenting.
You'd be surprised at what crazy things can happen to interrupt you. From laptops crashing right before your presentation to your car getting towed with your pen drive and laptop in it.
Being able to push through with your pitch will show investors that you can anticipate and overcome whatever comes at you.
The same goes for having alternate internet connections, software, and locations to get online if you are pitching investors live online.
Otherwise, it will be that one day your neighbor accidentally cuts your internet cable, there is construction going on in the next appointment, or zoom has been hacked. So, work out how to share the presentation even before you plan how to start off a good pitch deck
How To Start Off A Good Pitch Deck & Keep It Up
Let's take a look at what makes a great intro slide for your pitch deck. As well as how to carry that strong through your other most important pitch deck slides. Plus, how to ensure you take that interest through to actually putting the money in the bank.
The Cover Slide
The cover slide is your pitch deck's first impression. More than making it look beautiful, acing this impression is about showing investors that you understand the right format and practices for pitch decks. Otherwise, they may deem it unlikely that you'll be able to sell and convert other investors in this round, and for future rounds.
Don't overdo this slide. As with the rest of your pitch deck, the guiding principle is to keep it clean and simple.
This slide should feature your name, contact information, company name, and logo. You may also include your tagline or slogan to set the tone for the pitch.
Be sure your fonts are large and match your branding. The same applies to your color and design choices.
The Pitch Deck Summary Slide
You may choose to include a pitch deck summary slide. Or put this information into your cover letter and email body.
Simply bullet point your main highlights. Especially, the major data points that investors are looking for you to hit. As well as showing that this investment is a great fit for their criteria and portfolios.
Use this slide to set great expectations, and ensure that your audience continues to pay attention and swipe through your deck to the most compelling data, and your call to action.
The Problem Slide
The problem is the foundation of your entire venture. It's the basis for an investment in your company.
Be sure that you have a strong problem, a big one, and that you can demonstrate that you understand it and your customers very well.
You can use one statement of one to three sentences, or several bullet points to explain your problem.
When you are pitching live, it is best to convey this with a story. Provide a real-world example of this problem. Ideally, one that your investors can relate to themselves. Perhaps even how you encountered it and were inspired to solve it.
The Market Size Slide
Market size is one of the main pillars of any fundable startup.
You have to have a really big market. It's the only way that the huge growth investors need is possible to achieve.
Make sure you are in tune with how large other companies are getting, how similar startups are pitching this, and what is really big now. Unicorns are now pretty small companies. Others are thinking $100B or $1T big. With even larger markets that they will just be taking a slice of.
Use a clean and large visual to show the size of this market at its largest. Then break out the share of that you think you can serve. As well as the segment you are initially focusing on to gain your foothold and traction.
Financial Forecast
Even if you are a brand-new startup, with no operating history or sales, you at least need to include a slide of forward-looking financial projections.
This slide shows investors what you are focusing on and the basic financial dynamics of your financial plan. Including your unit economics, and how yours stack up to the competition and industry benchmarks.
This is where you are painting a vision of the future, what's possible, and the potential returns for investors.
Use a simple table to convey this on this slide.
Remember, that while much of this data will change as you go, this is more of a test of your understanding and ability to focus as the business leader as it is the actual digits you include.
The Traction Slide
Use a simple graph on this slide to show the traction and growth that your startup has already been able to accomplish.
Team
As an early-stage startup, the strength of your team is about the only tangible thing that investors have to base their investment decision.
Even your vision, product, and projections come in distant seconds to that.
Use great one-line bios to show why you are the best startup team to bet on in this space.
Be sure that you've updated and strengthened your other online bios to match and add more detail for when investors look you up.
The objective behind knowing how to staff off a pitch deck well is to grab investor interest. And, the best way to do that is to know how to craft a powerful email subject line for investors. This skill can prove invaluable when you want to share the deck by emailing or sharing data using a virtual data room. If you need more information on how that's done, check out this video I have created.
How To Close A Pitch Deck Well
Knowing how to start off a good pitch deck well is vital, but it is all for nothing if you don't close your pitch deck well too.
Your closing slide should repeat your contact information so that they can flow right through to sending you a term sheet or at least setting up a follow-up investor meeting.
In your verbal pitch, use a strong call to action.
Prior to this slide, you will lay out your ask, the other investors involved, and how you will use the funds raised in this round.
Be Ready To Follow Up & Follow Through
Follow Up: Fundraising is a sales process. That means the follow-up will make or break you. Organize your follow-up in advance, and automate it as much as possible. As a part of this, in addition to having an organized CRM, be sure you are ready to easily book and manage investor meetings. Such as using Calendly, and links they can easily use to book meetings that fit their schedule.
Be ready for due diligence: Don't wait until you get term sheets to scramble and gather and polish all of your other materials. Get ahead of the game, and load your virtual data room in advance.
Learn about term sheets: Educate yourself on the fundraising process, legal agreements, and the impact on future rounds.
Lay the groundwork for your future funding rounds: Send out investor updates, and stay busy networking and building relationships.
Summary
How do you ensure that you are starting off your investor pitch and pitch deck well?
Nailing your pitch deck cover slide is certainly a big part of this. This means a clean design, including the right information, and no more than that.
However, there is a lot that founders can do to set great expectations and make good first impressions, even before investors ever see the cover slide of your pitch deck.
Then it is about carrying that winning first impression through to converting your prospects to partners and dollars in the bank. Keep this information at hand, and you'll have a great handle on how to start off a good pitch deck.
You may find interesting as well our free library of business templates. There you will find every single template you will need when building and scaling your business completely for free. See it here.
Facebook Comments