How to present the strategy on a pitch deck? In other words, what's the best way to show investors your strategy in your startup's pitch deck?
Strategy is one of the main differentiators that startups have. Not only from incumbents in the industry, but also from other startups vying for funding, and to get the best investors on board.
Having a strong strategy can make a huge difference in being able to land those vital investor meetings, and get the financial fuel your startup needs in the bank.
So, what is the best way to present your strategy in your pitch deck and other fundraising materials? Where does it belong? How do you convey it?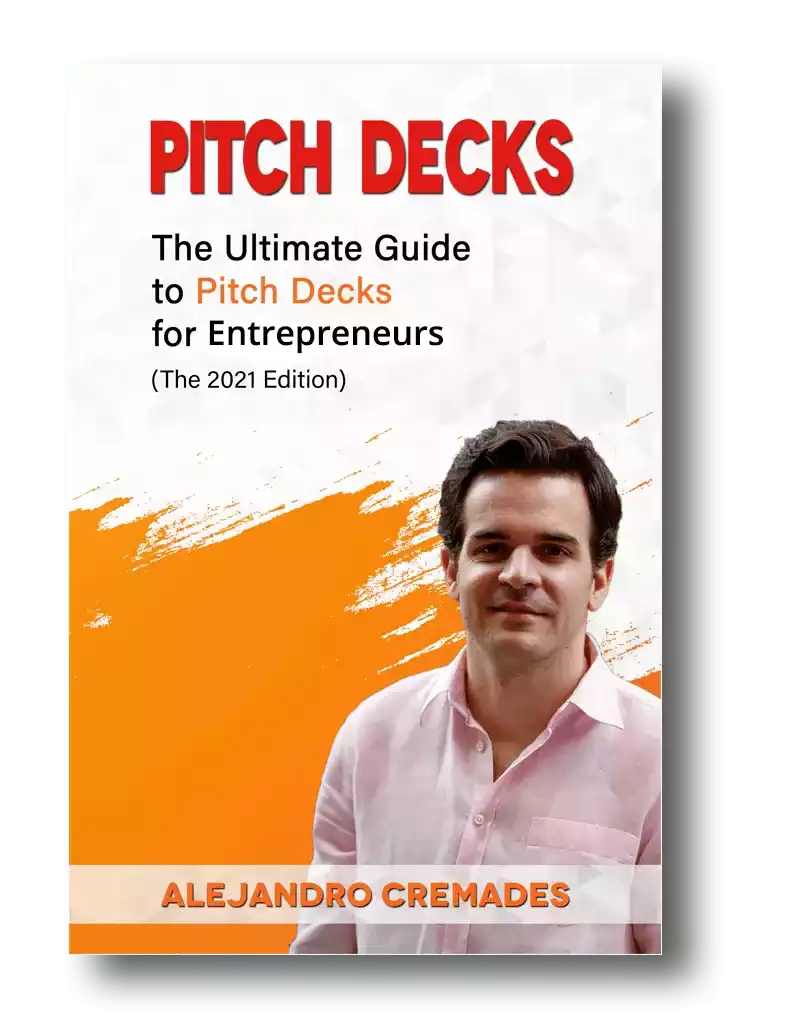 *FREE DOWNLOAD*
The Ultimate Guide To Pitch Decks
Here is the content that we will cover in this post. Let's get started.
Where To Show Your Strategy In Your Startup Pitch Deck
There isn't necessarily one pitch deck slide dedicated to your company's strategy.
Instead, there are a variety of places in your pitch deck that convey your strategy, and parts of it. As well as your supporting fundraising materials which provide a deeper dive into your strategy for breaking into the market, securing customers, and scaling your business.
Let's take a look at some of the pitch deck slides where this shows up, and how to leverage them.
The Cover Slide
The cover slide is very limited in the content it can include. Your name, contact information, and company name belong here.
However, if your strategy is woven into your tagline or slogan, then you may include this here, and set up the rest of your pitch.
The Problem Slide
The problem slide is focused on what's wrong. This is where you highlight the need for your startup and solution.
Conveying the problem well will help you weave in your strategy, and show why it is the right one.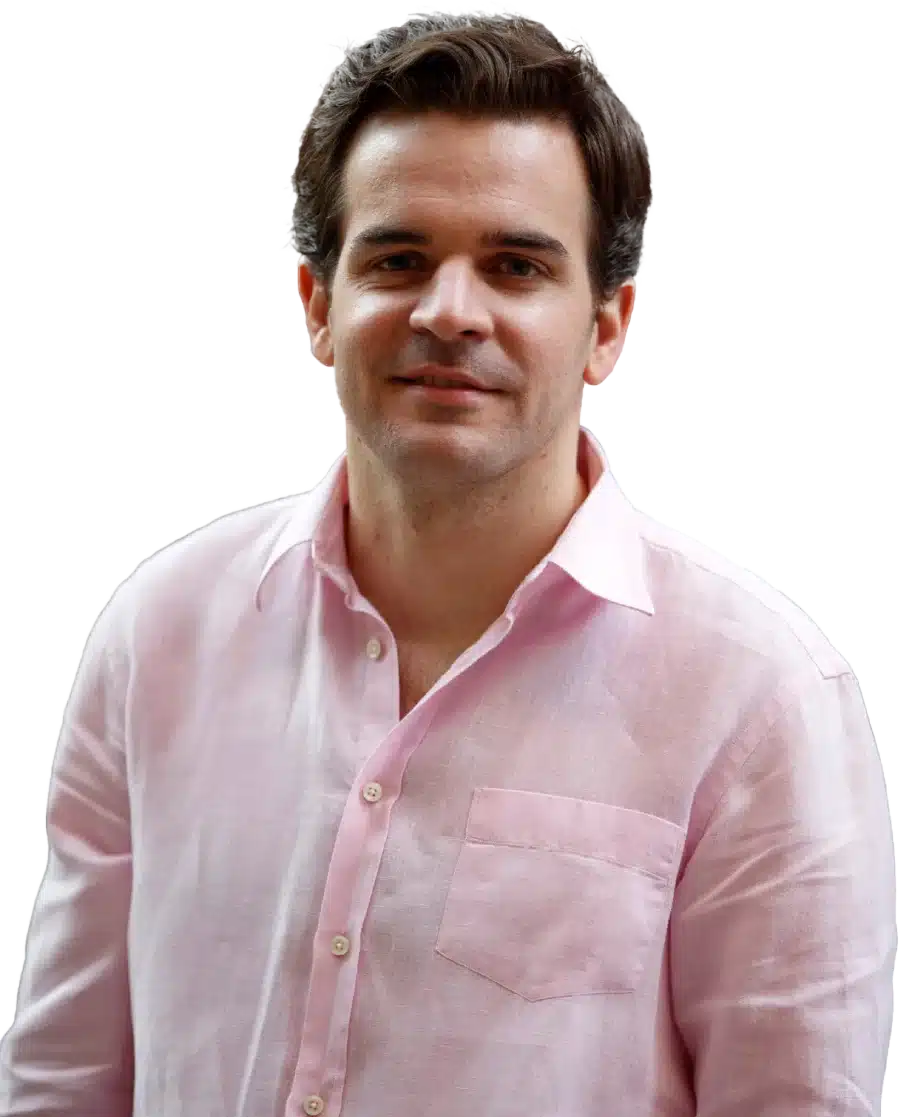 See How I Can Help You With Your Fundraising Efforts
Fundraising Process : get guidance from A to Z.
Materials : our team creates epic pitch decks and financial models
Investor Access : connect with the right investors for your business and close them
Before you continue reading how to present the strategy in the pitch deck, you may want to take the time to learn how to write a business plan. When writing the business plan, you'll determine how to run the business on a day-to-day basis. Once you have a game plan in place, you'll work out various strategies to achieve the objectives in the plan. If you're ready for more information on putting together the first step before strategizing, check out this video I have created.
The Solution Slide
This is where you show your startup's big-picture vision and strategy.
This is not about your specific product, its benefits, or your technology. It is about how you envision solving this problem.
In one short paragraph or several bullet points, you can lay out your plan for conquering the problem.
Don't go as detailed as your individual tactics. There may be room for that in your pitch deck and pitch. Though your tactics will almost inevitably change over time, while your main strategies are less likely to shift. They may as you test, iterate, and find product market fit. Though, if you've done your market research well, and really know your customers and domain, you should be pushing this strategy at least through your next milestones.
Whereas your overarching vision acts as your north star and should be big enough that it will never change.
The Product Slide
Your product slide should feature an image of your product. Preferably in use, in a real situation.
Here you may also headline what your product is. Then offer three bullet points that explain what it is, what it does, and the one main benefit you are providing.
Your image and these bullet points may also allude to your strategy. Whether that is how and where they are being used and sold, or the big value proposition you'll be using to win sales.
The Market Size Slide
Your market slide should show what market you are in. Then, using a visual graphic, break down the total size of the market, how much of it you believe is relevant to your company and product, then the initial segment of that market you will be marketing to and aiming to win.
This reveals your strategy for fitting into this industry. How you will gain a foothold, and begin going to market.
It shows your positioning, ability to focus, and provides a glimpse of your roadmap. This slide can help you present the strategy on a pitch deck.
The Competition Slide
The competition slide is about positioning your company in the minds of your audience.
This is best done using a simple visual graph. Which includes the logos of around three of your competitors. Which are then contrasted with your startup.
The competitors you choose to present on this slide matter. They should be strategically chosen for a purpose.
There may be very big, strong, brand names that are obvious players, or future players in this space. Their logos can add credibility. As well as indicating how big your company could get in the future. Which indicates the value that could be created for investors. Or it may suggest who your future acquirers may likely be.
You may also choose to include other startups as competitors. This may be especially useful if they have been big news and have started new trends, and have proven this market is a thing. As well as providing some benchmarks for investors.
If they've also raised big money, grown fast, and have attracted other notable investors, that may support how much you are hoping to raise, at the valuation you have in mind. As well as creating a fear of missing out on the success those investors have experienced.
The Competitive Advantage Slide
Here is where you show what is truly great about your startup. And how you present the strategy on a pitch deck.
Your competitive advantage is your unique or superior strength in your industry. It is also a big part of your strategy.
While pricing and operational efficiency can be advantages, so can your team, technology, and go-to-market strategy as well.
This may include your unique sales or value proposition for your customers. Or it can be how you deliver.
Whichever advantage you pick to hone in on, and own, it needs to be sustainable and defensible. Which are factors that protect investor capital, and add real value to your company, and its assets.
You can use a visual as with your competitive landscape slide. Or several bullets to present your competitive advantages in this space.
Customers & Engagement
Use this slide to show who are the customers that you are strategically targeting. As well as how you've connected with them.
Investors want to know that you have great clarity on exactly who your customers are. This not only helps them gauge whether your startup is a good match for their own investment strategy, but helps get them thinking about the additional value that they can bring to the table to help your company succeed.
You may use this slide to detail things like who your customer avatar is, as well as what type of customers they are. Are you selling to individual retail customers, B2B, or enterprise companies? Then you may have specific target parameters within those groups. Such as size by revenues.
You may also include your go-to-market strategy here. How are you reaching these customers? This is even better if you have a unique angle. Or existing contracts and sizable relationships.
Other factors you may wish to bullet point on this slide include your customer lifetime value, customer acquisition costs, and retention versus customer churn rates.
The Financial Forecast Slide
If you have already been operating and have a financial history, this shows some of what your strategy has been so far. Your financial forecasts also show your strategy as to where the money will come from.
Specifically, you may wish to show new customers and sales projections. This shows your strategy as to how you plan to create more value and traction. It may be in the form of users if your strategy is a freemium model. Your income may be split between advertisers, suppliers, and end customers if you have a platform as a business model.
You may also have annual recurring revenues, monthly recurring revenues, or one-time sales, depending on your strategy and business model. These figures will help you clearly present the strategy on a pitch deck.
Other Investors
On your amount being raised slide, you may include your other investors. Especially those that have already committed to participating in this funding round. Use their logos at the bottom of the slide.
Everyone likes to see a strong lead investor step up with confidence before they jump in.
The investors you have picked and have accepted in the past, and for this round, also relay your strategy. Hopefully, you have been selective and strategic in choosing them.
It again shows which direction you are going in. You may have secured corporate investor partners who are also customers, distributors, or potential acquirers.
Your investors may be strategically geographically chosen to help your startup expand into new markets.
Different investors may have provided various types of financing. Such as debt for financing end users, or equity for growing internal operations.
Use Of Funds Slide
Carrying on from the above, your use of funds slide shows where you will invest the money raised in this round. In turn, this alludes to your strategy of where you are going.
Are you hiring more salespeople? Acquiring other companies to take over market share in new locations? Or acquiring companies within your vertical to improve operational efficiency and profitability to further strengthen your competitive advantage, or own more of the supply chain or retail distribution.
Business Model Slide
This is perhaps the most obvious slide for presenting your strategy in a pitch deck.
You may use a graphic here. Or several bullet points in order to convey your business cycle.
Include the input (how you are sourcing the product), how you are selling and delivering it, and how that comes back to your business and investors in terms of cash flow and value.
Advisors
Your advisors are indicative of your strategy as well.
Who they are points to where you plan to take your startup and how. You may have picked investors who are accomplished in SaaS, hardware, or integrating new products into their portfolios for mass distribution through other retail outlets.
Keep in mind that in fundraising, storytelling is everything. In this regard, for a winning pitch deck to help you here, take a look at the template created by Silicon Valley legend, Peter Thiel (see it here) that I recently covered. Thiel was the first angel investor in Facebook with a $500K check that turned into more than $1 billion in cash.
Remember to unlock the pitch deck template that is being used by founders around the world to raise millions below.
Access The Pitch Deck Template
Your email address is 100% safe from spam!
Presenting Your Strategy In Your Virtual Data Room
Clearly, there is not enough room in an effective pitch deck to lay out much detail about your strategy. Use your supporting materials in your virtual data room to supply more detail on your strategy, and reasoning for it, for investors who need it.
This includes your business plan and marketing plan, which provide more of the reasoning for your strategy, and detail of how you plan to execute on it.
Use the milestones you have set for this round to show your plan for where you are going, and how the funds investors commit in this round play into your company strategy.
Investor Q&A Time
Since the space for strategy is limited in your pitch deck itself, you can anticipate investors to have questions after your pitch.
Be sure that you are prepared with the answers about what your strategy is, and why.
Instead of being defensive, use this as a chance to further demonstrate your expertise, domain knowledge, and business acumen. As well as the work you've put into research, testing, and proving why this is the way to go.
Summary
Wondering how to present the strategy on a pitch deck?
There are actually a variety of slides in your pitch deck which may provide an overview of your strategy, and indicate some of the different strategies you have for going to market, growing your company, and increasing the value of your company and investment positions ahead of your next round.
Give some thought on how to strategically position and present your strategy in your pitch deck, and back it up with your other supporting materials. Then use your strategy to stand out from the pack, increase the value of your venture, and secure your ideal investors.
You may find interesting as well our free library of business templates. There you will find every single template you will need when building and scaling your business completely for free. See it here.
Facebook Comments