Ryan Smith is the cofounder and CEO of LeafLink which is a wholesale management platform for the cannabis industry. The company has raised $300 million from top tier investors including Lerer Hippeau, Thrive Capital, Fairhaven Capital Partners, Muse Capital, Casa Verde Capital, TIA Ventures, Phyto partners, Canopy Rivers, Brand New Matter, Wisdom VC, Nosara Capital, and L2 Ventures to name a few.
In this episode you will learn:
Operating in highly regulated markets

Ryan's forecast for the cannabis market

His top advice on hiring for new entrepreneurs

Going through unexpected acquisitions
SUBSCRIBE ON:
For a winning deck, take a look at the pitch deck template created by Silicon Valley legend, Peter Thiel (see it here) that I recently covered. Thiel was the first angel investor in Facebook with a $500K check that turned into more than $1 billion in cash.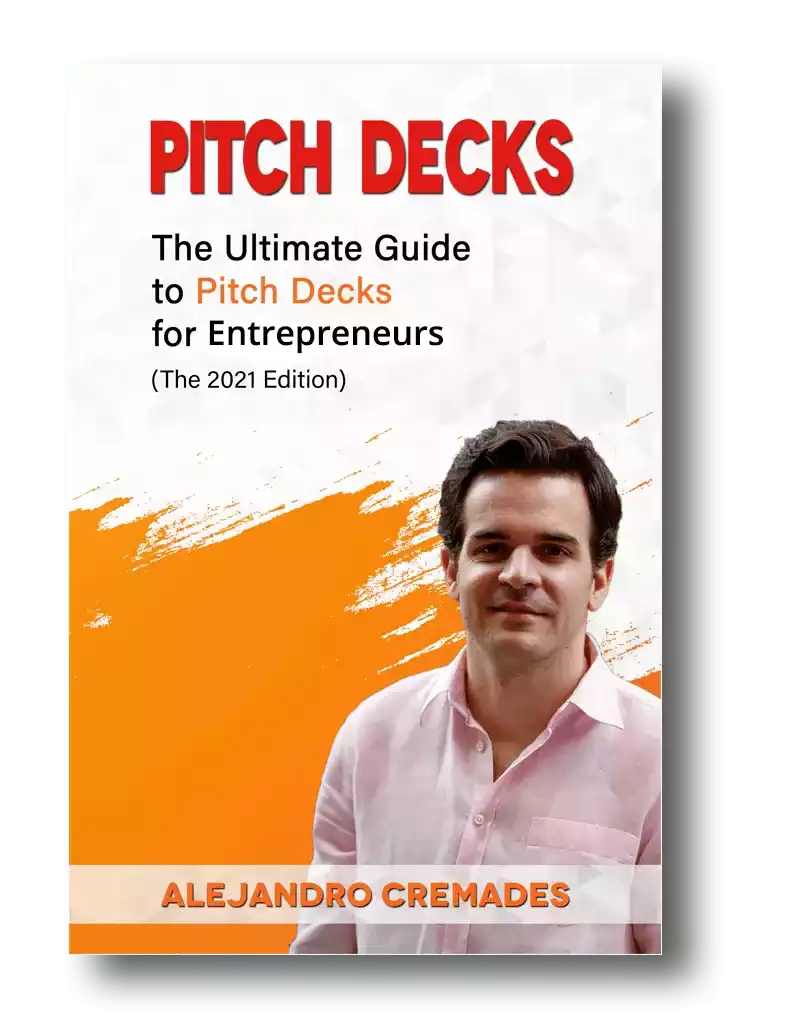 *FREE DOWNLOAD*
The Ultimate Guide To Pitch Decks
Moreover, I also provided a commentary on a pitch deck from an Uber competitor that has raised over $400 million (see it here).
Remember to unlock for free the pitch deck template that is being used by founders around the world to raise millions below.
Access The Pitch Deck Template
Your email address is 100% safe from spam!
About Ryan Smith:
Prior to co-founding LeafLink, Ryan Smith successfully started and exited two companies, one of which he sold to an NYSE public firm. Ryan Smith brings his experience creating and managing B2B firms and online marketplace investment in highly-regulated spaces to cannabis as LeafLink's Chief Executive Officer.
LeafLink, the cannabis industry's wholesale marketplace, is defining the way that thousands of cannabis brands and retailers manage and track their orders and relationships, so they can focus on growing their businesses.
Backed by leading venture capital firms and strategic investors such as Thrive Capital, Nosara Capital, and Lerer Hippeau, LeafLink has raised more than US$51 million to date, and has offices in New York City, Los Angeles, and Toronto. In 2016, Ryan Smith was the first CEO of a cannabis company to be listed on Forbes' 30 Under 30 list. In February 2018, LeafLink was the first company in the cannabis space to make Fast Company's 2018 list of Top 10 Most Innovative Companies in Enterprise.
Connect with Ryan Smith:
* * *
FULL TRANSCRIPTION OF THE INTERVIEW:
Alejandro: Alrighty. Hello everyone, and welcome to the DealMakers show. Today we have an exciting founder, operating in a very regulated space, so we're going to be talking about that quite a bit. Definitely, we'd love to welcome our guest and not make you wait any longer and hear his story. So without further ado, Ryan Smith, welcome to the show.
Ryan Smith: Hey, Alejandro. Thanks for having me.
Alejandro: You're one of a kind. You grew up in New York City. You don't meet that many New Yorkers.
Ryan Smith: I didn't meet very many people that didn't grow up in the City until later on in life, so I guess it's not that normal, but it was just the way it happened for me.
Alejandro: Absolutely. How was life growing up because you got that influence in the world of entrepreneurship very early on via your family?
Ryan Smith: It was, obviously, the defining experience and an incredible amount of exposure that I got, and my sister got being fortunate enough to grow up in the City – a different upbringing. Both of my parents are entrepreneurs, and so, at times at the dinner table, at the Smith family house, we were always talking about business challenges and things that they were working through. One of my friends said they thought when we were growing up, it was like a bunch of adults that just happened to live together, and that was a big part of our upbringing.
Alejandro: Do you think that growing up in New York City, such a vibrant city, and obviously, there's a lot of business, there's a lot of ambition, and people coming from all over the world to New York City to really make it happen, so how do you think that pushed you and that gave you the drive?
Ryan Smith: The energy for me is I just love it so much, and it's such a big part of it, I think, for how I approach challenges, how I think even our culture at LeafLink moves quickly and executes thoughtfully. I think it's a huge motivator in how we do things we do, and possibilities, and close to such amazing people all in one place. It's incredibly valuable.
Alejandro: Why did you decide to go and study international relations and philosophy?
Ryan Smith: I went to a Liberal Arts School in Upstate New York and did that. Those were two things that interested me. I grew up by the United Nations in Manhattan, so we've always had a very diverse – the different floors of the building I grew up in were different embassies. I knew three languages by the time I got to the lobby, so I was always interested in international relations. I'm also a dual citizen with Italy, so we've traveled a lot. On the philosophy side, I've always loved and been a bit of a debater and enjoy going back and forth on topics, and then getting deep there made sense. But they don't line up perfectly to my life since.
Alejandro: You always had little projects, but while you were at university, one a little bit more tangible came about. Tell us about EcoCampus.
Ryan Smith: The university that I was at had a goal that by, I think it was 2025, or maybe even 2020, to be eco or breakeven on CO2 emissions. So we created a company that allowed for an imported tree-free paper to sell to different departments at the university. It started with a friend of mine. It was a small company, very much a student-led enterprise and our dorm rooms were basically the warehouses for hundreds of reams of paper. We had an 18-wheeler pull up to the house where we lived to drop off all these pallets. It was a good experience running inventory, doing sales, bookkeeping, just basic things – nothing that would really upscale to after school, but we sold it to a few other students. It was actually sold four or five times after us. It was a great experience for young entrepreneurs to have in running a small business.
Alejandro: This was definitely the first time that somehow you were able to have that exposure and see that cycle of building, scaling, and then sell it or give it to someone else. But what did you really learn here about building and scaling something? What was your biggest takeaway?
Ryan Smith: Moving forward, moving ahead, and execution is just like the only thing that matters. There are a million mistakes that you can make, and I think sitting around and thinking about what you want to do ultimately produces nothing. There's a balancing, especially as LeakLink gets bigger, that we think a lot about on being thoughtful and strategic and the actions we take. But when you're starting something, in the first steps, the only thing that's important is getting to the next step and executing. I think that's where a lot of things break down because of insecurities that people have, or they are getting too much in their head about something. But, I think bringing things to the world in some form and moving forward to continue to grow them, that's the only thing that matters. Otherwise, we're really just talking.
Alejandro: Absolutely. It's all about doing the walking, and you definitely did because opportunity came knocking again – Trupoly. What happened?
Ryan Smith: Growing up in the City, my family is in real estate. It's a very old school industry. I was familiar with the inefficiencies that were there. I started another company that we did raise a small round for after school. It was less than ten, but it was a way for general partners to manage limited partners virtually, similar to Intralinks, or it was right around the time when crafting equity was exciting, and people were talking about democratizing investment for the Jobs Act. So I started a company that raised some money and hired a few people, and we had sign-in clients. It was a SaaS offering with a potential marketplace component down the line once we had enough clients on the SaaS side that were managing their LPs on the platform. We began signing clients up, and after that round closed, we had a meeting with one particularly large fund that was publicly-traded TIA that offered to buy us in a sales meeting, and we ended up moving forward with that deal. I can't share more there, but that the 18 months after graduation for me.
Alejandro: So this is pretty unbelievable. So you're raising money, and then all of a sudden, a meeting where you're supposed to go and raise money ends up being an acquisition. Can you tell us more about how that happened?
Ryan Smith: We were actually trying to sell them the software. It wasn't even a capital-raise meeting. We were pitching this company that had been through a ton of growth, and we were looking to bring them on to the SaaS platform. I had a 15-slide deck. I got to the third slide, and one of the founders there said, "We'll just stop. I have ten questions for you." The last one was, why would I invest in the watchmaker if I have to pay the retail price for the watch? I said, "Yeah. Maybe you should just buy the watchmaker." And he goes, [slamming hand sound on table] "That's it exactly. Send me a number by Sunday, and we'll bring your team on, and we'll build this here, and integrate the software." We came to a number that made sense, and ultimately it ended up being a fortunate outcome. So, I was about a year there and left a day after that year to move on and build LeafLink, but it was a good first experience out of school.
Alejandro: Very cool. I guess from every single journey and from every single company, there's a really major lesson. Obviously, there are many, but perhaps a major one that you know for sure that you're going to implement, once again, when you go at it again. As they say, "Once an entrepreneur, always an entrepreneur." So, you did go at it again with LeafLink, but I'm sure there was one lesson that you knew that you would absolutely implement in your next business. What was that?
Ryan Smith: The biggest thing I learned, and the reason why I would do that deal, the triple-A deal over again, was that the people you bring onto the team is everything. I don't think I had anywhere near the perspective. Not that I don't have a lot to learn, but the perspective that team brought on then was nowhere near what we would have needed longer-term to grow that business out to something significant. A lot of the cultural things that I picked up while we were at the acquiring company were just because I didn't want to be part of the story, the next chapter in our story. Getting exposure to that more traditional finance world was a clear version of a reality I didn't want to build when we were starting fresh again, and that played into LeafLink and the incredible team we built here and the growth story over the last five years. 
Alejandro: Let's talk about that process because once you've been at it a few times, then I'm sure it was interesting, that journey or that process of coming up with the idea, and then going about bringing it to life. What was that journey like?
Ryan Smith: I've always loved marketplace. Back when I was growing up in the City, my parents would say that things would go missing in the house, and "It's probably now in Ryan's PayPal account" because I had sold it on eBay or something. My co-founder, Zach, was actually at eBay right before we started LeafLink. So B2C marketplaces, there really is one for everything: furniture, shoes. But then, you think about B2B marketplaces, there just aren't very many of them, and there were not a ton of comps to look like as to what we wanted to create on a big marketplace on a new vertical. Then, in terms of the vertical, the cannabis industry five years ago was so much earlier, and we thought there could be a really exciting opportunity to define versus disrupt the supply chain, just from the very beginning, and let's go out to Colorado and see and interview whoever we can get meetings with on how they do ordering. Ultimately, those two things came together through Zach and my research to what is now LeafLink today.
Alejandro: What was the founding team? How did you go about putting together the band?
Ryan Smith: Zach and I started. We closed the first angel round and raised a million dollars at the end of 2015 December. We brought on our first hire in January, who is still with us, and she's played very many roles. We also had two engineers and a salesperson, so there were six in the group. We were all basically doing everything at the very beginning and trying to learn quickly at the same time. Fortunately, my co-founder, Zach, who is also our CTO, he's a developer and was able to iterate on the product as we were learning and getting close with the clients. But the way we built the product was – physically I think I've stayed in every Airbnb and every basement in Denver over that first 18 months because we were with our clients in person at the warehouses, at the manufacturing facilities, going on sales trips in their vehicles to understand what they had to deal with every day to grow their businesses. So, we stayed super close to clients. We still, today, see them very much as our partners. Although the platform has grown to over 7,000 companies now and we are transacting on it, it was us being physically there in person and how everything got started.
Alejandro: For the people that are listening, what ended up being the business model? How do you guys make money?
Ryan Smith: We have a few revenue lines, but the primary solution that people come to us for is our B2B marketplace. So if you're a licensed cannabis business, let's say you're a retailer and you're purchasing at a retail location, you need to purchase 30 to 50 different brands every couple of weeks to stock your shelves. Normally, you're texting and emailing, phone calling all the reps from all these different companies, and there are probably two or three new companies every week being founded in the space. Then on the sales side, there's a whole order management lifecycle to take care of that, which was being done on whiteboards, Google Sheets, and more text messages. What we built was a purchasing experience for that purchasing manager that feels very much like a Business to Consumer marketplace that we're all used to using on our own. They can then create a unified shopping cart across very many brands in a compliant way. Hit. Submit. And the orders are sent to each of those different sellers. Also, there's a backend software solution that helps them manage the lifecycle of the order, inventory, accounts, data reporting, CRM. We originally were charging a flat fee to sales-side companies to be on the platform. Since then, we've launched ads, data product, a payment solution, and we have a logistics network as well, which we can talk more about. But, ultimately, it all plays into our vision to be a B2B wholesale marketplace. We've fulfilled this triangle concept, which is liquidity, payments, and logistics. That very much is what we're all used to doing on B2C marketplace. We pick what we want; we pick how we pay; we pick how we get it. It's incredibly more challenging in the cannabis space because it's regulated, but that's where we land.
Alejandro: What was that day like when you got the first order in?
Ryan Smith: We were at work in the southern tip of Manhattan in the financial district and a suite for five people. We had a disco ball that would go off every time an order was placed, and this was in March 2016. We're doing like 80,000 orders a month, now, but back then, we were really holding hands with all the orders that were going through just to get customers and new customers comfortable with the system. The disco ball went off, and we all looked around like, "Was that you? Was that you?" There were only four or five of us in the office, and when it became clear that it just happened – someone just went on and placed an order without us holding their hand through it, everyone jumped up, and the dancing went on, and it was like, "Wow. This is a special moment. There's something here," and then we were really off to the races.
Alejandro: That's amazing. What is it like to operate in a regulated market because obviously here, you have a few things? 1) You're building something from nothing. 2) You have to build a marketplace, so you have the issues on the supply and the demand. 3) You're operating in a very regulated space now. It's very tricky, so how did you go about that?
Ryan Smith: It's incredibly challenging. Because the industry, at least at the federal level, starts at no, it then trickles down to every state, sometimes every different county having its own rules or its own version of the rules that we have to be respectful of. Our whole approach has always been really close with regulators. They are our friends. Everyone is trying to figure out this industry to be compliant, safe, and aboveboard. It's a large lift, and so, yeah, there's a lot to track. Being that it's regulated, there are more challenging things. We can't just plug in PayPal or Stripe to do payments or use FedEx or USPS to do shipping. So we have to create these things from the ground up in a totally novel way. It's challenging. It makes our business more complex than I think many other 120-person Series B companies, but that is the opportunity because to me to execute and figure these things out, and they really hypercharge each other. The payments hypercharge the logistics, and vice versa, and to the liquidity and the marketplace. So it's challenging, but it gives us the opportunity to look at other industries and say, "What works really well in pharmaceuticals, or liquor, or coffee, and what can we bring into this supply chain and virtualize and make better for our clients from day one. That's a large part of the thinking we've done on creating product.
Alejandro: You were alluding to the Series B financing cycle. In that regard, how much capital have you guys raised to date?
Ryan Smith: We've raised 50 million dollars in equity. We closed our Series B a little over a year ago with Thrive Capital. They've been great partners. That's all on the equity side. On the debt side, about two months ago, we closed a 250-million-dollar debt facility, which was one of the largest such transactions to happen in the cannabis space to date.
Alejandro: Especially when you guys started, this was a space that was not that appealing to the venture investors, so how was that? How tough was that, and how challenging was it to raise money?
Ryan Smith: Many funds, really. It can be challenging. I think it's even more challenging if you're, as they say, a plant-touching company if you're growing or selling a brand or retailer. LeafLink is a tech company. We don't touch the plant or the product, so that makes it a little bit easier for us. But, yeah, many funds have vice clauses that don't allow them even to invest in liquor. So cannabis is totally out of the question. At this point, we're used to it. We ask that question, and we're getting to know funds better. Even if they say we can't touch it, in the back of my mind, I think, "That's all right. Eventually, you will when the federal laws change down the line, and we'd love to educate you why, now, we think it's an interesting space to keep your eye on." But the partners that we've been lucky enough to work with, we were their seed round for our Series A. We raised from Lerer Hippeau, Nosara, and Thrive for those three rounds. We were their first cannabis deals, so we were very willing. I think you have to be to help educate the funds and share everything we know about the space, what we don't know, how we navigate, what can be great waters to the best of our ability at times, and we're fortunate to work with them. I think that's part of the responsibility that we have as a company, given the amount of the industry that now sits on our platform to help the whole industry mainstream and get to the next level. 
Alejandro: Talking about the next level, where do you think the cannabis space is heading as a whole?
Ryan Smith: Laws always seem to be behind what the population thinks, and there are over 30 states now that have some form of medical or recreational, with just under half of those being recreational markets. There are another five or six in the ballot in November, so we're getting close to half the states, probably in the next 12 to 18 months, which are going to be recreationally legal. I think if the federal government had moved faster earlier on, I think they could have set up a standard for how the supply chain was to operate, and then perpetuate that out across all these new markets before they went live. But now, who knows; whatever happens in November, I could see good and bad for the industry on both sides. [00:20:50] because it's just American, but now there's such a precedent in so many markets of three, four, six years of law on how to regulate this industry. I think when it does, it will eventually go legal federally. It's just in what form it happens, I think it will end up being pretty light-touch at the federal level, and they'll then take their percentage of the taxes that they need, and then defer to states that continue to apply to running something quite similar to how it looks today. But there could be interesting things that happen like cross-state transactions. Those are currently not possible. There are a few other exciting moments that might be soon to come. We live in a world where we could be a tweet away from this all changing or just an election that we're 60 days out from now, so we're staying close to follow it, but it's hard to say when these things – we've been saying for the last five years that we think it might go legal in the next 18 months, but we've been wrong a couple of times, so we're just moving quickly to pace against it.
Alejandro: Talking about events that can impact the space and perhaps your business, let's talk about COVID. How would you say that COVID has impacted the business and the industry?
Must Read: Milind Mehere On Selling His Business For $342 Million And Now Raising $85 Million To Help You Invest With The Ultra Rich
Ryan Smith: A big moment for our space. We're still federally legal, but the industry turned a corner when it was deemed essential. I think it's quite profound that we'll look back on in five years to go from an illegal space to a regulated space to an essential space, that is pretty unreal and very significant. As a result of that, on LeafLink, at least, we have hit some of our end-of-year goals on transactions through our marketplace. One of our main KPIs is our gross merchandise value, the number of the dollar value of transactions that go through the marketplace. Our stretch goal was 3 billion dollars and had an annual run rate by the end of December this year. We hit that in July. So we've seen numbers north of 40% higher than what we were even projecting. I think a lot of that is, people thought in the downdrift recession, down-economic time, or during recession, liquor sales seem to go up. Will cannabis be the same? And it seems now, yes, it is, and we have the data to prove it, which is interesting because these are all things that the industry is encountering for the first time, but the resilience of the space, and how quickly it's grown, and all the new markets that are seeming to pop up, we're really excited about.
Alejandro: I'm sure that it has tested your growth capabilities. From a growth perspective and achieving those numbers that you are alluding to, it's an amazing rapid growth. How are you able to accommodate that, or what's the mindset to tackle a situation like this?
Ryan Smith: The hardest part of COVID and the growth we've been through is the work-from-home challenge, like going from one day we're all together to the next, we're all remote. That's not unique. I think there are so many companies that are navigating that right now. On the product itself, there weren't very many new states that opened up in 2020. A lot opened up in 2019. I think a huge amount are going to come online in 2021. For us, it was more about further deepening engagement in markets where we were already alive. In terms of on the technological side, we're always upgrading the platform and adding new features and solutions. But because we're operating in the cloud, we can scale quickly with the needs of additional transactions and traffic. I think it's more just keeping the team aligned as we've almost doubled in size in the last year, and now, going virtual where there are more challenges to navigate, just given the world we're all currently in.
Alejandro: Let's say you go to sleep tonight, Ryan, and you wake up in a world five years later – a tremendous snooze – and you wake up in a world where the vision of LeafLink is fully realized. What does that world look like?
Ryan Smith: It would be in line with our goal of creating the comp that we couldn't find originally on a B2B marketplace that really powers the supply chain. Part of our dream is that in five years, we would love for other industries that are more traditional that it's going to be hard to change the behavior of how supply chains operate. Instead of looking at the cannabis space as the wild west and rapidly changing and growing, we're looked at as one of the most virtualized tech-first supply chains that has come of age and that these industries then want to emulate. So, "Let's learn from the cannabis industry. Let's become more like what has been created here on this virtualized supply chain," which, of course, then sits on LeafLink's technology and marketplace as the foundation for that to be possible.
Alejandro: Very cool. One of the questions that I typically ask the guests that come on the show is, if you had that chance – now, you're on your third company, a remarkable entrepreneurial journey that you've had so far, Ryan.
Ryan Smith: Thanks.
Alejandro: If you had that moment to have that ear of that younger Ryan that was thinking about launching that first business, and you were able to give one piece of advice before launching a business, what would you say to that younger self and why, knowing what you know now?
Ryan Smith: Finding the right partners is probably something that I've been very focused on learning the last few years, but up until probably three or four years ago, everything that I was doing was myself doing them. I had help from others, of course, but I wasn't bringing people that necessarily were at the totally next level of specialization, experience, which we're very much doing now at LeafLink, and I didn't know the importance of that. That probably would have been my advice to keep doing what you're doing. Bring more people into the fold, and find reputable people to depend on and build with. I'm still learning that now, but that could have been helpful to know earlier.
Alejandro: Amazing. Ryan, for the folks that are listening, what is the best way for them to reach out and say hi?
Ryan Smith: The best way to reach us is through our website, www.leaflink.com. I'm also at [email protected], so feel free to reach out there. If you're in the cannabis space, I'd be happy to show you what we're building. If you're not already on the platform, and you're learning more about the industry, we'd love to be that resource to you as well.
Alejandro: Amazing. Well, Ryan, thank you so much for being on the DealMakers show today.
Ryan Smith: Thanks, Alejandro.
* * *
If you like the show, make sure that you hit that subscribe button. If you can leave a review as well, that would be fantastic. And if you got any value either from this episode or from the show itself, share it with a friend. Perhaps they will also appreciate it. Also, remember, if you need any help, whether it is with your fundraising efforts or with selling your business, you can reach me at [email protected].
Podcast: Play in new window | Download
Subscribe: Google Podcasts | Spotify | Stitcher | TuneIn | RSS | More
Facebook Comments