Pierre-Francois Thaler is the co-founder and co-CEO of Ecovadis which offers a collaborative platform that allows companies to assess the environmental and social performance of their suppliers. The company has raised over $200 million from top tier investors such as Partech, CVC Capital Partners, and Zobito to name a few.
In this episode you will learn:
Using an MBA to launch a business 

Bouncing back from failure

Ways to partner up with cofounders

The importance of supply chains

How to manage different offices around the world
SUBSCRIBE ON:
For a winning deck, take a look at the pitch deck template created by Silicon Valley legend, Peter Thiel (see it here) that I recently covered. Thiel was the first angel investor in Facebook with a $500K check that turned into more than $1 billion in cash.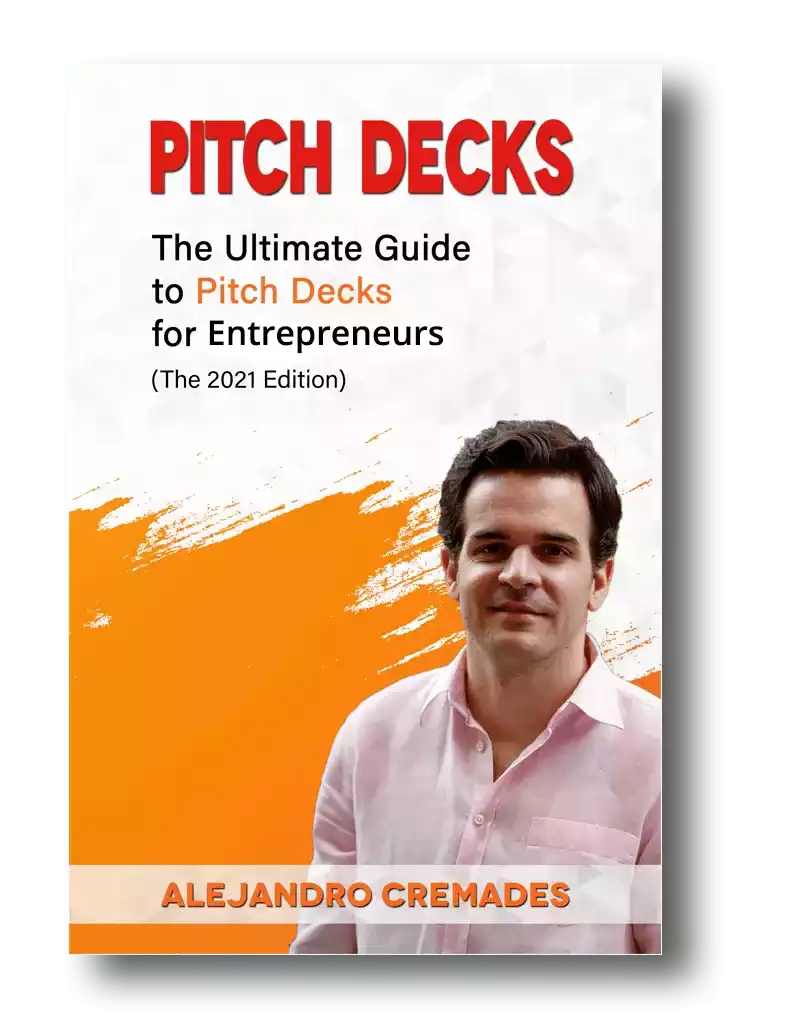 *FREE DOWNLOAD*
The Ultimate Guide To Pitch Decks
Moreover, I also provided a commentary on a pitch deck from an Uber competitor that has raised over $400 million (see it here). Remember to unlock for free the pitch deck template that is being used by founders around the world to raise millions below.
Access The Pitch Deck Template
Your email address is 100% safe from spam!
About Pierre-Francois Thaler:
Pierre-François Thaler brings 15 years' experience in Procurement and business development of innovative solutions for Procurement organizations.
He was previously CEO of B2Build SA the 1st B2B marketplace for the European construction industry.
Prior to joining EcoVadis, he was a director of Ariba Procurement BPO business. He's a frequent lecturer on Sustainable Procurement and the author of multiple studies in this area. Pierre-François is an electrical engineer by trade, holding a Master of Science from Supélec and a MBA from INSEAD.
Connect with Pierre-Francois Thaler:
* * *
FULL TRANSCRIPTION OF THE INTERVIEW:
Alejandro: Alrighty. Hello everyone, and welcome to the DealMakers show. Today we have an exciting founder from France. I think that we're going to have the battle of accents here, the French accent and the Spanglish going on, but we're going to be learning quite a bit on building, scaling, doing the full cycle, you name it. Without further ado, Pierre-Francois Thaler, welcome to the show.
Pierre-Francois Thaler: Hi, Alejandro. Glad to be with you live from Paris today, as you can hear.Alejandro: So originally from France. How was life growing up in France, Pierre?
Pierre-Francois Thaler: It was good. I was born in France. I lived in Asia for a while. I was lucky to live in New York, also, for a couple of years. I came back to France a few years ago, but I was born in France, and I'm quite French, as you can hear.
Alejandro: Very cool. I do hear. Let me ask you this, Pierre. How did you get into mathematics and also engineering?
Pierre-Francois Thaler: I got into engineering because I was good in math, I think. Actually, I've not been doing much engineering in my life. I've been more in sales and marketing and entrepreneurship. I'm a born engineer, but I've not been doing engineering since.
Alejandro: Obviously, you did a bit of project management right after school, where you did electrical and electronics engineering. The project management was probably your segue to INSEAD, which opened your mind more about the business side of things. Is that right?
Pierre-Francois Thaler: Yes. INSEAD was a great opportunity to combine my engineering background with project management skills, and it was also a great opportunity to meet the first co-founders for the first company that I started right out of INSEAD with a bunch of colleagues from my class. That was in 2000 when we started the first company and created an online marketplace for building materials.
Alejandro: You guys chose the right time, the dot-com bust, just to start a company. What happened with B2Build? Tell us about the idea, how you brought it to life, and the journey.
Pierre-Francois Thaler: In B2Build, the timing was great. The idea was to bring the construction industry online and help bring buyers and sellers for building materials. We were off to a great start. We raised, I think, 15 million dollars of funding right out of school. We built it very fast. We made all the mistakes you can imagine. We started in five countries the first month and ended up closing the company after two years. The market was challenging. The industry was challenging. We were quite new to entrepreneurship, and we made lots of mistakes, but it was a great learning experience, and one of the advantages that we tried to do it in a completely different way at [0:04:44], and it worked a bit better.
Alejandro: Every challenging experience in our lives has a lesson for us to learn. What was the lesson there for you to learn with this first business?
Pierre-Francois Thaler: A couple of lessons. First, it's not because you have five founders or six founders with incredibly great pedigrees and different nationalities and great economic backgrounds that you have entrepreneurs. It's a bit different being an entrepreneur. I think the right co-founders are very important. You want to be conscious, and you want to control the technology. We licensed all the technology from big brands like SAP and [0:05:36] that in the end, we are not in control of this very important piece. And maybe don't go too fast. Those were the crazy and difficult days, but we have in Germany, UK, and France the first month. Not a great recipe for success.
Alejandro: Obviously, as they say, "Once an entrepreneur, always an entrepreneur." But it took you a little bit to bounce back. It took you some years. You did a little bit of corporate, too. What did you do until you went at it again?
Pierre-Francois Thaler: I went back to purchasing and sustainability at INSEAD. I worked for a large corporation and then joined what is now Ariba, and that was quite exciting. It was building a new platform and an innovative company. That was very interesting. I did this for four or five years until the opportunity to start a company arose. In 2007, I left Ariba to start EcoVadis.
Alejandro: What was that process because you had your first experience, so you had your wounds from that first experience. I'm sure this time around you probably wanted to be super sure that this was the right move for you. How did that come about, and how did the idea come to you, and how did you take it and execute it?
Pierre-Francois Thaler: It was a couple of things. First, even though I was working in an innovative company selling sustainability and product technology, after a while, I felt it was not having the right sense of purpose for me, and I started to think about what sustainability and such a responsibility could mean in the proper context, and what we were selling at Ariba, which was about invoices, purchase orders, and process settings, etc. I wanted to do something with a bit more purpose. The other trigger was meeting Frederick, my co-founder, who was an old friend from Asia. We met in Indonesia 20 years before. He was a serial entrepreneur. He had started four or five companies before, and he was looking for a new idea. We got together and conversed on this idea of using SaaS and Cloud technology to try to solve a big challenge, which was sustainability [0:08:27]. It's those two things. It's a desire to do something with more purpose and the opportunity in meeting the right person to do it. We were both eager to start something new, and that's how we started.
Alejandro: Very cool. What ended up being the business model. How do you guys make money?
Pierre-Francois Thaler: We first were very naïve in the business model. So what EcoVadis is doing first is, we're operating a cloud platform allowing large corporations, large global and internationals to access writings on [0:09:14] social ethical [0:09:15] worldwide. We're an online writing agency for superiors. We help brands reduce reputational risk and make sure that they work with superiors who are who have already seen that type of footprint [0:09:30]. That's the goal. From a business model perspective, we initially felt that we could get this software and build this platform [0:09:45] by the big brands because reading the sustainability report, we thought they would invest millions of dollars in this. We quickly found that they were kind of ceiling. The budget for sustainability were much more metered — the initial method which was paying on the best superior position who are buying credits. If you want to assess [0:10:12], it was twice the cost as 500 and so on. We eventually changed, and we thought that it was much better to create a network where we would bring value not only to the big brands but also so the companies we were writing. After two or three years, we pivoted to move to an online subscription model for everyone where you have a subscription full of buyers but also a subscription for the suppliers to share their writings with different customers. That's the two-sided model we still have today.
Alejandro: In your case, the way that you diversified roles, it's a little bit more unique. Why did you guys decide to go with a co-CEO structure?
Pierre-Francois Thaler: A couple of reasons. I think the first one is we were equal partners. We were like 50/50 in the venture. We didn't want to create any form of imbalance. One, I think a different senior role than the other. I think this was a real strength because, over the past 12 years, what you see is a different stage in a different part of the company. Of course, sometimes, one is bringing a bit more value during the first couple of months, and then the other one, but making sure we were in the balance. That was very important to strengthen the team and us as a management team. It was 1) about having equal roles. The thing is we split the responsibility in a simple way. Fred is taking care of all operations, product, finance, and I'm taking care of all customer-facing. We split the role. This model is a bit original, but it worked quite well. We actually rotate every year, CEO. 
Alejandro: How has it been executing a startup in France. You mentioned that you'd been here in New York as well, so you how the environment in the U.S. is a bit more friendly toward early-stage companies. How has it been for you guys being in France, and how have you seen the ecosystem there changing?
Pierre-Francois Thaler: Actually, when we started in 2007, the French system is quite favorable for startups in the sense you have accessed lots of super subsidies. You have a number of schemes, which makes it easier for tiny companies. It's not as difficult to do business for tiny companies in France as one would think. What is often missing in France is access to capital. It's true that the funding rounds you can get in France are probably lower than the ones you can get in the U.S., but it was a great opportunity for us because we decided to bootstrap the company. We almost didn't raise any capital for the first nine years. Our Series A was three years ago when we raised 30 million euros with Partech. He told us to keep the equity, and that has continued the capital, having less success to capital [0:14:14]. We only raised money when we are a mature, profitable company, and we skipped all the seed-venture capital round. We went straight into growth capital round, and that is, of course, different from the equity story.
Alejandro: You guys have raised quite a bit. How much capital have you guys raised to date?
Pierre-Francois Thaler: With the first round with Partech, we just closed a new investment round with CVC a month ago of 200 million dollars.
Read More: Nick Huzar On Raising $380 Million To Build A Marketplace App That Is Used By 44 Million People
Alejandro: Wow. How does it differentiate from raising money from the traditional venture firm like Partech from, let's say, closing a round with a VC that is more like the corporate venture arm of a large corporate strategic?
Pierre-Francois Thaler: CVC, it's not the corporate venture arm. It's the growth equity arm of a private equity firm. Private equity is now moving into growth equity.
Alejandro: Okay. Got it.
Pierre-Francois Thaler: What is different is first, they sign the checks. They are not interested in investments less than roughly 100 to 200. They want to invest in companies that already have global leadership role even though it's in a specific niche. In our case, the niche is sustainable [0:15:52], and in the past ten years, we've created leadership role, so we admitted competition now in our space. It's not always possible. In our case, it was possible because the market doubled-up quite slowly and we didn't need the capital to fund actual growth, so we were a go-to product company to the stage where we were going to do this in a much better way with the private equity as skipping the seed and venture rounds.
Alejandro: You've been able to grow the company nicely. How many employees do you guys have now?
Pierre-Francois Thaler: We have 650 now. It's a very global team because we have officers in 13 countries from San Francisco, New York, Europe, Hong Kong, Melbourne, etc. We have global coverage, which is very exciting from a diversity and internal team spirit, of course. It's also needed because what we provide is a solution for global mid nationals, for Fortune 500 companies to manage risk in [0:17:18]. They want a solution to the whole [0:17:21] both in Brazil and China and Russia. Either we're global, or it does not make sense at all.
Alejandro: Also, for you, it has been a learning experience when it comes to culture because it's not just the culture of the business, but every single office also has its own culture. Tell us about that.
Pierre-Francois Thaler: Of course, it's very challenging as a fast-growing company to maintain the culture in an environment which is global, so one of the ways we address this is, one thing we say which is let's imagine that EcoVadis is one company on different floors in a big building, and every city office is on a different floor. It's just the stairways are broken. But we are one global company in different locations. From an organizational perspective, we don't have original ads or country ads, it's only international teams, so our marketing is based in Washington. Our team is spread globally. We do a lot of communication, which is quite the flavor of the month at the moment. We started doing this years ago. I think what's helping is all the EcoVadians have a real passion for the topic we're working on, which is sustainability and driving large-scale impact in sustainability using the leverage of the suspension of the large corporates, so it's the glue that's holding everything together.
Alejandro: In your space, where do you think that your space is heading as a whole?
Pierre-Francois Thaler: Market, we're still at the very beginning. In a way, we are just scratching the surface. We have 50,000 customers today, so all the rated companies, all the suppliers have customers because they subscribe to our platform, and we have 50,000 of them. But we think that you have at least 4 million companies which are direct suppliers for the larger brands. We are on the [0:20:09] now to progress on the edge and cover on those 4 million companies. From a cover-edge, we still have 20 picks growth potential, and the other access is we're also looking at bringing new solutions to those companies. We're working on [0:20:36] at the moment, so bringing in new modules and new tools because [0:20:40] such an important issue for all customers, the planet, and society. We're doubling-up a new module on this topic the same way we've done on that privacy a couple of years ago with a module called [0:20:56].
Alejandro: Very cool. Obviously, in your case, this is not your first rodeo. You've done this now a couple of times. There's one question that I typically ask the guests that come on the show, and that is that if you had the opportunity to go back and have a chat with your younger self, with that younger Pierre that perhaps was thinking about INSEAD and thinking about launching a business and give your younger self one piece of advice before launching a business, knowing what you know now, what would you tell yourself and why?
Pierre-Francois Thaler: I would tell myself two things. First, it is such a great experience to be an entrepreneur, and I've seen so many MBA thinking about it and building business plans and not doing it. Then after 10 or 20 years, telling me they have so many regrets. The second thing I would tell myself to be very careful and pay attention to the co-founder or who you partner with. I think the number one fellow I see in many entrepreneur ventures is the association not working the right way, so making sure that the partner or your co-founder is aligned on the same values, that you have the same type of risk capital. If you sold this, you will find a way to succeed. You will find a way to find the right market. Pay a lot of attention to who you partner with.
Alejandro: That's amazing. I truly can get behind that. For the folks that are listening, Pierre, what is the best way for them to reach out and say hi?
Pierre-Francois Thaler: We have a live annual event, which was supposed to be a physical conference in Paris with 1,000 people, but are making it a live virtual event next Thursday, with 50 amazing speakers, and I will be there. You're all welcome to register, and you will hear much more. I'm looking forward to meeting you in our virtual event next Thursday on https://www.ecovadis.com/.
Alejandro: Amazing. Thank you so much, Pierre, for being on the DealMakers show today.
Pierre-Francois Thaler: Thanks a lot, Alejandro. It's been a pleasure talking to you. Have a good day.
* * *
If you like the show, make sure that you hit that subscribe button. If you can leave a review as well, that would be fantastic. And if you got any value either from this episode or from the show itself, share it with a friend. Perhaps they will also appreciate it. Also, remember, if you need any help, whether it is with your fundraising efforts or with selling your business, you can reach me at [email protected].
Podcast: Play in new window | Download
Subscribe: Google Podcasts | Spotify | Stitcher | TuneIn | RSS | More
Facebook Comments