Oisin Hanrahan is the cofounder of Handy which is an app through which users can book cleaners, plumbers, handymen, and other household service providers. The company raised over $100 million from investors like General Catalyst, Highland Capital Partners, Slow Ventures, Box Group, Revolution, and Fidelity to name a few. Handy was recently acquired by ANGI Homeservices. 
In this episode you will learn:
How Oisin got in trouble for drawing crowds of customers to HBS' innovation lab

How Handy's board helped them navigate the exit and acquisition

How to make 1+1 =3 when selling your company

How pitching acquirers is different than pitching VCs

The one flashcard you need to carry around to launch a successful startup
SUBSCRIBE ON:
For a winning deck, take a look at the pitch deck template created by Silicon Valley legend, Peter Thiel (see it here) that I recently covered. Thiel was the first angel investor in Facebook with a $500K check that turned into more than $1 billion in cash.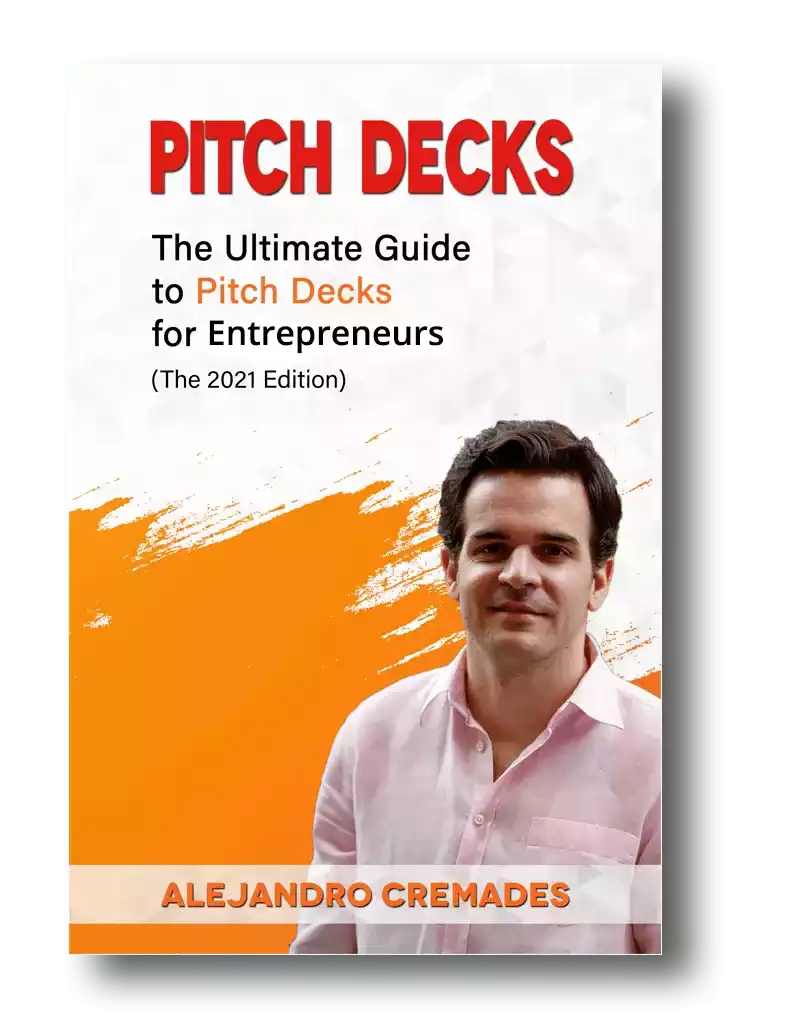 *FREE DOWNLOAD*
The Ultimate Guide To Pitch Decks
Moreover, I also provided a commentary on a pitch deck from an Uber competitor that has raised over $400 million (
see it here
).
Remember to unlock for free the pitch deck template that is being used by founders around the world to raise millions below.
Access The Pitch Deck Template
Your email address is 100% safe from spam!
About Oisin Hanrahan:
As Chief Product Officer of ANGI Homeservices, the world's largest digital home services marketplace, and CEO of Handy Technologies, Oisin Hanrahan is transforming the way that home services are delivered.
In these roles, Oisin Hanrahan leads product innovation for ANGI Homeservices, whose U.S. and international brands, including HomeAdvisor, Angie's List, Handy, and Fixd Repair, are leaders in the $400 billion home services market.
Oisin Hanrahan is an accomplished entrepreneur who founded Handy Technologies at Harvard Business School in 2012, successfully building it into a market leader in on-demand home services while securing nationwide services partnerships with the world's top retailers, including Walmart, Crate & Barrel and Wayfair.
Oisin Hanrahan joined ANGI Homeservices in October of 2018, when Handy was acquired by the company. As a serial entrepreneur, Oisin Hanrahan previously started a political technology platform in Dublin and a real estate development business in Budapest.
Oisin Hanrahan also co-founded The Undergraduate Awards, a foundation that supports and celebrates outstanding undergraduate students globally.
Oisin Hanrahan has advised the U.S. Department of Commerce, and taken an active stance on a number of political issues around labor and technology.
Oisin Hanrahan also advises and invests in startups, particularly in New York City. He studied at Trinity College Dublin, London School of Economics and Harvard Business School.
Connect with Oisin Hanrahan:
* * *
FULL TRANSCRIPTION OF THE INTERVIEW:
Alejandro: Alrighty. Hello everyone, and welcome to the DealMakers show. Today we have a founder that has done the full cycle, building, financing, scaling, exiting, and a little bit of everything. So without further ado, Oisin Hanrahan, welcome to the show today.
Oisin Hanrahan: Great to be here. Thanks for having me.
Alejandro: Originally from Dublin, Ireland. How was life there?
Oisin Hanrahan: That's right. My life in Dublin was good. That was many moons ago. I grew up in Dublin in Ireland, just outside the city. I'm sure Ireland has changed a lot over the last ten years, it must have been since I lived there.
Alejandro: What got you into economics? Why did you go and study economics?
Oisin Hanrahan: I studied economics and business in Trinity, in Dublin in 2002/'03 through '06. I was always interested in business. I was interested in how markets work. I didn't know exactly what I wanted to do. I knew I wanted to start a business and grow something and build something. Looking back, I was very fortunate. Economics gives you a really strong grounding in a lot more than just the math of business. It gives you a strong backgrounding in behavior. I think what really struck me was around behavior economics and how people think, how they approach challenges, how they approach markets, and how it drives interactions. If I was going back now, I would pair economics up with something a bit more technical. I think the opportunity to study something more technical now is something I'd probably lean to. I'm happy I studied economics and business.
Alejandro: Why Budapest after studying economics?
Oisin Hanrahan: Hungary had just joined the European Union back then, and there were a bunch of eastern-block countries that had joined. I was looking to make a real estate investment. I went to Budapest, Prague, Warsaw, Bracha, and Bucharest, and I picked Budapest. I thought it was a great market. I thought it was an interesting city. I thought there was a lot of opportunity at the time to really build a real estate business and build something that wasn't just about making money. It was about building apartments that both helped the community, helped our investors, and helped the local economy. The idea we had at the time was to not just build new apartments but to take old buildings and increase the density. So we'd go to old apartment buildings in Budapest, and we'd renovate the building and increase the density by building new penthouses on the roof space. It was a unique model that both made the streetscape better, increased the density, improved a local building, and also, obviously, provided an economic return. So it was a really interesting model back in 2006 through '07, '08, or '09.
Alejandro: Whatever happened with this business?
Oisin Hanrahan: We completed a number of real estate projects. We ended up buying, renovating, and building apartments and building buildings. Then in 2009, I sold the remaining projects that we had, and I moved back to Dublin.
Alejandro: Why did you choose Dublin?
Oisin Hanrahan: Well, I'm originally from Dublin, so I moved back, and I was working on a couple of things. I was working on a non-profit book to education called the Undergraduate Awards, which is not one of the world's largest Undergrad Awards programs. It brings together thousands of people every year apply to have their work recognized as the best undergraduate work globally, and we bring them together in Dublin once a year. I also started a small business focused on political technology. We aggregated data and our candidates in elections and syndicated the data to news. After about nine months, my co-founder and I figured we couldn't scale it, so we sold it. [Audio difficulty 0:05:41]. Then I moved to London, and I spent a little bit of time studying at the London School of Economics. I spent a bit of time with Accel there. When I was there, one of the portfolio companies was Halo, which was a very early Google competitor. That was one of the sparks for starting Handy. It was this idea that you could change how people were buying services. I don't know if you remember Halo or any of the competitors back in 2010 or 2011. It was an unbelievable experience. You'd take out your phone or your iPhone 3G or 3GS and press the little button, and a black London taxi would show up. You'd get in, and it would bring you somewhere, and you wouldn't have to argue with the driver about cash or credit card. Back then, it was amazing. Now, when it happens, and it takes longer than five minutes, you're disappointed and frustrated. It's just a line of how much consumer behaviors have changed over the last ten years when you think about how drastic the shift to mobile commerce has been, and not just mobile commerce in the sense of buying goods, but the purchase of services on mobile is just unbelievable. Everything from transport to food to travel to pretty much everything has now shifted to this world where you're touching a button on your phone and expecting the world around you to move then. That was one of the geneses for starting Handy. It was this gap in the market for home services and local services where you just don't have a way to buy those services at the touch of a button.
Alejandro: In this case, for example, working at Accel, I'm sure that gave you a really nice flavor at looking at a project from a 30,000-foot view and understanding the dynamics, the strategy. Perhaps, even though it was just 11 months, at least you were able to see some of the patterns or at least learn from those that had that pattern recognition. Accel is such an incredible top-tier VC firm. What do you think you got out of that experience that you took with you, and perhaps you knew that you were going to implement down the line as a founder?
Oisin Hanrahan: I think what you learn from spending time looking at things from an investment perspective is, you learn how investors think about opportunities. You learn the fact that different investors think about things in different ways. Some think about it from a peoples-first perspective. Some think about product first. Some think about market first. But all of them are considering all of those things. The idea of what's the total addressable market? Why is this unique? Why are they special and do this in approaching this problem or dealing with this opportunity? Then, of course, it's that perspective of knowing that those three things were so important, definitely made it easier to tell the story. It made it easier to understand exactly the different lens that investors would come to a fundraising decision. The other key thing was, it brought me some of my first investors. Some of the folks that I worked with at Accel joined Highland Capital and went to General Catalyst, and those folks were some of our first seed round investors and pre-seed investors, actually.
Alejandro: Very nice. And actually, Handy started out in Boston, but then you moved the company to New York. Why did you do that?
Oisin Hanrahan: Yes, I started in Boston. I did one year of business school. In the summer between the first and second years of business school, my co-founder and I started working on Handy. We were starting with this idea that it would be incredible if you could press a button and book a cleaner or book a handyman. We started in Boston. We actually started two markets in relatively short order. We started the Boston market, and then very shortly thereafter, we opened up in New York. I think what drew us in was the speed of growth that we saw in New York, which was far in excess of what we were seeing in Boston. I think companies have decisions to make on where they're going to locate themselves. There's no absolute right or absolute wrong. It's a tradeoff that you're making to decide who you want to be located near. So if you're building a biotech business, you probably need to be near biotech talent. If you're an incredibly capital-intensive business, you probably want to be as located as close as possible to financial markets or financial capital. If you're a heavy-regulated business, you may want to locate next to some of the lobbyists or some of the government agencies. I think, for us, we made a decision to say, "Our most important market is New York. We want to be as close as possible to our customers to start with." That advantage or that positioning helped us grow the business early on because we were so close to what still is one of the most important markets for Handy. It embedded us in that market. It made it easier for us to figure out what our go to market strategy was, what our customers were using Handy for. We could interview them, talk to them, get close to them. We understood the business a lot better by being closer to our customers. That was a function of being in New York. The other thing is — my now wife — when I had moved to Boston, she had moved to New York, so we were both in London before. Moving down to New York also brought me closer to her, so that was a positive as well.
Alejandro: That's a very good reason for sure. Happy wife, happy life. Absolutely. How did you go about building the founding team?
Oisin Hanrahan: The founding team, my co-founder and I were in business school at the same time, and we were sharing an apartment, so there were three of us sharing an apartment. It was myself, my co-founder, and a third guy. I'm a relatively clean and tidy person. My co-founder is a little messy. The third guy was one of the messiest people in the entire world. 
Alejandro: That's funny.
Oisin Hanrahan: He was not part of the founding team. It was just my co-founder and I. Then we had a couple of other people join early on who were more technical, who joined us as well to make Handy start. It was called Handy Book at the time, actually.
Alejandro: Obviously, when you're building a marketplace like this, is definitely not an easy task, so how did you guys go about building the supply and demand?
Oisin Hanrahan: Yeah. I think with any marketplace, with any two-sided business, it's really important to have one side of the market that is just all in and really needs the product. In a dream world, you have two sides of the market that are all in and really need the product. I think what we found at Handy was that our pros, in the beginning, needed the product to find work. If you think back to when the business was founded in 2012, the big difference between then and now is that the unemployment rate was very different. People needed work a lot more then than they do now. That meant that we could put up an ad saying, Cleaners or Handymen Wanted, and we would get hundreds if not thousands of applicants. An early story around that was, we put up an ad online saying, Cleaners Wanted, and we probably got 400 to 500 applicants within 24 hours. We messaged some of them in a detailed form, and a couple of hundreds did. Then we said, "Why don't we message them and ask them to come for an interview, and we'll do a group interview." We sent a couple of hundred messages inviting people to come for an interview on Saturday morning. We used one of the innovation spaces at HBS. It's one of those very nice innovation labs that I think a lot of universities and institutions now have. We said, "Show up at 9:00," expecting that maybe 5, 10, or 20 of the people would show up. As we're walking across the parking lot towards this innovation lab, I notice a crowd outside. I'm thinking to myself, "I wonder what that crowd is." As I get closer, I realize that we have caused this crowd, and 120-odd people have shown up on a Saturday morning at the business school for an interview. Obviously, we subsequently got in trouble with the school for doing this, but it was an interesting insight into the fact that our pros were really all in very quickly. They needed work. They wanted access to jobs in a flexible way and access to customers. That unlocked so much potential for us because when we went to advertise to customers, customers were interested. They were like, "Yeah, this is interesting. Yeah. Great." But they weren't all-in as our pros. If you flip to today when the economy is very hot, and you're at a place where unemployment rates are super-low, it's almost the opposite where people have more money today and are time-poor, so our customers are the side of the market in today's environment who desperately need service. They desperately need things done in their home. That creates this almost imbalance where our customers are more enthusiastic about Handy today than they were before, whereas our pros today have more earning opportunity, and it's more competitive for us to attract professionals. The takeaway is when you've got a two-sided marketplace; it's about finding out which side is easier to acquire and which side is easier to engage early on. Obviously, that means that you need to spend time and effort attracting the other side of the market because the side that's easy will stay with you and will require less effort and less maintenance early on.
Alejandro: The acquisition of the supply and demand is definitely critical, but more than that is the retention and optimizing retention. So what did you learn about retention during this journey?
Oisin Hanrahan: You're absolutely right. The retention is critical to make the business work. I think what we saw early on was that our customers really wanted repeat cleaning service. For them, it wasn't getting a one-time cleaning. I think in order to drive retention, we flipped from doing one-time cleanings to doing recurring cleanings where you could book a cleaner to come back again and again and again. Effectively, we moved the cleaning business to a subscription model. That subscription model created a lot of value and drove up the lifetime value with the customer. But more than that, it drove up customer happiness. Customers were happier having the same cleaner come back again and again. That accelerated the growth in the business in a really serious way. For our pros, it was about flexibility and the ability to decide when to work. For our pros, they wanted to decide exactly when they wanted to work. They wanted to decide where they wanted to work and who they wanted to work with, and giving them flexibility really retained them on the platform. It was about unlocking — what were the features and what were the things that drove the retention of the individual size of the market?
Alejandro: It's understanding the needs and all of that, but what kind of part it plays the onboarding process, and then getting them that Aha moment as fast as possible?
Oisin Hanrahan: The onboarding is interesting. When we first started Handy, we onboarded every cleaner and every handyman in person. As we scaled up the business, we realized that's very hard, and very capital-intensive, and expensive to scale. What we didn't realize at the time was that it wasn't driving a lot of value. We thought that the in-person onboarding was creating a lot of value. What we tested into it was, if we did remote onboarding where we created a digital onboarding flow, that it would be a better experience for the pro, a better experience for the customer, and it would help us scale faster at a lower cost. So what we did was, we built out this digital onboarding flow, and we tested into it by looking at retention, customer satisfaction, process, and it was a tough decision because we had a whole team dedicated to onboarding professionals. Once we built the digital flow, we had to make a tough decision about what to do with that team. For some of them, obviously, there were roles. For a lot of them, there were not ongoing roles. It was a real challenge because essentially, the digital flow was doing a better job for our customers and our pros, and it was cheaper because it was a digital product at onboarding the pros. It was a real challenge, but eventually, it was the right thing to do because it built a better experience, and it allowed us to scale faster. Both our customers and pros were happier with that experience than the in-person interviews.
Alejandro: When you are doing some restructuring, I think that can impact the culture because the facts are always going to be the fact, but the way you deliver them is what matters. How did you guys go about making sure that it would impact in the least negative way as possible, the culture that you guys were currently building?
Oisin Hanrahan: About two or three years in, we had set out a culture deck that explained our mission, our values, and we had made that document public. It's a hundred-page slide deck, and it's been viewed hundreds of thousands of times. You can see it online. You just Google Handy Culture Deck. That publication of our values made it a lot easier to go and have those conversations and act with integrity and do the right thing by our team when we were making these decisions. It gave us an anchor point to say, "Look. It's really important to us to do the right thing for our customer to do the right thing for our pros. This is the right thing. As a result, we're going to have to make these tough decisions, and we're going to do it in the best way possible, and we'll make sure that we'll work to find roles for whatever team members we were moving on at other companies. There's no restructuring that's perfect, but I think that if you go back and you look at it and say, "Okay. I understand why these people were doing this. It made it a lot easier for the people who were remaining to understand the logic. I think it's important to be really crisp, really clear, and really transparent with the team. I think that series of actions stuck with us and helped us build a better business overall and a better experience for our customers and pros. Over the long-term, our team is respectable of the fact that we made tough decisions rather than shirking away.
Alejandro: Got it. You guys also raised some money for this company.  How much capital did you guys raise, and how would you say that those expectations were changing from financing round to financing round, especially with a company like this where it's marketplace, and they're going to look at networking effects, viral loops, and all that kind of stuff.
Oisin Hanrahan: Over the course of four rounds of funding, we raised over 100 million dollars in capital. If you think through the different phases, I'd break it down. The first phase, I'd say, is that does anyone care? Does anyone have an idea that's interesting enough for the world to care about? That's that seed round where once we had raised it, we noticed that there was half a dozen to a dozen competitors in the space very quickly because, as I said, people did care. The customers wanted to book, and the pros wanted work. It was obvious early on that this was a space, and that was the expectation of the seed round is, "Does anyone care enough for you to have early traction?" It went very quickly into an A and a B round, where I would frame it as the goal was to win the space. At that point, people believed the space was real. People believed that individuals were going to book services online, that people were going to buy these services, and that it was going to be a large category. It became about winning the space. It didn't mean you had to be #1, but you had to be in the top two to three players in the space. I think that's when it's all about growth. It's all about scaling. It's not about margin in the sense of networking effects and driving optimization. It's about network effects in the sense of just driving [0:24:49]. That was when we were competing with companies like Homejoy, Mop, Get Maid, MyClean, HipsterMaid, and every other cleaning and handyman company that somehow found its way online. Then, I think the third phase is to figure out how you build a long-term sustainable business. That's where we focused on things like remote pro-onboarding, optimization to the customer experience, growing out margin, and building a long-term category. That was where we raised out C round. I think after that, we figured out how to build a business that became profitable and got to a place where it was working. It was after that that we started to look at other opportunities. The business had evolved, it had gone from being a direct consumer business in one category to being across a number of categories. One of the things we discovered at that point was that there was a real opportunity to work with retailers. The last evolution of the business that we've seen before we sold it was where we started to work with retailers like Wayfair and Walmart and others to sell services alongside product. That was an interesting evolution of the business. You could go to Wayfair.com and buy furniture. In the cart, you could add installation, assembly. Or, similarly, you could go to Walmart and buy a TV. Right there at the checkout, you could buy a TV mounting service. That phase of the business, when you figured out how to make the core work, is when you get to do things like that where you can look at product expansion and service expansion in a different way. In this case, it was channel expansion. That was one of the things that led to the acquisition of the business by ANGI Homeservices about a year ago.
Alejandro: Why don't we talk about the acquisition? At what point does the acquisition come into place as a possibility? Make us insiders as to what was that process like, how long it took, and how it came about.
Oisin Hanrahan: As we had started to partner with more retailers, we were having different conversations around how deep those integrations and partnerships would be. We were seeing some inbound interest. As a result of the inbound interest, we ended up having a number of conversations. We had an offer very quickly to sell it. We weren't in market looking to sell it. We had an offer very quickly, and after that, our board counseled us to have a number of other conversations, and quickly it became a competitive process that led to a conversation with ANGI Homeservices where they had also been working on building a product similar to Handy for some time. The rationale there is simple. At ANGI, they get 26 million service requests a year. For a lot of those service requests, they don't have pros that want to buy the lead, so they don't have a way to fulfill on those leads. A lot of the categories that ANGI serves and what we could do by putting the business together was, we could offer more services to our customers, and more importantly, we could offer Handy services to lots of home-advisor customers. That was the thesis for the deal. We had spent time with the folks at ISC, which is ANGI's current company. We had spent time with them over the years. We really did get to know the folks at ANGI Homeservices, as well, particularly the home-advisor folks out in Denver. It became clear that that was a very large opportunity, and that it was a very real case where 1+1=3, that you could build out a better experience, a more holistic solution by putting the businesses together. As a result, we ended up completing the transaction in October of 2018.
Read More: Rahul Dhanda On Raising $50 Million To Create The Ultimate Coronavirus Test
Alejandro: I've heard that typically on fundraising, you have everything figured out. At least, you give that idea that you have most of the answers to provide to the investors that you're looking to bring to the table. But in acquisitions, you need to have everything figured out because it's not your ideas. It's the idea of whoever is acquiring it, so can you expand on this about how that storytelling and that process is different from being an acquisition to fundraising capital effort-raising strategy type of thing?
Oisin Hanrahan: Yes. I think when you're fundraising, at each stage, you're discussing the things that you figured out. I think you're acknowledging the things that you're hoping to prove with the capital you're raising, or the developments you're hoping to solve by raising more capital. There are some parallels to acquisition conversations where with each potential acquirer, you describe your business in a way that you think is most relevant to them. You do have some theories or some hypotheses on how value can be added if you put the business together. I think you tailor those conversations to a true perspective on what you think the value is, but the acquirer has a different point of view and has their own point of view on where they think the value can come from. It's less about going in and talking about where you think the value is. I think in a lot of these cases, it's more about listening to the potential acquirer on where they think the value is created. If they ask you where you think it's created, I'm sure it's perfectly fine to come up with that. But in a lot of the conversations we were having, the potential acquirers had already formed a point of view on where they thought the value was and what it would look like.
Alejandro: What kind of role is the one a board would play to push the deal to get done? What's the role that a board would play, or in this case, what was the role that your board played to get it done?
Oisin Hanrahan: I think our board was involved in the process. When we had received an unsolicited offer, our board actively pushed us to go and get other options and to consider more of the landscape and make sure that we were exploring all the relevant options that were on the table. I think a board, particularly investors who have seen these things play out before many times, have a certain level of pattern recognition and a certain level of awareness of how the process is going to go. I think that's helpful to entrepreneurs who have not necessarily gone through a sales process before. I think they also provide some leverage and some insight into how the potential acquirer may be thinking about the transaction that, as a founder who's close to it in the weeds day-to-day, you may not have the distance from it to internalize.
Alejandro: One of the questions that I typically ask the guests that we have on the show, Oisin, is, now having built a few companies under your belt, and especially with this one doing the full-cycle at a hypergrowth scale, if you had the opportunity to go back in time and have a chat with that younger Oisin graduating with economic, what would be that one piece of business advice that you would give to that younger self before launching a business and why knowing what you know now?
Oisin Hanrahan: It think one of the things that I've realized is whenever anyone is starting anything, whether it's a business, project, or an internal company initiative, or whatever it is, they have some belief in something that they believe to be true, and everyone else hasn't yet figured it out. For us, we believed that people were going to book home services online, and we believed that the rest of the world hadn't yet had that realization. Whatever that belief is that you've got, whatever that nugget is that you believe in, you need to write it down in a crisp, clear way. Then you need to go like crazy on just raw focus on proving out whether you're correct or not. On some cadence, you need to check-in objectively and see if you're making progress and proving that you're correct or incorrect. But you don't need to second-guess yourself day-to-day. You need to spend most of your time just trying to prove that you're correct. I think back to 2012, when a lot of investors said, "No. There's no way people are going to book home services online." And at this point, we've done it seven or eight years later, and we've done it millions of times, it's obvious. With any idea, the more you can be crisp, write it down and have it on a flashcard so you can look at and say, "Yeah. Am I spending most of my time trying to prove this thing out, or am I getting distracted with other things?" is a very simple way of catalyzing behavior and maintaining focus and building a team and focusing that team on one singular thing. It may not always be the thing. At this point, we've proven it, and there are other things that we'll try to prove — many different aspects of the business. But, early on, it's a tool for a raw level of focus that I think a lot of entrepreneurs can get distracted in 17 different directions at once. I think it's a helpful way of maintaining focus.
Alejandro: Very cool. So, Oisin, for the folks that are listening, what is the best way for them to reach out and say hi?
Oisin Hanrahan: They can just get me on Twitter. @oisinhanrahan on Twitter.
Alejandro: Amazing. Well, Oisin, thank you so much for being on the DealMakers show today.
Oisin Hanrahan: Thank you very much.
* * *
If you like the show, make sure that you hit that subscribe button. If you can leave a review as well, that would be fantastic. And if you got any value either from this episode or from the show itself, share it with a friend. Perhaps they will also appreciate it. Also, remember, if you need any help, whether it is with your fundraising efforts or with selling your business, you can reach me at [email protected].
Podcast: Play in new window | Download
Subscribe: Google Podcasts | Spotify | Stitcher | TuneIn | RSS | More
Facebook Comments