Nick Desai is a multiple-time entrepreneur who has raised over $100M for his most recent startup venture alone. His latest startup, Heal has raised more than $165M from top-tier investors like Humana, Generator Ventures, Inflection Capital, and Jim Breyer.
In this episode, you will learn:
How Heal works and the problems it is solving
The future of healthcare
How success often just relies on not giving up, and embracing the noes
SUBSCRIBE ON:
For a winning deck, take a look at the pitch deck template created by Silicon Valley legend, Peter Thiel (see it here) that I recently covered. Thiel was the first angel investor in Facebook with a $500K check that turned into more than $1 billion in cash.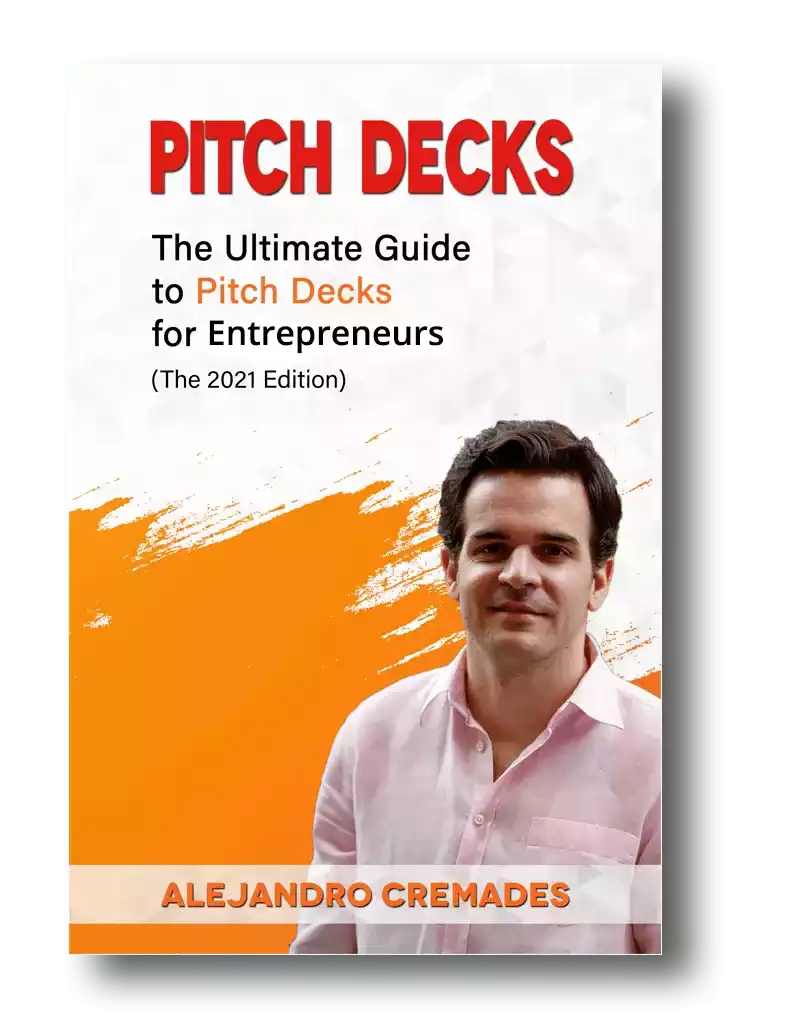 *FREE DOWNLOAD*
The Ultimate Guide To Pitch Decks
Moreover, I also provided a commentary on a pitch deck from an Uber competitor that has raised over $400 million (
see it here
).
Remember to unlock for free the pitch deck template that is being used by founders around the world to raise millions below.
Access The Pitch Deck Template
Your email address is 100% safe from spam!
About Nick Desai:
Nick Desai is a serial tech entrepreneur leading vision, strategy, recruiting, and fundraising for Heal.
He's raised over $47 million in venture capital for his four start-ups since 1998. Most recently, Nick Desai was CEO of FitOrbit – the leader in internet-based weight loss coaching solutions funded by Spark Capital and health insurance giantAnthem Blue Cross.
Nick Desai holds a BS in Electrical and Computer Engineering from UC Irvine and an MS in Electrical Engineering from UCLA. He lives in the Pacific Palisades with his wife and one year old son – who is his pride and joy.
Connect with Nick Desai:
* * *
FULL TRANSCRIPTION OF THE INTERVIEW:
Alejandro: Alrighty. Hello everyone, and welcome to the DealMakers show. Today we have a very, very exciting guest. We have a guest that has done this multiple, multiple times, and in today's show, he's going to walk us through his experience, his journey, through the ups and the downs, through the successes and the failures, and you name it. So without further ado, let's welcome our guest today, Nick Desai, welcome to the show.
Nick Desai: It's great to be here. It's very exciting to be on this and to speak with you and all of your listeners.
Alejandro: Nick, what a combination: born in Mumbai but raised in Orange County in Irvine. Tell us about this shift, this transition.
Nick Desai: I don't even remember the transition. I was a baby when my parents moved to Orange County. I grew up in what is basically considered total privilege. I lived in a very safe suburb. Irvine is one of the safest cities in America. I went to a great school. I had two parents. We were immigrants, and there were some challenges. In 1979 during the Iran hostage crisis, some of the ignorant kids in 4th grade, and I was a little kid at the time, and they thought I was an Iranian, and they used to beat me up and spit on me and things like that. But you know what? It toughened me up, and it put a chip on my shoulder, and it drives me to work harder to this day. Other than that, it was an idyllic childhood, and I'm thankful to my parents for providing that.
Alejandro: I'm sure that you definitely got a lot of inspiration from your parents because having that drive to pack the bags to come here and go after a better life for them, and for you guys, too. I'm sure that you really got inspired, and that influenced you, too, as an entrepreneur.
Nick Desai: Yeah. It's funny because my father had his own business. My grandfather had his own business, and I was probably in junior high or high school before I understood that there was an alternative other than having your own business. People have these jobs. You see doctors and police on TV, but you don't really think about it in the context of your own life. I saw how hard my dad worked, and there was no difference between a Saturday and a Tuesday, holidays, and weekends. That's the way I was raised, and that's the way my wife was raised. Her father had his own medical practice very successfully, and that led us to be married and to start here together.
Alejandro: For you, engineering was a big one. Why engineering? How did you get this desire for addressing problems?
Nick Desai: I was fascinated in high school and grade school, but in high school, especially about how things work. I don't like not knowing the answers to questions. Engineering is a study that does two things. Back then, if you think about when I went to college, 1987 was my first year in college, computers were still a very new thing, and microchips and all this stuff and people used transistors. I was like, "I want to know how this works. I really want to know how this works." My father is a mechanical engineer himself, and he said, "Engineering is a way of thinking. It teaches you how to think and solve problems." I became very interested and found the study of engineering and electrical engineering in particular. You learn so much mathematics, you learn so much physics, and you learn so much chemistry and material science, and how to apply all that, that it becomes second nature to think about how to solve problems. Today, the world has advanced since I started college. In that 34 years, the world has advanced to a place where we're talking about the Perseverance rover on Mars and nanotechnology and all of this stuff. But all of it remains within the grasp of, if I want to read about it, I can understand it, whether it's healthcare, physics, or whatever. So it was a very important foundation, and it's interesting to see the whole world now talk about STEM and the importance of STEM education, and engineering, technology, and science. There's a great mean going around based on what happened in Texas, the tragedy in Texas. We could land a rover on a dime on Mars, 40 million miles away, but we can't get heat in Texas, and it's because the probe to Mars is run by scientists. So I take a great deal of pride in being a scientist and being part of that community.
Alejandro: In your case, once you got your graduate degree, you went at it as an entrepreneur. I'm sure that it was probably something that really felt good to put everything into practice, to put your mindset, your way of addressing problems, and put something out there to the world. The first company was Zkey. Tell us about how this idea came to mind, how you brought it to life, and how was it to be a first-time entrepreneur?
Nick Desai: You know, it's an interesting question. It's actually a funny story because people don't believe this when I tell them, but after graduate school at UCLA, I had a job at Rockwell Science Center. I had a Master's in engineering. I was a single guy, so it was a great job. I had a car. I had a condo and all the money I wanted, the cost of living was lower, and I was being paid well, and I was getting more and more comfortable. I was telling my mom, "Maybe I'll start a company in a year or two years." I told my boss, "My parents are pressuring me. I'm going to quit my job," because my mom kept saying, "Don't get comfortable. If you get comfortable with your standard of living, you won't have the risk tolerance to go start a company." So, I told my boss I was going to quit, and he called my parents, and he said, "This guy is making a mistake. This is such a great job. In 20 years, he could be me at a company like Rockwell." My mom said, "That's exactly what we don't want to have happen." She told him, and they made me quit. Then, a couple of friends and I were talking about different ideas for a company. It was funny. I was a single guy at the time, and I was trying to find this girl's phone number that I wanted to date, and her phone number had changed, and I had no way of getting it. One day in the middle of the night, this idea popped into my head of updating an address book on the internet. Instead of having my phone number, you have access to a data field that is my phone number. And it just took off, and I ran with it. When I started my first company, nowadays there's so much information. That was 1998, so the internet was around, but it was a lot less used, and there was a lot less information on it. My first term sheet that I ever got from a venture capitalist was faxed to me in a fax machine.
Alejandro: Wow.
Nick Desai: You don't even think about fax machines now.
[Laughter]
Alejandro: Right.
Nick Desai: I didn't know anything. People were like, "Oh, are you raising a Series A, a Series B, angel, venture – I didn't know anything. I didn't know what a cap table was. I didn't know anything. I was an engineer with an idea. I knew some programming. It was like, "All right. Let's go for it." I think if there's a lesson in that – people think, "Oh, you should work as a VC. You should be an Entrepreneur in Residence. You should go get an MBA. You should go do this." You know what you should do? You should just start. Right?
Alejandro: Yeah.
Nick Desai: You should just start, and it will force you to learn. Now, with the incredible wealth of information that is available completely free on the internet – podcasts like this one. You can learn answers to questions without ever having – I'm not saying education isn't important, but I'm saying that the most important thing to do if you want to start a company is to actively start the company.
Alejandro: Of course. When we're talking about lessons here, with Zkey, you learned quite a bit when it comes to board dynamics, and especially when it comes to favorable terms from a potential acquisition. What was that experience like for you guys?
Nick Desai: Between 1997 and 2000, the Nasdaq ran up from something like 1,500 to 5,000. Dow was at a high. That was when the then Chairman of the Federal Reserve said there was irrational exuberance very famously, and Goldman Sachs had an analyst running around saying the internet and all these companies are going to do great. A little bit now, it's facts in the amount of money that's flooding the market. We got an offer to sell the company from a very well-known public company that was a multi-billion-dollar company. I took it to my board, and everyone felt like it wasn't enough. It was like, "We can do more, and we can do better – we can do more; we can do better." Then, the market crashed. Then it became one of these situations where we kept chasing the previous offer because that company, as market capital goes now, capital gets more expensive, so the company kept saying to me, "We'll give you this much," which was less. I kept saying to the board, and they kept saying, "If you get the last offer." But the lesson I learned from that, and I think it's really important, is, at one point, I distinctly remember one of the board members asked me, a major investor saying, "Nick, we will sell this if your heart isn't in it. If your heart isn't selling, that is, if your heart isn't into running the company anymore." I made the mistake of trying to sound [11:22] and saying, "You know what? No. I'm in. Of course, I'm in. I'll never quit." That was a mistake because if I had said, "Yeah, guys. I want the check. I'm in. I want to sell this thing," we would have sold it, and everyone would have made money, including the investors and ultimately the company ended up selling to one of our customers, I think, for a much lower return on investment capital, and no return for the common shareholders, like myself. It's very important to treat investors with the rights and respect that they're owed, but not with so much deference. Investors invest in companies for entrepreneurs to run. When they try to run your company, you have to push back.
Alejandro: Yeah. You see that a lot with boards. Rather than getting the board to work for you and to help you, it's more like a situation of you reporting to the board, and it creates a really toxic environment.
Nick Desai: Yeah. Someone told me once. A VC told me once that if you go to an investor meeting – it's a very famous investor, one of the big Sand Hill Road investors, you know, sell capital like Andreessen Horowitz. They say, "You know what? We're not going to invest, but you should make your widget purple." Then you go to the next guy, and he says, "You should make it pink." "You should make it blue." He said, "Don't listen to anyone who doesn't invest in you. Their opinion isn't worth anything." But you know what the truth is? You've got to be careful about who you listen to, even if they do invest in you because they invested in you. That doesn't mean that you, as an entrepreneur, are always right. It doesn't mean that, but it means, get your advice from smart people and temper the advice you get from people who invested. Just because one idea is hot today, the great entrepreneurs are the ones who stick to their guns who say, "This is what I'm doing, and I'm going to follow toward Travis Kalanick, with Uber; Reed Hastings, with Netflix; and, obviously, Jeff Bezos, with Amazon. They had a vision, and they stuck with it, and they didn't let anyone talk them out of it.
Alejandro: In your case, after Zkey, obviously, not the type of outcome that you would have hoped, you go at it again. As they say: once an entrepreneur, always an entrepreneur. You go at it again with Juice Wireless. Tell us about Juice Wireless.
Nick Desai: First, let's talk about this phrase that you said, "Once an entrepreneur, always an entrepreneur." It is so true and so powerful. My wife and I did Heal together, and we'll get to that. She was a practicing physician before we started Heal. Now, she talks about everything in terms of our next startup. I told her this, "If you do this for a year, it gets in your blood, and nothing else has the same feeling because instead of living in the world of tomorrow, you are creating the world of tomorrow. You're creating the world everyone else is going to live in." That's a powerful feeling. It's bigger than money; it's bigger than financials. People always get caught up in the money. Being an entrepreneur is not about the money most of the time. It's about the feeling you get that you did something really impressive and that you did something important that made life better for people. Anyway, yeah, after Zkey, I took about a year to do some consulting work. I did some interesting projects. I was consulting. I remember this: everyone wanted to understand mobile, and ringtones were a big thing back then. I famously did a consulting project with a HipHop magazine. If you can tell anything about this 50-year-old father of three, I'm the least hip person alive.
[Laughter]
Nick Desai: You don't spend too much time looking to think, "This guy is not HipHop. This guy is something different." But I was consulting with this HipHop magazine about their mobile strategy. It was a very interesting thing because it was another reminder, along with some of the famous investors I've had, that it doesn't matter what you look like, what you do, if you can do something, and technology is often that thing, you become a rock star. And rock stars want to be your friend instead of you wanting to be their friend. I stumbled into an idea called Juice Wireless. It was a funny story because, in the context of working with that Hip Hop magazine, another magazine called me to do a ringtone strategy for them, and they wanted to pay me money to do this. For the first company, I was consulting just as me. They were like, "We have to hire a corporation. We can't pay you individually." So, I went and created a company called Juice Wireless. Then, I created the company, and all of a sudden, we had this idea that people take pictures on their camera phones. Go back to 2004 – Little LG, Nokia, flip phones with a little camera and you take a picture. Before selfies, people were still taking pictures of themselves. They weren't even called selfies. We built the first app that let you take pictures and publish them to your Myspace page, and Myspace was a thing back then. Then this new thing came along called Facebook, and that was a thing, and we let you publish pictures to Myspace and Facebook. But back then, it wasn't an app store. All of a sudden, I got a lot of traction. Paul Comi invested in that company, and a bunch of other people invested in that company. The Chairman of Qualcomm, former chairman and CEO, Paul Jacobs was a big fan of Zkey. I met him then. He invested in Juice Wireless, and he's the second-largest investor in Heal and is the Chairman of Heal, as a matter of fact. Paul Jacobs is a very good friend of mine. He invested in that company. It was a really interesting company, and it was interesting for me because we were doing full stuff, but it was less interesting for me because I'm not a social media guy. I don't take pictures of myself. Now, everyone does it, but that wasn't my scene. But one of the lessons that was really interesting that you asked me to talk about is, we wanted to get our app back then on the AT&T mobiles deck. They used to call them decks back then. It was what apps that people were allowed to find or buy. I said we wanted to get to AT&T. It was taking forever – a huge company. Three years before that, I had met a guy during my consulting work for a totally different company named Ralph Delavega. Ralph, at the time, was the president of Bell South Latin America. It was a partly AT&T-owned company that had investments in cellular carriers in 12 Central American countries – Guatemala, Honduras, and places like that. I kept in touch with him. Four years later, we're having a very hard time getting AT&T, and the President of AT&T Wireless, a guy named Ralph Delavega. I'm in San Francisco one day for a conference or a meeting, and I open USA Today, and there's a list of the ten coolest multimedia apps on the phone. Low and behold, our app is on there. Someone texted me about this at 6:00 am, and I got up, and next to it, I read that Ralph Delavega is in San Francisco giving a talk at a conference. So, I took a cab and bolted to the conference (this was before Uber). I waited for him to come offstage, shoved my way to the front of the conference, and said to him, "Nick, do you remember me? I'm Nick Desai." He said, "Hey, Nick. I only have ten seconds." I said, "If what you said onstage is true about your mobile strategy, you should look at Juice Wireless." Three years later, we had a contract to be on their deck.
Alejandro: Wow.
Nick Desai: The point of that story is, meet everybody you can, and never relinquish and never give up. The worst thing someone can do is say no. They're not going to spit on you. They're not going to kill you. They're just going to say no.
Alejandro: Yeah.
Nick Desai: Do you know how many people said no to me in my life? Thousands.
Alejandro: Yeah. There's nothing to lose.
Nick Desai: But that kind of scrappy perseverance, that kind of "I'll go to the place." I'm not saying stalk people, but nowadays, on email, everything is like, "I'll be this; I'll be that." You know what? Passion sells. Being aggressive sells. Being a go-getter sells. Find the person. Get through the clutter. Keep sending emails. You know what my rule about sending cold emails is? You keep sending them until the person says, "Stop sending them."
Alejandro: [Laughter] I love it!
Nick Desai: The worst thing they can do is tell you, "Stop emailing me." But, clearly, I will bring that fast-forward to today. In the last two months, we at Heal have been trying to become a COVID vaccine administrator in the State of California, where we're founded. The state program has gotten much better, but two months ago, it was kind of in a mess. It was very hard to get through. We had filled out all the forms. There was no clarity of answers. I started emailing the head of California's Health & Human Services, Dr. Mark Ghaly, every single day. I didn't care. "We need to administer COVID vaccines. Heal can help. I'm in California, and Heal can help." Eventually, I found out that my physical therapist's sister is married to the governor, and I bugged her until she texted her sister to talk to Governor Newsom to get me, and I got Governor Newsom on the phone, and I got Dr. Ghaly on the phone, and guess what? We're administering vaccines in California now.
Alejandro: There you go, so nothing like being persistent.
Nick Desai: It's just that I refused to give up.
Alejandro: That's the way it is. In this case, for you, let's say after Juice Wireless, this was the segue into your prior company now, Heal. Let's touch on this just a little bit. It was FitOrbit. Obviously, Juice Wireless ended up with the iPhone and the market conditions in 2008. You guys ended up folding it and moving on, but when you're thinking about moving on, you go to FitOrbit. Quickly, what were you guys doing at FitOrbit, and what was your biggest lesson learned with FitOrbit?
Read More: Karthik Venkateswaran On Raising $54 Million To Digitize Your Neighborhood Stores
Nick Desai: It's, again, an interesting story about time and place. When I was approached with the idea for FitOrbit, FitOrbit is one company that we had an idea for that wasn't my idea. When I was approached with the idea for FitOrbit, I was also engaged to get married. I'm 38 years old, and you can tell I've had a couple too many burritos and pizzas in my life. My now-wife, who is a physician, is like, "Lose some weight, Nick, and get in shape. We want to look good for our wedding pictures." I meet these people who want to talk about an online weight loss coaching platform. I was like, "That's really cool because I need help losing weight." I was determined to build a product. Ultimately, we built FitOrbit, and Spark Capital, and Anthem Blue Cross, the huge interns giant – invested in it, and a number of other individual investors, and it was a great platform because I didn't build a platform for really fit people to get even more fit. I built a platform for dad blogs – there wasn't even the word dad blogs back then, but people like me, and women in their middle ages trying to get fit, and they don't have time, and they're never going to make it to a gym, and they're never going to make it to a trainer – doing things at home so you could get a personal trainer over the internet for $10 a week. That was the proposition. It grew, and it was really interesting. I ran it, and honestly, I learned a lot of lessons there, but a lot of the same ones from Juice and Zkey, but I would say the other interesting one is one of the lessons that is very applicable to Heal is, there are products Americans want, and there are products that they think they should have. Ironically, the ones that we think everyone will want this, are not the ones people want. It's hard to get people to want to lose weight. I know this from six to seven years of doing Heal. It's actually really hard to get people to pay attention to their healthcare, too. We think of healthcare in America like we think of a parking spot, which is when I need one, and I've got to run into the store, and my kids are crying in the car, I really need to park my car. But the moment I leave, I never think about that parking spot again. I don't think of it as a part of my life. Take someone's cell phone away; take their beer money away; take their ability to go out to see a movie (I know right now, there's a pandemic), or their Netflix account away, and they'll be like, "I can't live without this." But you take their healthcare away, and people don't immediately realize how important it is for them. So, I think the most important lesson I learned with FitOrbit is how hard it is to get people invested in themselves in things that are good for them. It is a uniquely interesting part of American culture that the things that people want in other countries, or take for granted, are things you have to convince people they need in America. Otherwise, why would you need to convince anyone that they need healthcare or health insurance? Why would you need to convince anyone that they should be in shape for themselves so they won't have a heart attack? But even myself, I'm 50. I know the risks. I have three young kids. I like to eat. What can I say? It's hard. So, an interesting thing about American society is what you can sell versus what people want to buy.
Alejandro: Got it. In this case, it opened your eyes and perhaps your interest around healthcare, and definitely was the segue to Heal because with FitOrbit, essentially, you guys sold that to one of the investors. But now, this opened up the possibility to what is your recent baby. Heal is probably your biggest success to date, so why don't we talk about Heal. What was that conversation that perhaps you had with your wife because, obviously, you started the company with your wife, and how did that incubate to bring this to life?
Nick Desai: My wife and I – it's a very long story, but we had, in 2014, an infant child who needed a lot of medical attention, and I don't want to get into the personals of his health, but he needed to go see a doctor very, very frequently. Here I was, I was CEO of a company. My wife was a practicing nephrologist, a kidney doctor with a very successful practice. We were very privileged. We had money, we had cars, nannies, grandparents, my wife's parents, my parents, all these people, yet it was still hard to get my infant son to the doctor. One day, we called this doctor. It was a Friday afternoon, and the doctor wasn't available, and so the covering doctor said, "That sounds like an infection. Go to the emergency room. We sat at the emergency room for seven hours until 11:00 at night, and as we came home we realized that there has to be a better way. We were in an Uber coming home. I was thinking Uber, doctors, and got our brains going. My wife went back to work, and we had kids and all this stuff. I came up and made this Flinto, which is a self-running mobile app demo. I came back a couple of weeks later, and I showed it to her. It was basically the original concept of Heal. She had visibility already, and "We should go do this." So we started the company. That was that. Again, my view is analysis will stop you from doing great things but rarely lead you to do great things. So, we started the company, and she and I started it together. We were partners then; we're partners now; we're equal partners. She's the Chief Medical Officer, and I'm the CEO. We hire people together. We innovate people together, and we raise our three wonderful children together. It's been an incredible ride. Now that I have kids, I can make a picture and post it to the web, etc. It's all neat stuff, and how many people lose weight is certainly an interesting and rewarding endeavor, but there's nothing quite as rewarding as giving people healthcare when they need it. One of the most important problems Heal solves is the quality of access problem. A lower-income person living in a poor neighborhood has the same access to great quality care with Heal as a rich person living in a wealthy neighborhood does, and we feel very good about that. It's extremely rewarding for us to be a part of that solution, to deliver that to people. And it's something I feel good about telling my kids that I do as they grow up. Mommy and Daddy go to work, and they work a lot. Well, what are they doing? They're changing people's lives with healthcare. So, it's been an extremely exciting, rewarding, challenging adventure.
Alejandro: What's the business model? How do you guys make money with Heal?
Nick Desai: There are fundamentally two business models. The first is what's called Fee-for-Service Care, which is, we come to your house. We charge our insurance company; we get some money just like a doctor's office does. That's a low-margin business. The other business model is where healthcare in America is going, which is called Value-Based Care. One of the things I like to say about Heal is the only real way to lower healthcare cost is to improve health outcomes. Healthy people cost less. Period. End of discussion. Anything else is just robbing Peter to pay Paul. If your insurance company doesn't cover mammograms, guess what? Less women will get mammograms, and then you know what will happen? Breast cancer rates will go up. Even last year, because of the COVID infection, people didn't go to doctors. They didn't get their annual physicals. Do you know what we're going to see in three to five years, more acute diabetes, more acute advanced cancer, more acute heart disease because of preventive care – an ounce of prevention is worth a pound of cure. What Medicare is leading the charge to do is to develop what's called Value Oriented Care Strategies, in which we help people stay out of the hospital, detect disease early, get preventative healthcare, address their healthcare needs, take the medications they're supposed to, eliminate the medications they're not supposed to be taking. 50% of all prescription drugs in America that are prescribed and filled are never taken by the patient. They're thrown away, so why are we filling them? In that, we help lower healthcare costs, and we help improve health outcomes, and then we share in that value. That's the real model that is sustainable for Heal, that is sustainable for the patient, that is sustainable for the provider because they feel good. They make more money for delivering better healthcare. The patient is getting better healthcare, so they spend more time being well and less time getting well, and the person who is paying for it, whether it's an insurance company, whether it's your employer, whether it's Medicare, whether it's your tax dollars – it's ultimately our tax dollars. It's ultimately, all of us are paying for healthcare. We can actually reduce the cost of healthcare delivery. Again, healthy people cost less, and we're helping people get healthier in a more cost-effective way.
Alejandro: Got it. How much capital have you guys raised to date for Heal?
Nick Desai: We've raised about $165 million for Heal. We've raised capital from everyone, including the insurance giant, Humana to, as I mentioned, the former Chairman of Qualcomm, Paul Jacobs, to groups like IRA Capital, Breyer Capital, Taiwan Sovereign Wealth Fund, and others to individual investors ranging from the person who just called me, Jamie McCourt, who is the previous U.S. Ambassador to France. There's a change in president, so, obviously, she finished with that role, to Lionel Richie, who is one of the other phone calls I got just now, by the way.
Alejandro: Nice. The musician.
Nick Desai: A world-famous singer.
Alejandro: Very nice.
Nick Desai: You know what? People ask me how I get to all these people and how do they get involved in Heal and how do I know all these famous people. I don't know anybody. I'm a 50-year-old Indian nerd. Healthcare and technology are the things that unite everybody. I don't care if you're a billionaire or if you're a homeless person. Everybody is going to get sick. Everybody is going to need a doctor. Everybody hates the broken healthcare system. We're seeing that now because of the pandemic. It's a great equalizer. Herman Cain, who went to that Trump rally, was worth $400 million. He still died from COVID. Rich people are not – yes, old diseases proportionately affect lower-income and ethnic minorities, and that's unfortunate. We need to fix that. Ultimately, the reality is that all of these people are united by something, which is when they're sick, they need healthcare, and we're the easiest way to get healthcare.
Alejandro: Absolutely. For you guys, Nick, if you were to wake up in a world where the vision of Heal is fully realized, what does that world look like?
Nick Desai: The first thing it looks like – I always say this: my children have no idea what a Blockbuster video store is, but they don't even know what a DVD is. They literally have no idea. They have an iPad, they hit a button, the content comes, and they watch their movies. My oldest son is seven years old. I don't think he's ever going to learn how to drive a car because I think autonomous vehicles will be here and mainstream in ten years. In the same way, if we achieve our vision, people won't know what a doctor's office is in five years or ten years. Nobody thinks of a bookstore to go buy a book anymore. Nobody thinks of a store, frankly. They just think of Amazon. In the same way, we think people aren't going to think of doctors' offices. People are the other part of the vision, so that's the convenience and change to the existing system, but I think the other part of the system is people are going to expect and have a relationship with a family doctor in their family room. Their healthcare journey and their path to better health and staying in good health will become more a part of their life, more integrated with their digital devices and tools, more proactive, more data-driven, and more comfortable relative to their real life. You go into people's houses that are low-income people in poor neighborhoods, and you tell them, "You should eat lots of green vegetables." And you know what? They can't afford green vegetables. Or you tell them, "Take this medication with milk," but they can't afford milk. When we go into people's houses, we're able to treat them with dignity and with respect and understand those issues: food insecurities, fall risks, drug and alcohol, to give people a care plan that is more uniquely suited to their individual life and needs.
Alejandro: It makes total sense. I'd say it's amazing hearing you, Nick, because one thing that is for sure is that you can't fake passion, and the passion that you have for this ultimately is inspiring, and it's contagious, too. So, Nick, one of the questions that I typically ask the guests that come on the show is, imagine if I put you into a time machine, and I'm able to bring you back to that time where you were getting your graduate degree, and you're able to be in a position to have a chat with your younger self, that younger Nick that is thinking about leaving Rockwell and starting your own business. What would be that one piece of business advice, only one, that you would give to your younger self before launching a company, and why, given what you know now?
Nick Desai: It would be: don't look back. I think if it was one piece of advice, it would be don't be afraid of making mistakes because you're going to make them no matter if you're afraid of them or not, and the quicker you make mistakes, the quicker you're going to find the right path.
Alejandro: I love it. So, Nick, for the people that are listening, what is the best way for them to reach out and say hi?
Nick Desai: If they want to check out Heal, go to Heal.com. If they want to reach me, find me on LinkedIn. I'm Nick Desai from Heal on LinkedIn.
Alejandro: Amazing. Nick, thank you so much for being on the DealMakers show today.
Nick Desai: Thank you for having me. This was a lot of fun.
* * *
If you like the show, make sure that you hit that subscribe button. If you can leave a review as well, that would be fantastic. And if you got any value either from this episode or from the show itself, share it with a friend. Perhaps they will also appreciate it. Also, remember, if you need any help, whether it is with your fundraising efforts or with selling your business, you can reach me at [email protected].
Podcast: Play in new window | Download
Subscribe: Google Podcasts | Spotify | Stitcher | TuneIn | RSS | More
Facebook Comments