Lynn Seely started Myovant Sciences which delivers innovative women's health and prostate cancer solutions by efficiently advancing new medicines to market. The company has raised $1 billion from investors such as Danippon Sumitomo Pharma. Myovant Sciences was one of the largest biopharma IPOs in 2016.
In this episode you will learn:
Myovant's new medical breakthroughs

How Lynn built Myovant's company culture

Top advice for new founders

Her top tips for female founders and businesswomen
SUBSCRIBE ON:
For a winning deck, take a look at the pitch deck template created by Silicon Valley legend, Peter Thiel (see it here) that I recently covered. Thiel was the first angel investor in Facebook with a $500K check that turned into more than $1 billion in cash.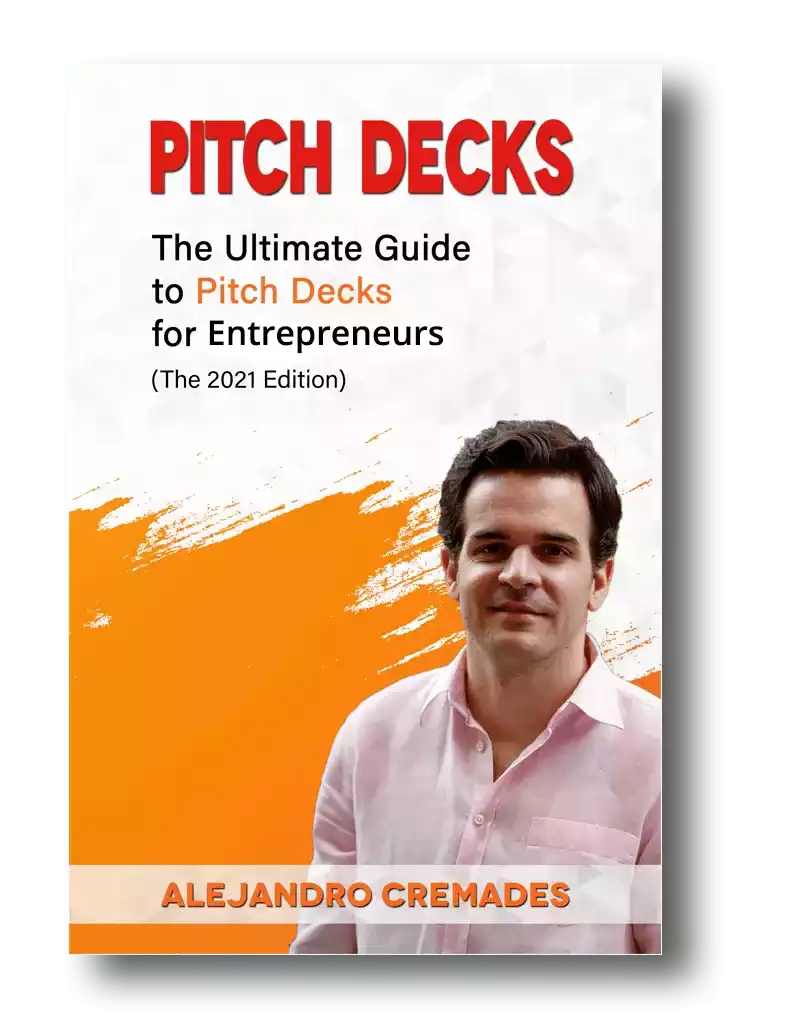 *FREE DOWNLOAD*
The Ultimate Guide To Pitch Decks
Moreover, I also provided a commentary on a pitch deck from an Uber competitor that has raised over $400 million (
see it here
).
Remember to unlock for free the pitch deck template that is being used by founders around the world to raise millions below.
Access The Pitch Deck Template
Your email address is 100% safe from spam!
About Lynn Seely:
Lynn Seely is the Chief Executive Officer of Myovant Sciences, a company focused on redefining care for women's health and prostate cancer. Lynn Seely is an endocrinologist with over 20 years of drug development and biopharmaceutical company leadership experience.
At Medivation, Lynn Seely served as Chief Medical Officer from 2005-2015 and led the development of XTANDI® (enzalutamide) for the treatment of metastatic castration-resistant prostate cancer from IND-enabling studies through to NDA approval and post-approval clinical studies.
Lynn Seely currently serves on the Board of Directors of Blueprint Medicines. Lynn Seely completed her residency in internal medicine at Yale-New Haven Hospital and a basic science and clinical fellowship in endocrinology and metabolism at the University of California, San Diego.
Connect with Lynn Seely:
* * *
FULL TRANSCRIPTION OF THE INTERVIEW:
Alejandro: Alrighty. Hello everyone, and welcome to the DealMakers show. Today we have a founder that I'm super excited to have. I think that we're going to be learning quite a bit. She's been involved with many, many different companies, from employee #3 to being the first person that starts the business. I think the journey is remarkable, but I don't want to wait any longer, and I don't want to make any of you wait any longer, so let's welcome our next guest today, Lynn Seely. Welcome to the show.
Lynn Seely: Thank you so much for having me. I'm delighted to be here.
Alejandro: Raised in Oklahoma. How was life growing up in Oklahoma?
Lynn Seely: It was all I knew for a significant part of my early life and into adulthood, and I loved it. It's a very family-oriented community where people take care of one another – very close-knit. I will say that it's very conservative, which is interesting to me as somebody growing up there. I always had a desire to see and know more about the world, but I think in Oklahoma, people love Oklahoma. They like to stay there, and they're very focused on Oklahoma as opposed to their not as generally thinking about the big picture or about the big world because they really love Oklahoma.
Alejandro: What do you think that in your case triggered that drive, that curiosity to explore? If you did not have that, you would probably still be in Oklahoma today.
Lynn Seely: Again, Oklahoma is great, but I love being steep on the learning curve, and I always want to know more, and I always want to know not only what's going on here, but what's going on over there. I've always been very interested in learning everything I can. It's what motivates me and is what's fun to me, which is to learn new things. It was very interesting. When I wanted to go to college, my parents would only let me go to the University of Oklahoma because it was 30 minutes from my home. They wanted me to get a college education. Their goal for me was for me to get married and have children. My father told me that there was more to learn at that university than you could possibly learn, and that should be great, which was absolutely true. I had a phenomenal experience at the University of Oklahoma. I was a journalism major. I was very interested in investigative reporting and telling stories, and figuring out what was happening. Along the way, I became interested in medicine and what you could do as a physician. I loved the thought of taking care of people. While I was getting my journalism degree, I also took my pre-med requirement. I remember going to my parents to tell them that I was going to medical school, and they were not happy. They said, "You're going to ruin your life; you're never going to get married; you should be a nurse. You have tons of opportunities as a nurse." But, fortunately, again, I wanted to learn as much as possible, and I went ahead and went to medical school.
Alejandro: That's amazing, and here, you have two very powerful things coming together. One is medicine, which is a bit more technical, but then you have the journalism, which gives you that edge of being able to master storytelling. Do you think that gave you an advantage?
Lynn Seely: I believe absolutely, it did. In journalism, not only is it storytelling, but you have to do it very quickly. I had to learn how to write and express my ideas in a very rapid timeframe. It's been a skill that I have used consistently throughout my career. I have always been grateful for that.
Alejandro: Tell us what happened next once you decide that medicine is the way to go.
Lynn Seely: I was in medical school at the University of Oklahoma, as well. My mother died while I was in medical school, and I really wanted to get out and see the world. I had been in Oklahoma for so long. I found a little tiny ad in a journal that talked about a medical student internship at the National Institutes of Health. I convinced a faculty member to recommend me, and I got it. It was my first chance to go to Bethesda, Maryland, to the National Institutes of Health, to get out of Oklahoma. It was a huge opportunity. Fortunately for me, I met an amazing mentor there who helped me make some connections and get some internships at some other medical schools and see the world. I was very fortunate, I think, a lot because of that experience to get accepted to the internal medicine program at Yale, in New Haven, Connecticut. I remember being called into the Chief Resident's office, and they told me that they had never had anyone from the University of Oklahoma before and to let us know if you needed any extra help. I was so intimidated. I knew nobody. I was way out of my league. I just continued to learn everything I could and relied on the people around me to help me and learn from them as much as I could. I had an absolutely amazing experience there and ended up becoming Chief Resident myself, which is today, one of my proudest accomplishments because I think it took the most courage and the most risk to pack up, leave, and move cross-country by yourself and do something that you weren't sure you could actually be successful at because you were sort of in over your head. But I did it, and I think, to this day, it's given me tremendous confidence. I had a phenomenal experience there. But one thing I realized was that I really respected most the physician-scientists, these people who understood medicine bench to bedside. I had been a journalism major, so my science wasn't that strong. I made a decision to go back in the lab after being clinically very skilled. I went back as a basic scientist and did a clinical and basic science scholarship in endocrinology at the University of California, San Diego, where I really had to go back and learn basic science. I had a tremendous time there and then stayed on faculty at the University of California, San Diego, in their division of endocrinology. 
Alejandro: And then you got an invitation to give a talk that changed everything for you.
Lynn Seely: Yes. Shocked myself and shocked everybody who knew me, but I got invited to give a basic science talk in a biotech company in the San Francisco Bay Area in the Chiron Corporation at the time. I knew nothing about biotech, and I thought, "That will be good experience for me, so I guess I'll go." I was blown away by what I found there – amazing scientists and physicians who were working together with lots of other people, as well – manufacturing experts and financial and legal experts to develop new medicines. They started recruiting me, and I suddenly became really intrigued by this concept that instead of seeing one patient at a time or doing one experiment at a time, you could work collaboratively with this cross-functional team to maybe, if you're successful, develop a new medicine, which can benefit hundreds or thousands, or even millions of patients. I love patient care, and I love academic medicine, and I thought this would be something where I could learn a phenomenal amount and maybe add some great value to patients. So, I shocked everybody and joined Chiron.
Alejandro: And Chiron was your immediate step before looking into the world of scaling from the ground up, but definitely, your segue into ProDuct Health and there in Chiron, too, you met someone that gave you that mindset or the influence or inspiration into the entrepreneurial spirit, David Hung. Is that right?
Lynn Seely: That's right. I have to give two people great credit for that: David Hung and Pat Machado, who were both also relatively young in their careers at the time. The three of us met together at Chiron. There was immediate synergy. David was a very big thinker and was very much into being entrepreneurial. It would never have occurred to me. I grew up in a very conservative environment, as you might imagine, and typically went along with the flow and trying to learn more and do new things, but this idea of starting a company on your own or building something from scratch was very new to me. David left to do this startup, ProDuct Health and started recruiting. Pat went with him, and then he started to recruit me. I was pretty afraid; I have to confess. It was like, "Wow! That's a big risk. I don't know." I think, at the end of the day, it was very motivating to me; it was very inspiring what they were trying to do to develop a device to identify women at high risk for breast cancer. While I was very afraid of my ability to contribute in a small environment, I thought, "You know what? This is really motivating and could be so important." I made a decision not to let fear control me. It was smart people doing important things that motivated me, so I took the risk, and I jumped in. That's the first of multiple companies now that I've been a part of as building from very early phases. I was in clinical development there. We got our device approved with very little investment and ultimately sold the company to a high-tech corporation. I think the total investment was maybe 22 million dollars, and it sold for $167 million. So, it was a great outcome financially in many ways. We loved working together and loved what we were doing. After that company, we said, "We're going to get the gang back together and try and do this again. I had done devices; I had done early-phase development and clinical development Phase 1 and Phase 2, but I didn't have any Phase 3 clinical trial experience. So I took a job at a company known as Corgentech that was developing a drug device combination, so took advantage of everything I had learned to date but was running large Phase 3 trials. I went in as Vice President of Clinical Development there and got phenomenal experience and very great CEO. I would say on the positive side, we took the company public while I was there, so I was part of that team. We also did a big pharma deal with Bristol Myers Squibb, so we had a lot of great experience there. Ultimately, the clinical trials were not successful, but that was just at the time that my prior team with David Hung and Pat Machado were starting. They had started Medivation, which is a really interesting company that did a reverse merger into a public shell and started to build from there. I joined them, at that time as the third employee. We had not much, but we had an Alzheimer's program and subsequently, a breast-duct cancer program. I had the amazing experience of being the Chief Medical Officer there for a decade, and I got to oversee the development of a very successful breast-duct cancer drug known as Xtandi. We developed that from the very first pre-clinical experiment all the way through to approval. It was an amazing experience.
Alejandro: And, obviously, a good outcome: 14 billion dollars of an acquisition. Not bad at all, and it's incredible. You joined there as a #3, and you were all along in the journey. This is wild: starting #3 and then seeing this thing being acquired for 14 billion. What were your major three biggest takeaways from that journey?
Lynn Seely: I think the first thing is you have to be very agile and very resilient, and you have to be very committed to the effort. We had many ups and downs. Any entrepreneur is going to tell you that you have to believe in what you're doing and stay with it up and down because this company initially did a big deal with Pfizer for an Alzheimer's drug. We were in large Phase 3 clinical trials, and all the early data had looked spectacular, but the initial Phase 3 program in Alzheimer's disease failed, and it was devastating. But we had an amazing team and incredible people. We had end-licensed this breast-duct cancer drug along the way, and we said, "All right. We're not going to have a successful Alzheimer's program, but we've got this breast-duct cancer drug. We retooled ourselves and kept all of our employees. The team stayed together, and we were able to successfully develop that and get approval for the blockbuster prostate cancer drug. There were dark days, but we did not give up. We stayed together. We collaborated, and we figured out a way. I think the #1 take-home is, great people are what makes for a successful company.
Alejandro: That's very interesting because I'm sure that there are a lot of entrepreneurs that are listening right now that are probably trying to get their product or service to that adoption to product/market fit, and I'm sure that they're going through some dark days. Saying that we did stick together as a team – it's easier said than done. What do you think made you all stick together?
Lynn Seely: I think 1) We believed in what we were doing and that it was important. 2) We had enormous respect and confidence in one another. 3) We realized that nothing worthwhile is ever easy, and you've got to be willing to work through the tough times. I will tell you that when you're doing the startup world, it is crazy, and everything can be a little bit tenuous because if it was all set, it wouldn't be a startup. There is some risk involved, and you have to rely on collaborative decision-making. I think one thing we had at Medivation, and I'm very proud to say that we also have at Myovant is this ability to synergize, to work very closely and collaboratively in a cross-functional way to solve problems. When you've got the right team together, that can collaboratively solve problems and synergize. That's when you've got something very special, and I think we had that at Medivation, and I'm very proud to say we also have that at Myovant.
Alejandro: Once you were ready to turn the page and move on to the next chapter, which ended up becoming your next baby, the company that you started, during that time, you were dealing with recruiters, too, and they were very surprised when you told them that you were ready to take on a Chief Executive role. Why was that the case?
Lynn Seely: Yeah, it's a very interesting story. One of the things that I became very aware of during my time at Medivation – I would go to the JP Morgan Healthcare Conference, which was the biggest Life Sciences Conference. As a woman, I would feel like I stood out like a sore thumb. There was this sea of men in suits. So even though the workforce in biotech in the life sciences industry is 50% women, when you go to the leadership roles in the C-suite, there are very few women and very few women as CEO. I thought a lot about how Medivation was a big success, and certainly, I could have sailed off into the sunset, but I felt like there was an opportunity to help change the face of what leadership looks like, and maybe as a way that I could help diversity from my seat was to actually take on a leadership role because when people start to see women in leadership becomes much more commonplace. From my own case, I will tell you I got so many offers to be Chief Medical Officer, but I'd been Chief Medical Officer for a decade. I did not get a single offer to be CEO. No recruiter came to me and said, "I've got this Chief Executive Officer role for you" until I'm talking to a recruiter; he's bringing me yet another Chief Medical Officer role, and I said, "Look. I've got another operating role in me, but only if it's going to be a CEO." He was like, "Whoa!" He was very surprised. I give him huge credit because while he was very surprised, then he started asking me questions, and once he understood the breadth of my experience, he said, "Let me see what I can do." And then, I had no problem. I got multiple offers because I had the courage, I guess, to self-declare. If I had one piece of advice for women, in particular, we have a tendency to wait for things to come to us as opposed to go out and ask for them. I think even at that senior place in my career, I still had to learn that lesson again. But once I self-declared that I was interested in the CEO position, I then did get opportunity. I have to say the opportunity at Myovant came completely by serendipity, as many great things do. There were a couple of investors in Medivation who knew me and knew that I was an endocrinologist. These two people happened to be one on the board and the other the founder and CEO of Roivant Sciences, Vivek Ramaswamy. They asked me to help them do due diligence on a deal they were thinking about doing with Takeda. Takeda had developed an oral generator receptor antagonist, which was potential medicine they were developing for men with prostate cancer, which was something I knew a lot about because I had just overseen the development of a very successful prostate cancer drug. But also, they were thinking about developing the same medicine for women suffering from endometriosis and uterine fibroids. What's so interesting is, here, I am a woman. I'm a physician, and I knew nothing about uterine fibroids and endometriosis because these are largely cared for by gynecologists, and interestingly, rarely talked about. It turns out that they're both period diseases. They're disruptions in the menstrual cycle. In uterine fibroids, women have tumors in their uterus that cause them to have very heavy menstrual bleeding. And in endometriosis, it's a disease that can cause extreme pain during periods and anytime during the month, but because women don't talk about things like their periods, it's these two very common diseases that are shadowed in stigma and embarrassment. I had to learn about them. But as I started reading and learning more and more about these diseases, I realized there were millions of women suffering. That's not an exaggeration. Millions of women, and they're getting lots and lots of surgical procedures: hysterectomies. There are 350,000 hysterectomies performed each year for uterine fibroids and endometriosis, which is a huge and major operation. I got this opportunity to potentially develop a medicine that women could use as an alternative to some of the surgical procedures they're currently undergoing, and I thought, "Wow! That's just fantastic!" With that, the end-license of this drug [22:34] from Takata was complete. It was a very interesting deal that was led by Roivant Sciences as the major shareholder, but there were two drug candidates that were put into Myovant. Money didn't change hands. Takata got 12% of Myovant, and the goal was to take the company public. So we formed a company. I became the first employee in June of 2016. In October of that same year, we took the company public and raised 220 million dollars, the biggest biotech IPO of 2016, which was so fantastic because it was built on women's health and prostate cancer. But the women's health indications got a lot of investor attention, and that's something that is not common in the world of investing where the focus is so often on oncology or rare disease. It was great to get this funding that we needed to develop this new medicine.
Alejandro: Got it. So this Myovant, you started out of your dining room. It's remarkable that you were in a position to take the company public months after literally forming it. How were you able to do that?
Lynn Seely: It was a wild time when you think about that. I was interviewing people at restaurants close to my house or in my home, and we worked in my dining room for quite some time. When you think about it, suddenly you have to do all sorts of things from finding commercial real estate and negotiating that to working with the FDA to get your regulatory plan done to figuring out how to raise money and write the S-1 to take the company public. So it was an enormous effort. I did get support from our major shareholder, Roivant Sciences. They were very helpful in the early stages of lifting this company and then began recruiting and bringing in favors from everybody I had known in my career. Again, the most important ingredient for a successful company is people and relationships because they are the ones who help you when you're facing problems that you don't know how to solve or need connections to the right answers or bringing in those people that you know you'll be highly synergistic with and can build a company with. It was a huge lift and has continued to be a huge lift. After we took the company public, we had the money we needed to launch five global Phase 3 clinical trials. I don't know of another company that popped up as a Phase 3 development company. These were all large trials run globally. We did one large trial of 900 men with advanced prostate cancer and two trials, each with 600 women with endometriosis, and then two trials each with just about 400 women with heavy menstrual bleeding and uterine fibroids. All of that got going in 2017. We enrolled them. Then in 2019, we started rolling out the results. I'm very proud to say that all of those five Phase 3 clinical trials have now been reported out with very positive results. We find ourselves in a position where we are seeking FDA approval for the prostate cancer drug, which is a once-a-day oral therapy for men with prostate cancer, where right now, they're having to go into the clinic to get injections to lower their testosterone, which is the driver of prostate cancer growth. Now, we have an oral medicine so they can stay at home. That has an FDA action day approval date of December of this year, so we're busy getting ready for commercialization there. Then we have a second drug candidate, which is for women with uterine fibroids, and we have that under review by the FDA also and expect an approval action date on June 1st of 2021. We're busy now building out the commercial arm of our company, and we're well on our way to preparing for two commercial launches in the next few months.
Alejandro: That's fantastic, and just to close up on the IPO, it was the biggest biotech IPO in 2016. So, you raised 220 million for that IPO. Now that it's public, how much capital has the company raised to date?
Must read: Kara Goldin On Building A Business Worth Hundreds Of Millions That Is Taking On The World's Biggest Brands
Lynn Seely: We've been, needless to say, with these large Phase 3 clinical trials and preparing for commercialization, we've raised a lot of capital, almost close to a billion dollars. We've got two drugs that are each potentially blockbusters. What's great for us is that we now have a major shareholder who is a Japanese company, Sumitomo Dainippon Pharma and their U.S. subsidiary, Sumitovant, who are helping and have been very generous and giving us tremendous low-interest capital in a financial commitment. We're very fortunate to be very well-funded.
Alejandro: That's amazing. Very, very well done, Lynn. In terms of the culture, what would you say that the culture of Myovant is so unusual?
Lynn Seely: It's one of the most fun and exciting parts about getting to start a company because you have a white piece of paper, and the very first person I hired was a head of HR who helped me build the culture. We wanted a very specific kind of company, and we wanted a company that was patient-centric. So often in this business, we talk about if you've got a sales team, they talk about the customers, the doctor. Or if you've got a medical affairs team, they talk about educating the doctor. But we really wanted to be about the patient. So, from day one, our culture has been patient-centric. We have three pillars. We have purpose-driven science. We have developed empowering medicines, but we also have transformative advocacy. These three pillars have been in place from day one, where we really want to engage with the patient communities that we serve. We do that in a cross-sector way, in a way in which we're working with the community to help solve their problems. We try to be patient-centric, not in words but in action. I can give you a few examples of that where we form these cross-sector coalitions. We have one that we call Female Forward Together. We have brought together groups that have worked in different ways. I'll highlight one, which is an innovative digital relationship that we forged with a company called Flow. Flow has an app that they use for women to help track their periods, and their reproductive health, and even through menopause. Because women get so little information and education about their periods, and women don't even know what's normal pain during their period and what's abnormal, or what's normal bleeding during their period or what might be abnormal and imply a disease that needs to be evaluated. We partnered with them. They have a period tracker app with millions of users. Flow  now has 36 million users, and we've developed a tool for women to track their period on. Now they can have information about their period, and also have language to use to talk to their doctors about it. So helping to solve a problem gives women more of an empowering voice so that they can now have a language and an education with which to go and talk to their doctors about. That's one example of some of the programs that we do for advocacy that we think is an important part of our business.
Alejandro: Absolutely. In terms of the employees, how many employees do you have now?
Lynn Seely: We have over 250. We're rapidly growing because, as I said, we're preparing for a commercial launch. We're primarily based in Brisbane, California, just south of San Francisco, but we also have an office in Switzerland and now field representatives, which are coming on across the U.S.
Alejandro: What a ride, Lynn. One of the questions that I typically ask the guests that come on the show is if you had the opportunity to go back in time and have a chat with your younger self – perhaps, that younger Lynn that was thinking about going and being part of a founding team or starting something. What would be that one piece of business advice that you would give to your younger self knowing what you know now and why before launching a business?
Lynn Seely: I think it would be: think big and don't be afraid of taking risks. You never know how everything is going to work out or all the answers. If something is important, it's interesting, and it motivates you, don't limit yourself based upon fear or the fact that maybe you don't know all the answers or how everything is going to work. I think that's the most important thing: don't let fear make decisions for you. The number two thing I would also have to say is, it's not about the project; it's about the people. So often, early in my career, it was very much about driving forward the project, and then I realized, "Wow! It's actually the people that are the most important." So, hiring and developing and surrounding yourself with the best people possible is the secret to success.
Alejandro: Also, any words that you would have for the female founders that are right now listening to us? 
Lynn Seely: Be resilient, ask for help from everybody that you know because you'd be amazed how many people are willing to help you with those things that you're not sure about if you'll ask. And don't be afraid to ask for what you want. You've got to speak up and be accounted for. I think it is very much being confident and asking for what you need, and you'll be amazed at the people that will come out to support you. But you've got to stay with it and persevere.
Alejandro: I love it. So, Lynn, for the people that are listening, what is the best way for them to reach out and say hi?
Lynn Seely: I think LinkedIn: [email protected] myovantsciences.com
Alejandro: Amazing. Lynn, thank you so much for being on the DealMakers who today.
Lynn Seely: It's my pleasure. Thank you for having me.
* * *
If you like the show, make sure that you hit that subscribe button. If you can leave a review as well, that would be fantastic. And if you got any value either from this episode or from the show itself, share it with a friend. Perhaps they will also appreciate it. Also, remember, if you need any help, whether it is with your fundraising efforts or with selling your business, you can reach me at [email protected].
Podcast: Play in new window | Download
Subscribe: Google Podcasts | Spotify | Stitcher | TuneIn | RSS | More
Facebook Comments