Krish Subramanian is the co-founder of Chargebee that offers subscription and recurring billing system for subscription-based SaaS and eCommerce businesses. It is built with a focus on delivering the best experience to provide a seamless and flexible recurring billing experience to customers and manage customer subscriptions. The company has raised over $100M from top-tier investors like Steadview Capital, Insight Partners, Tiger Global Management, and Accel.
In this episode you will learn:
How Chargebee figured out their own subscription pricing
Tips for structuring subscription pricing tiers
His top advice for gaining velocity
The different paths bootstrapping and VC money puts you on
SUBSCRIBE ON:
For a winning deck, take a look at the pitch deck template created by Silicon Valley legend, Peter Thiel (see it here) that I recently covered. Thiel was the first angel investor in Facebook with a $500K check that turned into more than $1 billion in cash.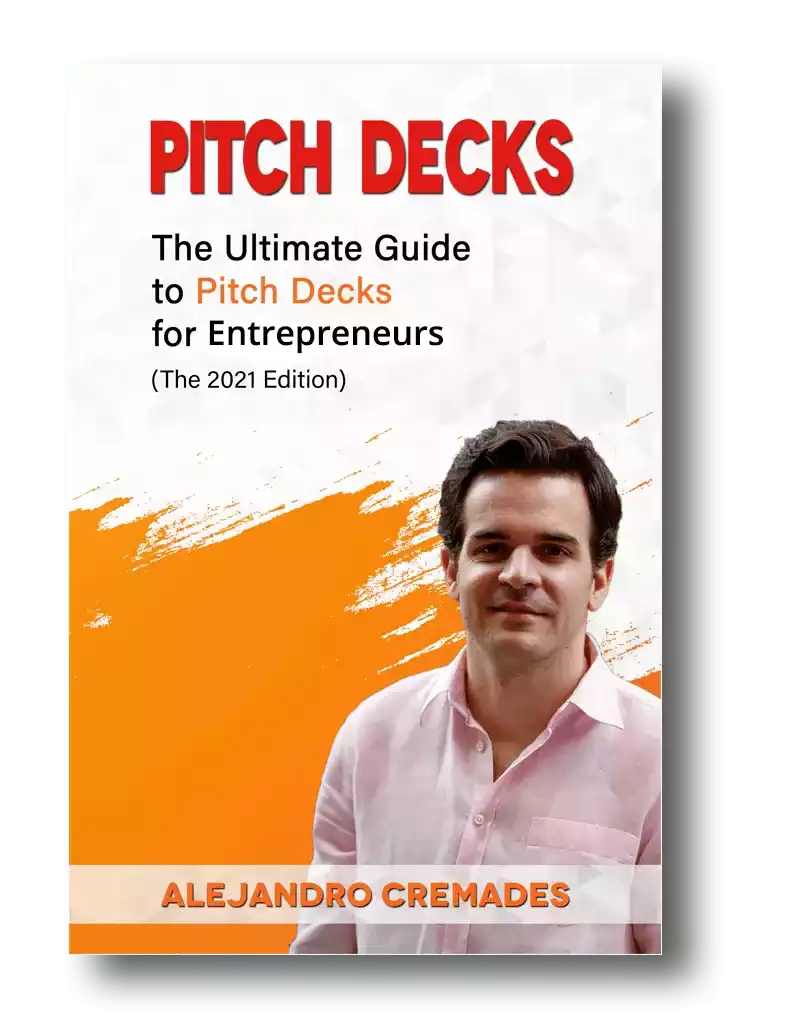 *FREE DOWNLOAD*
The Ultimate Guide To Pitch Decks
Moreover, I also provided a commentary on a pitch deck from an Uber competitor that has raised over $400 million (
see it here
).
Remember to unlock for free the pitch deck template that is being used by founders around the world to raise millions below.
Access The Pitch Deck Template
Your email address is 100% safe from spam!
About Krish Subramanian:
Krish Subramanian is the Founder & CEO at Chargebee, the startup that lets you go beyond billing, payments and recurring invoices — to delivering subscription experiences that "wow". To date, Chargebee have "wowed" some of the world's leading VCs to the tune of $24m including the likes of Insight Venture Partners, Tiger Global and Accel Partners. As for Krish, under Krish's leadership the team has grown to over 200 people and over 5,000 clients making it one of the next generation in truly global SaaS businesses started in India.
Connect with Krish Subramanian:
* * *
FULL TRANSCRIPTION OF THE INTERVIEW:
Alejandro: Alrighty. Hello, everyone, and welcome to the DealMakers show. I think that today, we're going to be learning quite a bit. We're going to be learning about how to get inspired to build a new business, how to develop the expertise and the skillsets over the course of time so that you can go at it on your own terms and have an idea of what the path forward looks like. But without further ado, I'd like to welcome our guest today. Krish Subramanian, welcome to the show.
Krish Subramanian: Thank you, Alejandro, for having me on the show.
Alejandro: How was life growing up in Chennai in India?
Krish Subramanian: I grew up in a middle-class family, with a joint family, with my uncles, grandparents, and everybody else together. That is why I'm an '80s kid. I was born in 1980, and it was a joint-family setup. I did my schooling in private school. There was a lot of emphasis on education, especially English education, so even though my parents – it wasn't bad, but at the same time, there was a lot of emphasis on making sure we were getting good education. I am grateful for that. We went through private schooling. We did VaniVani in Bachelor Engineering and Computer Science. Living in India, we have this joke that most people graduate with engineering and figure out what to do in life, so that happened. Along the way, I think I also got a chance too. When I was in the eighth grade, I had the opportunity to get the award of 386 Computer and started tinkering with it, and that's how I developed in computers, programming, and all of that. It was a natural choice for me, thankfully, to want to take up my Bachelor's in Computer Science.
Alejandro: In India, you were alluding to it: you study engineering, and then you figure out what you do next, and that's actually what happens there quite a lot because there's a lot of pressure around education. That's why, maybe, there are so many great engineers and also great entrepreneurs coming out of India. But what I'm thinking here is, in this case, you went and worked at a startup right out of your university, right out of your studies, instead of going the more traditional path of working for a bigger firm. So why did you decide to take this route because it seems a little bit risky given the pressure around the best education and the best companies and so forth?
Krish Subramanian: I don't want to glorify that with something that is not true. The truth was, this was in 2001, 2002 when the entire economy, the world economy was bad, and IT services and companies were not hiring. Given a chance, everybody would flock to a big-name brand. But I was very fortunate when the founder and CEO of that company was someone that my family happened to know, and he happened to come to the city. He just met me for half an hour and said, "Okay. You seem to know all these programming languages, and you seem to have this. I have a company. Maybe I have a job for you. Just come and meet me in Bangalore. I went to him, and he gave me a chance. This was in 2002, and I'm very grateful that somebody took a chance to give me a chance for a programming job. It just so happened that I started developing a product with him, and we launched it for a government agency of all the things because governments are the slowest ones. We tend to think they are software slowly, but we had an opportunity to develop the pre-cursor for SaaS. I don't know if you remember this thing called ASP, Application Service Provider model where you would host the browser-based software yourself, but it's not particularly in that picture. That is what we built as one of the [4:57] products back then, and that is what I did. But, Alejandro, again, I made a stupid mistake of actually leaving that company in a year and switched to a big-name brand. So I went to services and product implementation. I think we only connected the dots backward, like Steve Jobs. Even though it was a decision made out of probably pressure from family to actually have a high-earning job of other things, and also a big-name brand, I switched there, but thankfully I got in two product implementations, and that is what I learned for the next nine years working with global Fortune 500 customers and implementing this product called Ariba. Later on, in my career, with this other product called [5:43], the pricing implementation space, but mostly on the services implementation site, was what I specialized in.
Alejandro: Got it. After this, you went to TCS. You also went to Cognizant. Here, you were doing more of what you were saying, which is working with global customers prior to implementation. But I think this was really the segue for you to eventually start your own thing and go at it with Chargebee. Tell us about that process of meeting your co-founders. They were working at Zoho. How did you guys all come together?
Krish Subramanian: Sure. Chargebee is a subscription management and building solution. We sell to customers in [53 6:27] countries now and having significant customers and [6:31] customers in North America, [6:32] customers in Europe. That's the global customer-base that we have, but all this comes from the knowledge of having and building a global playbook that comes from Zoho. One of the co-founders is Rajaraman. He worked at Zoho for more than ten years. He was my college classmate from engineering days. That's how all of us know each other. That's the common connection. Rajaraman and I went to college together, studied in the same class. We were best of buddies back then during college days. We did not hang out that much, but later on, when he worked at Zoho, we used to catch up on a regular basis, and he used to share the inspiring story of how a bootstrapped company from here, from Chennai, was building a global customer base, and he was getting an opportunity to build products. I think today Zoho is more than 22 years. They've been building a bootstrapped company of millions of customers worldwide, but back then, just getting a chance to do that in an industry where everybody is working in IT services, but these guys were getting a chance to build a global product was something very inspiring. We used to talk about saving up enough so that we would give ourselves a chance to start a company at some point in time, which was his advice, and we definitely planned financially to make sure that we were saving up over eight to nine years to make sure that we would give ourselves a chance because we don't have the financial background to just start a company. The aspirations as a middle class is to own a house, and then get settled, and things like that, they're normal pressures. So we were saving up, but in the back of our minds, we were thinking, "We want to save enough so that we can do this." We were very frugal to the eight, nine years of building our career that at some point, we'll quit and start. We were planning this. We just did not know when, but it just so happened by 2010, 2011, a lot of things in the market were coming together where SaaS was taking off, the cloud infrastructure of cost was coming down as well as democratizing how you could build a company from everywhere, like from Asia, [8:40] engineer. These companies were really changing the landscape of how you can have a laptop, build something, and then put it on the cloud, and then compete globally. I think the democratization process, we could see the changes happening in front of our eyes by 2010. Then, one of the friends also started this company, FreshBooks. You might know them.
Alejandro: Yes. He's been on the show, actually.
Krish Subramanian: So, they also come from the same Zoho School, which they learned how to build product there, as well. It means that when they started in 2010, Rajaraman had the pressure to either join them or come on our pack and start the company. Of course, I was waiting for this opportunity. I used to live in the U.S. and then came back to India just to make sure that I didn't miss out on the chance. When this opportunity came, we said, "Of course, we are starting a company." First thing, we incorporated the company without worrying about what works idea. That is what we did. Then we quit and figured out what to build.
Alejandro: So, here, saving money for eight to nine years to start the business, was it a specific amount that you guys were targeting, or was it like a specific amount of runway that you wanted to have, or was it like coming up with the right type of idea at the right time?
Krish Subramanian: I think it's a very good question. We didn't have a particular target in mind. It was just a question of – I think we had a document that he shared saying – I'll give you an example. In India, at that time, I think the salary was – I think you will laugh if you actually tell you the salary. It was roughly $300.
Alejandro: Wow.
Krish Subramanian: I'm talking about the 2002 timeframe. If you had to include the inflation and all of it, probably some $300 dollars per month. And that's still a lot of money. And we used to live with parents and all of that. As a society, this was normal for people to live with parents even till you get married or even post-marriage. When I was still a bachelor, usually with parents, you can comfortably save probably $250 out of the $300. What we used to do was, make sure we signed up all of that money into the similar 401K in the U.S. There are additional savings options. So, we used to just save up money. And any increment that we used to get in bonus pay and all of it, we used to keep away some of the money, put it in mutual funds, and the stock market, and all of that. But make sure that you were conscientiously saving and not spending the money. You only keep a small amount of money for yourself, and then you learn to use that. I did not buy a car for the first seven or eight years of my career. I bought a car only after my kid was born when we had a need. Till then, we used to go by bike, which is normal, as well. So, deliberately having a frugal lifestyle generally was helpful. It was not a target, but at the time of quitting, there was some good advice available to us from other entrepreneurs. One person told me, "Make sure you have a least 36 months of runway." But, unfortunately, I did not have 36 months of runway, which, if figured out after quitting, because after you start spending, you realize that everything takes longer – double the time, and everything costs you more. But that advice was, "Make sure you stay around for 36 months. By the end of 36 months, you're likely to figure out what to do. Otherwise, if you quit too soon, you are likely to [11:59]. You're smart enough to figure out something, but just stay for at least three years," was the advice. But, practically, it's harder.
Alejandro: Got it. So then, in this case, what was that process for you to really put this in motion and to come up with what ended up becoming what is Chargebee today?
Krish Subramanian: May 2011, when we quit and started, all of us had designed and joined and decided to come together. Just a couple of weeks before starting, we decided to research what to build. We were clear about a few things. One, it had to be SaaS because nobody else was building software any other way, and we could see the trend where it was going. It had to be global because that's what we understand better, and it had to be B2B. We come from a school of thought where we could build from assemblies and then continue to go to market was something that we thought. We looked at two or three spaces. One was performance optimization space, but every SaaS company that was building, what would the developers need? Today, we know the spaces [13:01] space where we build the tools for developers, too, [13:05]. We looked at that one. Another idea we looked at was single sign-on, which is [13:11] space. Today, we have a public company. Then, the other one we looked at was, of course, recurring payments. At that time, we did not know the complexity of the problem, but we were comfortable with picking any problem, as long as it was something that every company would need in the future, and if we can elegantly solve it through an abstraction of the idea, and make it very easy so they don't have to do it themselves. We figured we would find a way to find more customers and build a business. Thankfully, we did not plan on raising capital at all, so we did not have to justify a market size. We did not know any of that because we don't have a media background. So we started with what we know well, which is running a customer problem, and does it exist for a lot of people, and is there something we can bootstrap our way to success? So we used that framework to pick a problem, and we fell in love with the problem. I must add that we are on boarding people, so we like good boarding problems.
Alejandro: Well, those are the best problems to solve. In this case, for you guys, Krish, what ended up being the business model of Chargebee? How do you guys make money so that the listeners get a good understanding?
Krish Subramanian: Sure. Our pricing is aligned with the growth of our customers. We have a freemium product where you can start with this and then evaluate your idea up to the first [$3,000 14:36] of aggregating once [14:38] is free. Once somebody tested out, and by the time they get the first [$40,000 14:44] of [14:44], probably they are at some [$2,000 14:48] of recurring revenue. Then the move into a $99 preferred plan, which has a set of features that are already included in the freemium deal. So they, naturally, upgrade to that. Once they go into the next phase, then they move into the $299 plan that includes – that is enough to make probably 1 million dollars of [15:07]. Then the next year, is a gain and upgrade. That's how it started, where we have different tiers where we are aligned with revenue with the customer's growth based on how much they are charging their customers, and we segmented by features. But, in hindsight, I'm able to talk about it as if this is how the pricing was started in all of it, but it was nothing like it. In fact, we made a lot of stupid decisions to start pricing in very different ways where it started with [15:36 – 15:41]. It got around a set of customers, and a lot of mistakes, Alejandro, that probably is of interest that we can talk about. But through a number of migrations and customer feedback, we got to where we are to find now three segments of customers. One is a startup segment, which is a zero to 1-million-dollar customers. Then, our scale-up segment, which is the [16:00] stage of customers, and then the [23 million 16:04] to 100 million+ customers that are our grow customers. That's how we internally segment our customers and align ourselves with our customers' needs, which is a startup customer may want everything self-service. Somebody who is product/market fit and growing really fast needs more additional help, and also some kind of solutioning pre-field sale and implementations support, and subsequently, priced customers need the white-glove service to ensure that we are bringing everything to the table including [16:33] services implementation to help them grow. So that's how we aligned ourselves with our customers by their stage, and that's how we make money.
Alejandro: In this case, for you guys, it took a little bit of time to raise money, and that's something that you had inspired yourselves with the story of Zoho, where they bootstrapped themselves to hundreds of millions. In this case, there were a couple of years, and now you guys have raised quite a bit. How much capital have you guys raised to date?
Krish Subramanian: After the first two years of bootstrapping, we have raised 105 million of capital. The most recent round was a [50 17:13]-million-dollar of capital led by our existing investors. So there are 40 investors. Initially, it was Accel and Tiger Global in 2013 and 2015 investments. Later on, in 2018, three years later, we raised from Insight Venture Partners. Then in 2019, from Steadview. The most recent round that we just completed two or three months back was led by all of our existing investors.
Alejandro: At what point did you say, "All right. Now we're ready to raise money"?
Krish Subramanian: The first round was not driven by, "We are ready to raise money." It was more of conversations with a bunch of investors. While we started with four of us, and even though I come from a software engineering background, I had already spent ten years in services, so I was [17:56 – 18:01]. I decided to figure out everything else like go to market, what are marketing scales, how to build an engine, and also investment, and everything else. That is where I spent most of my time learning how to talk to customers, and [18:16] customers, and all of that. In that process, I also met a bunch of investors who were keen on thinking, "Is this a good team to bet on in all of it. Even though we were not raising money, they wanted to – that's a VC's job to reach out. Then they want to invest in good things. It just so naturally happened that we really liked interacting with Accel a lot, especially [Shaker Ferrari 18:41] on our board. And he challenged us with a lot of things, what customers wanted – very fundamental first-principle questions about what problem are you trying to solve for them, and why do they need it? Why can't they do it themselves? Good questions that challenged our assumptions and helped us think better. This was close to a year-long relationship where we used to interact every few months, and every time, we used to go back with more clarity, more proof points, and it was really helping us. We thought, "It looks like it's a hard problem to solve." By the time we were close to one to two years, we realized that this is probably a large opportunity, but also a big problem to solve, and this is going to take a long time to figure out because the market is still not – the category is not mature. It's still a very nascent cap. With that realization, we decided to have somebody, an investor, who can help shape the product/market fit. That's why we took money from Accel. But everything else was easier from – when I say easy, it was natural from that point. Once to come to existing to taking money from investors, you have to stay committed to the part of alignment with investors. It's very important to do that. If you're a bootstrap founder, you have a different path, and if you take money from investors, then you have a different path that you're committing to figure out can this be a large business? That is what we set out to do, and that put us on the path of a very interesting product/market fit cycle for another three years, where we searched for the right product/market fit that would allow us to build a large company. That happened over the next three years or so.
Alejandro: In this case, we keep talking about customers and the importance of iterating and catering to give them the absolute best solution that you can. In this process of listening to your customers, is there something that you're looking for or maybe a specific question that you typically ask where you do a deep dive on those answers that give you the right data and insights to make decisions?
Krish Subramanian: Yes. I can actually talk about people that I did not get as customers and how that helped us. There used to be a company called Recruiterbox. The evaluator charged me, and they did not choose us. This was when we had a $14 or $17 price point. They did not tell us why they did not choose, but finally or later, we saw that they were doing well. They hired a good number of customers; they had good market traction. So what I did was I went and met the founders to sit with them and ask them, "What changed between one year later. How did you think about the position then, and why did you not choose us, and how do you think about it today?" The answers were very insightful because they said, "At the time, you were one of the first products that I would have paid for because [21:33] and I did know if my idea had links, and I don't have any customers, and you were asking me to pay $79 per month." I thought, "Okay. This is something that I can build myself." So I decided to build [21:50]. One year later, I realized that I had done so much work on top of that, which I shouldn't have done. Now, for me to scale from here to the next stage, probably they thought it was going to be more, but my problems are different now. I have to spend all of my developer time in building my product. I think in hindsight, it might have made sense. They should have probably gone with me, maybe they would have spent more. But at that time, it felt like it was still, even $99 looked like a lot of money." So, it was very insightful to understand their mindset of a very early-stage customer where there is no money available and no customers available, and even $99 looks like a lot of money. Compared to somebody even with a few thousand dollars in revenue, suddenly, they feel comfortable with, this is not the most important problem. Saving $99 is not the most important problem. But they want the best solution. They don't want the cheap solution. They want the best solution that would allow them to scale if everything works. Just trying to understand the noise of how an entrepreneur was thinking in the early stage versus somebody who's scaling would think [22:55]. The other customer was [22:58]. It was a charge customer, but we had a very similar journey where they also started in the 2010 or 2011 timeframe. The company was named differently – a French company. I remember a call where they asked for a discount on a $79 or $99 product, and I gave them some discount – a $20 discount, and then got them on board, and they implemented it. One or two years later, I met Matt [23:25] in his office, and he said, "Krish, don't charge me more because I'm going to tell you something that I shouldn't be saying, but maybe you should have charged me $1,000 a month because that's how much value I'm able to see today in terms of effort that I don't have to put in to maintain this. Maybe you should have charged more; maybe it would have helped with credibility." It was a very interesting observation coming from a customer who is teaching you something about the perception. These kinds of continuous customer conversations where you try to understand how they think about you, then versus now, and the ones who actually choose you, even the customers who are not choosing you, just trying to understand these things are very helpful to learn first principles, Alejandro.
Alejandro: Yeah, 100%. It's interesting, those insights, how to how sometimes when you charge a bit more, it can give the social proof or the credibility, so that you're not seen as the cheap option kind of thing. Right?
Krish Subramanian: Correct, because it's also the nature of the solution. Because it's a B2B solution, and they want the best solution for their product so nothing will go wrong in their customer experience. They are looking for the best solution available in the market. It's very important to be able to relate to it and think about the motions of the process and not just the mathematical way of proving that this is the right solution.
Alejandro: In this case, you guys have raised quite a bit. You're now in scaling mode, growth-stage mode. Was it that challenging going from the early-stage phase to the growth-stage phase? How was that for you guys?
Krish Subramanian: It never gets easier. Right? Once you establish product/market fit – based on all this feedback, we established and introduced freemium, but we also had our premium pricing for the larger customers, service offerings, and all of that. Getting to the first million was a very interesting path where you try to get any customer as your customer. Then, when you have enough data, a few hundred customers, it's very important. For me, the biggest because who are your most important customers from that first 200 customers because maybe your next 200 customers should be similar to the 20 or 40 customers that you have today, and not all your 100 or 200 customers are your best customers. You have to understand, "Of these 200 customers that I have, which 20 or 40 do I want more of?" Then, we have to finetune the go-to-market engine to ensure further that we are finding more of them to find the next 1,000 customers similar to them. That is what gets us slide wheel going where they stay longer with you; they use your product more; they pay you more. You build a machine where you're able to go where the customer demands more from you. You want to align the product for a customer who wants more from you. And they will also be willing to pay more. This [26:24 – 26:28]. Many times, if you miss out on understanding the existing customers and think about – it's very important for a founder to think that maybe it's very hard for us to be everything for everybody. We are going to be everything for somebody, but it's very important to find out who those somebodies are. That requires us to introspect. That is what we went through in 2016, and we found the types of customers who consume our API. They have developers; they have a CTO, and they like you using the product, and they have the ambition to build a large business. Those are the types of customers for which our product was most suited. Not for somebody who was saying, "I want to build a micro-business," which probably will only have 10 or 100 clients. [27:16] business like that. It was very important to understand the distinction between these two and then drive our focus toward that type of customer. That allowed us to go from 1 to 5 million in five quarters. Then, we continued doubling from there every year in terms of team, revenue, and the process.
Alejandro: Yeah. You were alluding to team. I wanted to ask you here, what's the size of the company today? Any numbers that you can share – team members or anything else?
Krish Subramanian: Sure. We process [300 27:49] billion dollars of our customers, and that's growing into around 100-person a year. We are a team of 450 people, with more than 375 people all over India. Then, we're 50 people now in the U.S.; then we also have a team in Europe. Before COVID, I used to say San Francisco, Salt Lake City, Amsterdam, and [28:14], but now it's distributed, and pretty much people are at their homes, and now it's more globally distributed. We also have a few team members in Australia. So the customer base is global in [43 28:25] countries, and now the employees are also global, everywhere – a team of 450 people.
Alejandro: That's an incredible growth that you guys are experiencing, Krish. Very, very well done. Now, imagine that you go to bed tonight and you sleep for five years, and you wake up in a world where the vision of Chargebee is fully realized. What does that world look like?
Krish Subramanian: The reason we started the company was to learn how to build a good product organization that is people-centric. I think one thing that I missed telling is there are more than 25 ex-founders who are part of Chargebee. I think it's very important to preserve the entrepreneurial customer, so in five years, what would look like success is more companies, more founders, who actually go out and build companies out of Chargebee would be phenomenal. Probably, we would have also built 700 million dollars in revenue and have built an engineering institution that can sustain beyond us I think would be phenomenal. Hopefully, I think the biggest success will be more people who learn how to build products from here and go on to build bigger impactful companies that I think will be even more beautiful, Alejandro.
Alejandro: I love it. Now, imagine that we go into the time machine, and we go back to 2011 to that moment where you and your co-founders were thinking about doing something. Obviously, it has been an incredible ride for you guys – the ups, the downs, the good, the bad, and the ugly of building and scaling a business because it's not a straight line. It's not what people would typically read on the media with all the big numbers and all of that. There is a lot of sweat and tears that go into it. Basically, if you could speak to that younger Krish and give that younger Krish one piece of business advice given this incredible journey and all the knowledge that you've been able to gather, what would be that one piece of advice before launching a business that you would give to your younger self and why knowing what you know now?
Krish Subramanian: Understanding that growth creates opportunities is one piece of advice I would give to that younger Krish. What I mean is, if you prioritize achieving certain numbers that are put in front of you and try to achieve those goals, and how difficult it is, it aligns everybody in one direction. Otherwise, we assume that all of a sudden, working in the same direction – but speed is not velocity. We may be moving in different directions, even though it's just a few founders starting. If there's one thing that I would actually advise, it is to prioritize growth. Just put some number in front of you and then work toward that, thinking you have [31:19] to actually try and do things because there is a limit and a mode of energy that is there with us. It's very important to prioritize and create an impact. It can be about building a happy, small company or building a large company, but having the co-founder alignment and making sure you're able to prioritize growth is one piece of advice I would give.
Alejandro: Absolutely. Without alignment, there's nothing. So, Krish, for the folks that are listening, what is the best way for them to reach out and say hi?
Krish Subramanian: My Twitter handle is @cbkrish. My [email protected] is my email.
Alejandro: Fantastic. Well, Chris. Thank you so much for being on the DealMakers show today.
Krish Subramanian: Thank you so much for having me, Alejandro.
* * *
If you like the show, make sure that you hit that subscribe button. If you can leave a review as well, that would be fantastic. And if you got any value either from this episode or from the show itself, share it with a friend. Perhaps they will also appreciate it. Also, remember, if you need any help, whether it is with your fundraising efforts or with selling your business, you can reach me at [email protected].
Podcast: Play in new window | Download
Subscribe: Google Podcasts | Spotify | Stitcher | TuneIn | RSS | More
Facebook Comments