How an M&A advisor helps you during an acquisition?
You've decided to sell your business, and now it's time to start preparing it for sale.
Hiring a merger and acquisitions advisor assists you in selling your business.
They can provide enormous amounts of help over selling it on your own.
Negotiating directly with the buyer immediately puts you at a disadvantage.
As a result, the sale price is often significantly lower than what other buyers are willing to pay.
Not to mention falling prey to many inferior terms, which can impact you for years after the closing.
Having skilled representation during an acquisition is essential for the optimal outcome.
Let's look at why you should hire an M&A advisor during an acquisition and how they can help you.
Remember that mastering the storytelling side and how you are positioning your business is critical when it comes to engaging and speeding up the process. This is done via your acquisition memorandum. This is super important to reach a successful acquisition. For a winning acquisition, memorandum template take a look at the one I recently covered (see it here) or unlock the acquisition memorandum template directly below.
Access The Acquisition Memorandum Template
Your email address is 100% safe from spam!
Here is the content that we will cover in this post. Let's get started.
Why should you hire an M&A advisor?
M&A advisors are experts at finding buyers, preparing businesses for sale, and managing auctions and the transactions process.
A skilled and experienced advisor will almost surely be able to provide you with a better result than you could attain on your own.
M&A advisors will use their networks and skills to find suitable buyers.
They also assist with the preparation of your Confidential Information Memorandum (CIM), marketing materials, and financials.
They will oversee the entire process for you, allowing you to concentrate on running your business.
Interacting with potential buyers and negotiating on your behalf are all often part of the service.
One of the most critical facets of negotiating a sale is knowing how to value your company. Trust your M&A advisor to assist you in evaluating the venture and putting the appropriate price tag on it.
The 4 steps of the acquisition process
Selling your business doesn't happen overnight and can be a lengthy process of anywhere between 2 to 6 months. Or even years.
With the right M&A advisor, you can get through each step of the acquisition process with ease. And achieve the best outcome for you and your business.
Here's a quick rundown of how the process works and what you should expect.
You'll also get an overview of how an M&A advisor helps you during an acquisition.
Step 1: Determine potential buyers
The first step in the acquisition process is identifying the group of prospective buyers involved in the transaction.
Your M&A advisor should discuss with you the type of buyer you're looking for, as well as your transaction's objectives.
The best will already have the right buyers in their network and know who is looking to buy.
Simultaneously, an M&A advisor will begin drafting a descriptive memorandum on your company.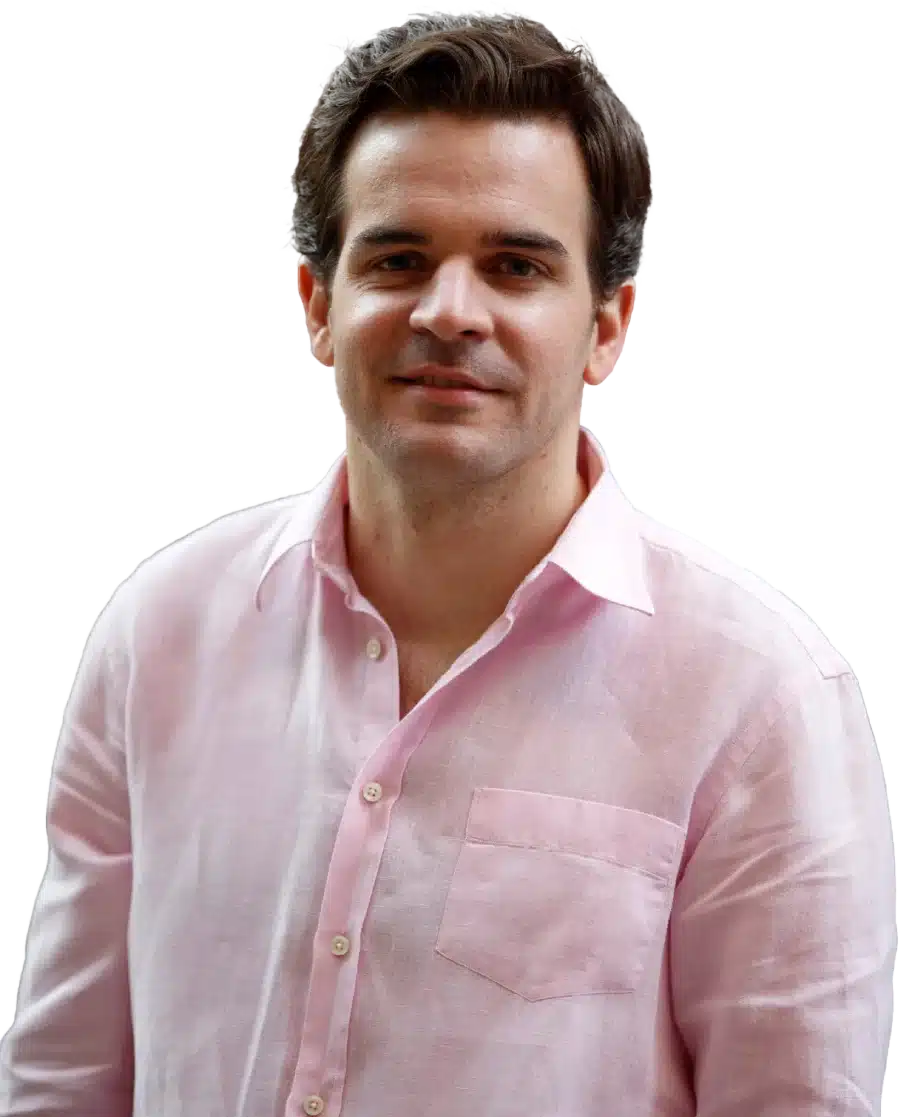 See How I Can Help You With Your Fundraising Efforts
Fundraising Process : get guidance from A to Z.
Materials : our team creates epic pitch decks and financial models
Investor Access : connect with the right investors for your business and close them
This document should be ready for eventually presenting it to the interested parties. The typical contents of a descriptive memorandum are:
An outline of services and capabilities
Clients and industry
Key metrics
Management profiles
The purpose of this document is to provide prospective buyers with the necessary information. They should be able
to see an overview of the company, gain interest, and submit a purchase offer.
Or at least begin some initial exploratory conversations.
Getting in touch with potential buyers
Once you and your M&A advisor conclude which buyers are best suited to your requirements, your advisor will contact them.
They should also be screening acquirers and their representatives, to filter out the deadbeats.
If your M&A advisor has industry experience, they ought to have ties with several buyers you're considering. And be capable of reaching them immediately with the first contact.
Your M&A advisor will begin negotiating confidentiality agreements once you have received replies from prospective buyers.
These are the people who are interested in having a discussion.
This enhances your capacity to regulate the process, and the information exchanged with others in the business.
After both parties have signed confidentiality agreements, your M&A advisor will submit a more detailed memorandum or company overview to prospective buyers.
And, that's just one of the ways how an M&A advisor helps you during an acquisition.
Reduce the number of potential buyers to the most serious ones
Potential buyers should begin to decrease until only the most serious buyers remain.
Your M&A adviser now requests preliminary expressions of interest or letters of intent.
Depending on the group of buyers and the terms of the deal, your advisor will inform buyers that they must reply within a specific timeframe.
The deadline can be as short as one week if you wish to go with the first buyer who makes you an offer.
However, say 10 buyers review the memorandum and return with queries or the need to discuss it internally.
In that case, the deadline will be extended.
Your M&A advisor should focus on negotiations with interested buyers based on their interest levels, capability, and match.
Step 2: The bidding process
The M&A advisory firm conducts management meetings with potential buyers to start the bid process.
You should have several bids, depending on how the negotiations process goes.
Prepare due diligence
Gather all necessary information and store it in a data room.
Include the company's financials, employee information, and corporate standards.
Also, add everything else that the eventual buyer will need to know to run the business post-closing.
Your M&A advisor will advise you on what information needs to be organized and when it should be given.
Receive final offers
Your M&A advisor will begin receiving final offers from potential buyers at the end of the bid process.
The final stage in the bid process is to choose the best Letter of Intent (LOI) after you've received all of the bids.
Because all offers will have varied structures, terms, and conditions, this selection may be far more complicated than simply selecting the best price.
Your M&A advisor is an expert and will assist you in sorting through the intricacies of each proposal.
They'll also assist you in understanding the components and determining which one best meets your specific requirements.
Step 3: Due diligence and contract review
Step 3 of the acquisition process deals with one buyer only, who is the bidder you selected at the end of step 2.
Here, your M&A advisor will guide you through the due diligence and contract review processes.
Due diligence
You can now provide the potential buyer access to the files in your data room.
That's because they will require more information about your organization to assess if it is an excellent prospective acquisition.
They'll usually send you a list of due diligence requests to review and prepare with your M&A advisor.
Or they will be listed in your preliminary agreement.
To minimize complications later in the acquisition, you must give buyers sufficient information about your business during this step.
Your M&A advisor will explain the process and ensure that you equip buyers with enough information to make an informed decision.
You'll want to understand any specific risks that could have financial or legal repercussions for either your side or the buyer's side before closing day.
You and your M&A advisor will also conduct reverse due diligence to assist you.
You may want to include proof of ability to pay the closing consideration and future earnout payments in your due diligence request.
There can be a fair amount of re-negotiation and ironing out the final terms during this stage.
You'll start to understand the true value of how an M&A advisor helps you during an acquisition.
Contract review
When you receive the Purchase Agreement, the contract review process begins.
This agreement outlines exactly which assets and liabilities are included and excluded from the sale.
It also includes the specific contract terms and representations made by each party.
Negotiations regularly get used to ensure that both the parties involved in the contract are happy with the final terms.
Contract review takes time and necessitates a high level of attention to detail.
Up until the deal closes, you, your attorney, and your M&A advisor can expect to negotiate contract provisions.
These clauses may be a part of the Purchase Agreement as well as any employment agreements.
An employment agreement, if relevant, often includes your future role in the company, your compensation, and perks.
Depending on their roles, long-term employment agreements may also get offered to some of your employees.
You may have to negotiate your own new employment position and earnouts.
As well as resources for your company as it is integrated with the new owner.
Step 4: The final closing process
Both you and your M&A advisor will have dealt with a myriad of challenges and conducted lots of conversations.
You will also have invested time and money to get to this point. Closing, however, entails more than merely signing the final documents.
First and foremost, you must meet any final considerations and requirements.
These may include:
Finalizing the Purchase Agreement and employment agreements
Alerting select customers
Preparing to publicize the purchase to the press and employees
Obtaining any relevant consents are all examples of your responsibilities.
Before finalizing the transaction, your M&A advisor will help ensure that all of these elements get accomplished promptly.
The acquisition process may appear to be complex.
But, having a competent team of experts helps guide you in navigating the complexities of a transaction.
Working with specialists who have extensive transaction expertise and industry experience can assist in alleviating the stress of the process by ensuring a successful closing.
That's how an M&A advisor helps you during an acquisition.
Keep in mind that in fundraising, storytelling is everything. In this regard for a winning pitch deck to help you here, take a look at the template created by Silicon Valley legend, Peter Thiel (see it here) that I recently covered. Thiel was the first angel investor in Facebook with a $500K check that turned into more than $1 billion in cash.
Remember to unlock the pitch deck template that is being used by founders around the world to raise millions below.
Access The Pitch Deck Template

Your email address is 100% safe from spam!

 
What to look for when hiring an M&A advisor
During the acquisition process, you want M&A advisor negotiating expertise.
You also need the necessary temperament to cope with various personalities and the ability to listen to you complain.
Your M&A advisor should ideally possess the following characteristics:
Confidence
Someone who will question you and tell you what you really need to hear.
It's not enough for your M&A advisor to challenge you; they should also be able to stand up to the opposite side.
Analytical thinking
M&A transactions are highly complicated and necessitate the analysis of a large amount of data and financials.
They also require an understanding of valuation techniques, the ability to sell a company, and various other factors.
Any profitable transaction requires precision while navigating through so many intricacies.
To evaluate enormous volumes of data and generate a precise and error-free evaluation at every step of the process, you'll need a highly analytical mind. As well as sales skills.
Logic and reason
Negotiating isn't about imposing your will on the other side; it's about logic and reason.
It entails understanding the other party's requirements and cooperating to build a mutually beneficial agreement in good faith.
Discretion
Any M&A transaction requires privacy and confidentiality.
Anyone handling or involved in a business acquisition must be trusted entirely to keep all business information and sensitive materials, such as intellectual property, private.
It's also crucial to maintain discretion so that neither employees nor consumers learn about its sale before the time.
This can lead to unnecessarily high anxiety levels and the loss of valuable clients and employees.
Sellers should opt for an M&A advisory firm with a proven track record of credibility in such sensitive situations.
Foresight and perseverance
Deal-making is like a marathon, and a good M&A advisor understands that the acquisition process cannot be rushed.
The M&A advisor's ability to understand the big picture, predict challenges and the other party's next move, and commit to the deal is a massive help in closing deals.
Passion
Your ideal M&A advisor loves what they do, making them focused and passionate.
Their dedication allows them to act in your best interests. And negotiate terms that allow you to achieve your company and personal goals.
When a trustworthy M&A advisor is passionate about providing you with life-changing solutions, it will show in their actions and the ideas they present.
Compassion
A compassionate understanding of the client is required to be truly successful as an M&A advisor.
Business owners have spent time, sweat, and tears growing their businesses. And selling is a profoundly personal and emotional experience.
They will have anxieties and uncertainties that will need to be addressed.
Empathy is essential during the acquisition process to completely comprehend a seller's motivation and future aspirations.
A good M&A advisor will never pressure a seller to accept a deal they shouldn't.
This necessitates a willingness to see things through the seller's eyes throughout the entire acquisition process.
Conclusion
With the right M&A advisor, you can streamline and enhance the success of your acquisition.
An experienced M&A advisor will guide you through the various steps and ensure you find the best buyer.
They will also assist you in getting the best contract terms and the best price for your business.
Understand how an M&A advisor helps you during an acquisition and choose the right professional.
You may find interesting as well our free library of business templates. There you will find every single template you will need when building and scaling your business completely for free. See it here.
Facebook Comments