Geraldo Thomaz is the co-founder and CEO of VTEX which provides a cloud-based e-Commerce Platform and Omnichannel solutions. The company has raised over $140 million from top tier investors such as Softbank. 
In this episode you will learn:
Transforming yourself from founder of a small startup to CEO of a big company

His top advice for new entrepreneurs

Why hustling harder and longer hours isn't always the answer

How to keep going when things are challenging
SUBSCRIBE ON:
For a winning deck, take a look at the pitch deck template created by Silicon Valley legend, Peter Thiel (see it here) that I recently covered. Thiel was the first angel investor in Facebook with a $500K check that turned into more than $1 billion in cash.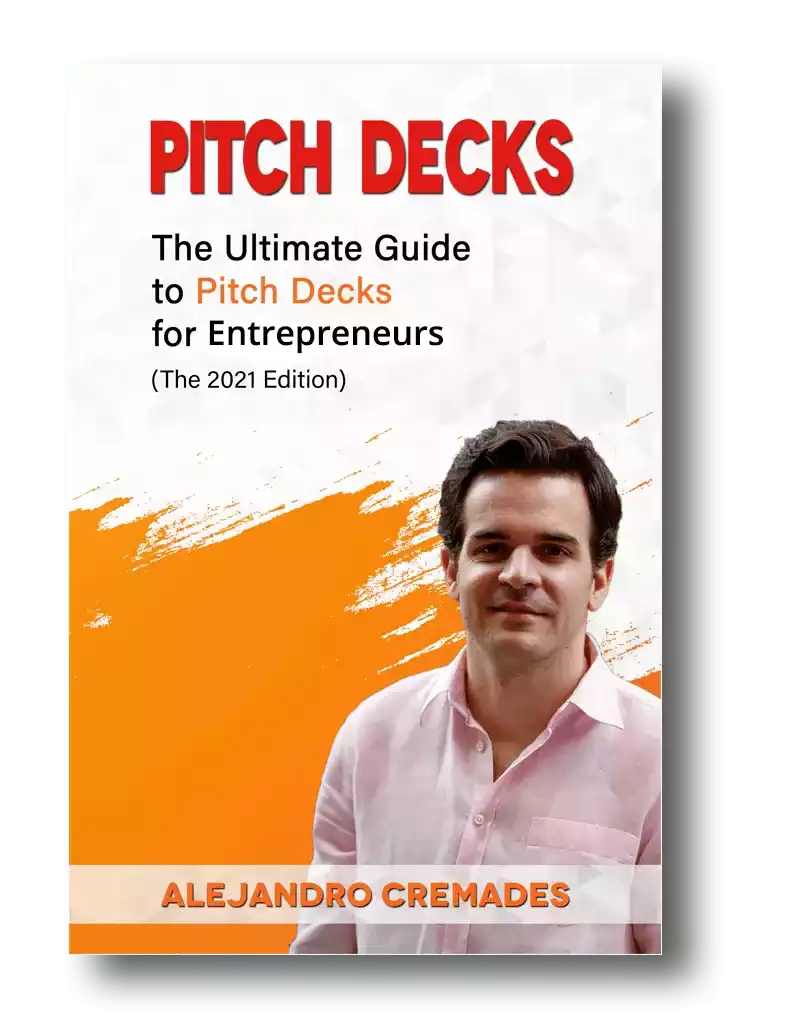 *FREE DOWNLOAD*
The Ultimate Guide To Pitch Decks
Moreover, I also provided a commentary on a pitch deck from an Uber competitor that has raised over $400 million (see it here).
Remember to unlock for free the pitch deck template that is being used by founders around the world to raise millions below.
Access The Pitch Deck Template
Your email address is 100% safe from spam!
About Geraldo Thomaz:
Geraldo Thomaz is the cofounder and CEO of VTEX.
VTEX provides cloud based e-Commerce Platform and Omnichannel solutions. Known for their vanguard technology and by being a time-to-revenue platform, VTEX has been recognized by the analysts from Gartner and Forrester, as a Global Leader for Digital Commerce.
VTEX is ranked on Gartner's Magic Quadrant for Digital Commerce. VTEX is present in 28 countries and is trusted by 40% of the top brands in the world including Sony, Disney, Whirlpool, Electrolux, C&A, Cencosud, Boticário, Avon, Lancôme, Walmart, Staples, Nokia, Fravega, Coca-Cola, Personal and Lego.
Prior to VTEX he was an analyst at Banco Icatu and also studied mechanical engineering at Universidade Federal do Rio de Janeiro.
Connect with Geraldo Thomaz:
* * *
FULL TRANSCRIPTION OF THE INTERVIEW:
Alejandro: Alrighty. Hello everyone, and welcome to the DealMakers show. Today we have a very interesting founder from Brazil, so we're going to be able to learn about the market there, about how to start out, to build that resilience, and to keep going even if things don't work out, and how to turn something around into something incredibly meaningful. So, without further ado, I'd like to welcome our guest today. Geraldo Thomaz, welcome to the show.
Geraldo Thomaz: Nice to meet you, Alejandro. It's a pleasure being here.
Alejandro: So, born in Rio de Janeiro or Uptown Rio de Janeiro. How was life growing up there?
Geraldo Thomaz: It is. You know, Alejandro, this emerging market for the information technology industry, if you had the right study, it doesn't matter where you were born. That's what I believe, and yes, I'm very proud of being born here. I'm very proud of being born in Brazil, and I'm very glad that I had the chance to have a very nice study in this country, and I'm ready for the world.
Alejandro: Very cool. I understand that your father is also an entrepreneur, so I'm sure that you were able to learn quite a bit from him too.
Geraldo Thomaz: Especially the resilience I would say.
Alejandro: What kind of entrepreneur is your father?
Geraldo Thomaz: My father and mother have a school together for more than 35 years. I've grown and studied in their school and also learning from their mistakes and their opportunities to increase the conflict and the traps that they had while they were growing this school in Uptown Rio.
Alejandro: What did you learn there from the ups and downs?
Geraldo Thomaz: I learned the consistency of entrepreneurship. It's not a business; it's not a job that you can celebrate and be depressed all the time and every day. If everything is going fine, you keep moving. If everything is going bad, you keep moving. That's the main lesson that I got from my parents while I was a child. They just keep moving in the good moments and the bad moments.
Alejandro: Why did you go and study engineering?
Geraldo Thomaz: I, as most teenagers, don't have a clue what it's like being a professional, what it is like being a doctor, or an engineer, or a lawyer. I was, like everybody else, I had no clue of what I wanted to do, and I understood doing engineering, I would increase the possibilities of my life. I would get more strength to choose what I wanted to do later because I had this feeling that I wanted to also risk myself and create my own business.
Alejandro: Let's talk about going into University. I know that you did an internship at a bank, and it was quite impactful, so what happened there?
Geraldo Thomaz: You want to create your life; you want to build your life in a way that you increase the options as you move forward. Then I entered in this engineering school, but at the same time, two years later, I started an internship in a bank. It's not a bank to build cars. I was doing mechanical engineering, but still working in a bank because I also wanted to increase the possibilities of my life. I went there to work in a quantitative model for the external debt for the Brazilian companies and government. It took a year creating models, creating mathematical models for us to trade. And I began doing arbitrage against this debt, but once we started, a month later, we had the Russian crisis. This crisis just destroyed and imploded all this market. All of the sudden, my internship was gone. I had nothing for my internship work. I had to move areas. I had to learn a new thing. This is the most important learning that I had in this bank because I understood if you're learning, you move forward no matter the environment. My environment at that time just exploded, and I moved forward.
Alejandro: I totally agree there. I know that during this time, as well, you eventually met who happened to be your co-founder. Tell us about how you guys met, how you guys started to think about the world and the future together, and how you brought your baby to life.
Geraldo Thomaz: This is a good question. Mariano, the co-founder, started college with me. We both, like until today, doing spearfishing, like fish under the sea. We became very good friends because of college and because of this comradery and hobby that we had. He also went to this bank, and we were very close. When we finished college, we started the business that we have today, not in the same shape, but we started our venture when we finished college.
Alejandro: Tell me about starting the business, and what was that process like?
Geraldo Thomaz: Alejandro, I graduated in the year 2000. In the year 2000, you must remember, we had the bubble of the internet. In the same year, we had the bubble burst. But Mariano and I founded an internet company when the bubble was there. Six months later, the bubble was not there anymore, but our business was starting. We were seeing the opportunities, and we moved forward. We didn't give up at that time. I had these lessons from my parents; I had these lessons from the bank. When everything explodes, you just move forward. That's how it started. Mariano and I wanted to be in this shaky world, in this world with risk, and because there was risk, there were big wars that we could capture in the future. We just jumped in there with no previous knowledge, with no previous experience. We just jumped.
Alejandro: Obviously, now, we're going through another challenging time, so I'm sure that you learned a lot from starting a business in such a difficult situation or environment. What were some of the challenges that you experienced then?
Geraldo Thomaz: At that time, you talk about the current time of our society, the COVID, and all this stuff. It's actually very interesting.
Alejandro: Yeah, Geraldo, there are probably a lot of people that are listening now and thinking about starting their own business, and perhaps dealing with the same problems that you were dealing with back then. What were some of those issues, and how did you overcome them?
Geraldo Thomaz: Alejandro, this is a very good question because now, this crisis that we're moving forward, I will have the presentation with my team in an hour from now, and I've got a quote from Churchhill, "If we're going through hell, keep going." This is what is happening right now. Every one of us must keep going. If the entrepreneurs are thinking about creating a business, they should keep going. That's what we did in the year 2000. In the year 2000, we were very excited with the opportunity that we had. It was not an e-commerce platform. It was a textile marketplace, like a fashion marketplace. We had no idea how to do it but were excited about doing it. After the bubble burst, of course, we thought about interrupting the venture, but it was not an obvious decision. By the time the bubble burst, we were already poisoned by the poison of the entrepreneurship. We had seen opportunities. We had seen a future together, a future that we could get very good fruits. After we saw that future, the current mud that we were going through, it doesn't matter because we are seeing the light that was expecting us on the other side of the mountain. And we did. At the time, the internet was growing a lot from zero to a lot of things. We had a lot of other opportunities. We had a lot of other ideas that most of them went wrong, and some of the opportunities gave the sufficient money for us to keep moving forward. We are based in Brazil. We were born in Brazil, and this venture capital market is here for less than, I would say, 5 to 20 years ago, there was no venture capital in Brazil. We had to learn and to move forward with our customers' processes, not our own. This enabled us to go from one venture to another venture to another venture, and while we were trying new things, we were building e-commerce websites. We were building real estate company websites. I remember us building TV show fan websites. Even that, so that we had a little money for us to live, and also, to invest in this new other idea that we had. During those eight years that we were trying to build an internet business, we might have had maybe six or eight ventures that we tried at that time. They had related, but different focuses. All of them went wrong. All of them didn't work. What kept us moving was that after the once venture went wrong, we arrived at the other venture much more prepared for the next phase of our lives.
Alejandro: It took literally eight years, Geraldo. You guys got started in 2000, and you were able to turn the corner in 2008. Were there people telling you, even your family, "Hey, Geraldo. Just give up. Are you guys nuts? What are you doing?" 
Must Read: Fahri Diner On Selling His First Startup For Over $3.5 Billion And Now Raising $150 Million To Make Your Home Smarter
Geraldo Thomaz: Especially my friends. All of my engineering friends were working in high-class banks. They were working in nice engineering companies. They were fine. They were getting married, and we were not sure that we would have the money for the next month. Every month was like this. Every month, we didn't have the money for the next month. We kept moving, and there were very decisive moments on that. There were some moments that we decided if this doesn't happen, we will give up. We will go for a job. We will declare ourselves adults, not irresponsible teenagers anymore. [Laughter] For two times that it happened, the one thing that we were thinking as the condition of us moving forward, magically, it happened. Our first agreement with a customer happened in 2001, and all of a sudden, we got the energy back to keep moving. We had some moments in our path that we had a lot of doubt as to if we should move forward or not. But when we stopped, we were looking at our colleagues, and we had the feeling that we were learning more than them. We had more lifetime experience than them. These eight years for us were more intensive than it was for them.
Alejandro: No kidding. Eight years, almost running out of cash every single month, I'm sure that you guys also lost like 20 years of your life from this stress and from that craziness. [Laughter] But I know that in 2008, Geraldo, there was a big moment. There was a turning point for you guys. We're talking about the biggest company in the world, hiring the smallest company in the world. What happened?
Geraldo Thomaz: That's what happened. In 2008, the Walmart Brazil was looking for a group of people to do their website. It was going to be the second Walmart website in the world. There was the Walmart.com in the U.S., but all over the world, there was not another website with the label, with the brand of Walmart. We were going to be the second one. They looked for us, and they said, "Come on. We want to do it. We want to do it fast. We lost some time here. We don't have any time to lose anymore. Do you want to build this website?" Then we said, "Yes. We have the experience. We have the grit to do it." Then Walmart said, "Okay. I will test you." It took one year for them to test us, test us in features, test us in scalability, in knowledge, in e-commerce knowledge, in everything. We won the bid. We won the contract. After eight months, we launched the Walmart.com.br website. A very important milestone for our lives and for our company. After that, we knew we had an asset in our shoulders. We were responsible for building the second Walmart brand website in the world, and then we started a different phase in our lives.
Alejandro: Very cool. For the people that are listening right now, what ended up being the business model of VTEX?
Geraldo Thomaz: It took us 2008 and 2009, two years of mostly working for Walmart because the website was growing very fast. In 2010, we decided that we were going to be this software as a service e-commerce platform. That's what we are until today. The business that we have today started in 2010 because of this great Walmart case that we did. This new phase, it's divided into very clear different phases. The first ten years were looking for a demand. Then from 2010 to 2016, we were almost getting killed before the demand because we're starting this e-commerce platform software. The demand was huge, and we had very little investment available in our region to make sure we were capturing all the demand that was being generated. This was the beginning of this next phase.
Alejandro: Got it, and what an amazing phase, and what an incredible journey. You guys have ended up raising money from some of the most well-known investors in the world. How much capital have you guys raised to date?
Geraldo Thomaz: The end of last year, we raised 140 million dollars from SoftBank and two Brazilian private equities that had very good reputations in our region. So, yes. All of a sudden, we were like this zero-revenue company, and it took us ten years to find our path. When we found it, yes, it was a difficult, but very exciting journey until today. Last year, we got this investment from SoftBank, and we are now preparing ourselves for this new phase of our company where we will have this global expansion, not only will we serve Latin America, but we will serve a lot of other countries as well.
Alejandro: What would you recommend because I'm sure there are a lot of people listening now that are thinking about – maybe they've had that global mindset or perspective for a while, and perhaps they're thinking about replicating whatever they've done that is working in their current geographic location and perhaps launching it in a different part of the world. So, what kind of advice would you have for them?
Geraldo Thomaz: My advice is that we are all capable of getting high-quality information to build high-performance companies because of this information technology era that we're living in. All entrepreneurs have the same opportunity as everybody else because the information is available, and the market is available as well. What is the differentiation of entrepreneurs? I would say that the differentiation is having a very obsessive and clear view of where do you want to be in the future? This is what drove us, I would say, for these 20 years. Mariano and I were sure that there was this space for us in the market because we were building a different technology, we were building software as a service in an area that nobody was. We started the software as a service idea since the year 2000, for example. Everybody talks about this now, and we were fascinated by this since 2000. Because we had this obsession about building a software as a service business, we were resilient to go through the crisis, we were resilient when there seemed to be no light at the end of the tunnel, and we were very consistent when we had this [23:52] moment that we were living. Somebody else was asking us, "Do you want to sell the company." Then we said, "We might want to, but not now because we're seeing a much bigger future ahead of us. I think every entrepreneur should go for it. They should build a very clear view of what is the future that they envision. I think this is the most important thing for a successful company and entrepreneur.
Alejandro: Let me ask you to follow-up on that. If you were to go to bed tonight, and you were to wake up five years now, and you wake up in a world where the vision of VTEX is completely realized. What does that world look like?
Geraldo Thomaz: Very good question. Five years from now, we will make the software provider that will enable the merchants to sell from anywhere to everywhere. You know this real Omnichannel experience – what we called unified commerce experience. That's something that everybody says that it exists, but it really doesn't exist as we see it. We see a much more revolutionary way of consumer buying from retainers and grants. Five years from now, we will have found a way to crack the code and attract training and retaining a diversity of high performers. Everybody says about software engineers, discussing software engineers in the world. Right? Five years from now, we at VTEX will build the environment for them to be abundant. There will be a lot of them because we will help in the training of them. Five years from now, we will also build a software that is not only software but is a network of the retailer, and the network is much more powerful than building a simple software that automates processes, handles, and stored information. This is the software of the future that doesn't exist today. We are building this next-generation approach for software. It is not a software consulting company, a software that sells hours of development. It is a software that encapsulates knowledge inside of it, and because of that, it's much easier to use and have much faster time to market. That's the software that we're envisioning, and that's the world that we're envisioning five years from now. We will accelerate the e-commerce transformation of the world.
Alejandro: Very cool. For the folks that are listening to get a better understanding of perhaps how big the business is today, how many employees do you guys have and any other information that you're willing to share.
Geraldo Thomaz: Of course. We're growing a lot in terms of employees. In the beginning of 2017, we were 150 employees. Today, we are more than 800 employees. The company is growing more than 40% every year. This year, we might have a revenue of more than 70 million dollars in a software-as-a-service revenue, like recurring revenue. We expect to be a much bigger company five years from now. This is just the beginning.
Alejandro: Wow. How do you do that? Going from 150 employees to over 800 employees in a couple of years. It's remarkable, and I'm sure it keeps you up at night as to how to keep the culture together. How are you thinking about doing that?
Geraldo Thomaz: There are a lot of things. We're changing and transforming ourselves a lot. I used to say that we are making the effort to transition from the entrepreneur to the actual CEO. The CEO, the guy that gives you direction and communicate the vision of the company, and we are in this transition to be ready for this much more scalable company that we're building right now. The most important thing that we're doing right now is sharing this vision that Mariano and I have had for 20 years. Now, we're trying to make it clear for every one of these 800 people with us in this endeavor. That, right now, is the most important thing that we're doing to make sure that everyone is aligned and being very profitable going into the direction that we envision.
Alejandro: It's very interesting, the point that you alluded to, and I'm sure a lot of people listening are wondering, how do you really go? What does that transition look  like going from entrepreneur to CEO?
Geraldo Thomaz: You're going to have to ask me three years from now because – 
Alejandro: You're still in it. [Laughter]
Geraldo Thomaz: You never know how it is when you transform yourself. The flaws and the advantages change everything. I think the experience, Mariano and I, because of our history, knowing to communicate much better and knowing that there might be people who know how to do it much better. Find these people and attract them and share the vision with them. We are [30:51] entrepreneur today. This is not a future that we envision as the CEO. The future that we envision us as CEO is that we will be hands-on. We will go into the details, but we will also invest a lot of our time communicating the shared future of this company. That's how I see it right now.
Alejandro: Got it. One of the questions that I typically ask the guests that come on the show is if you had the opportunity to go back in time. It's been an incredible journey – what an amazing ride. So, if you had the opportunity to go back to 2000 and give that Geraldo one piece of advice, that Geraldo that is thinking of launching a business with Mariana, one piece of advice before launching a business, what would that be and why knowing what you know now?
Geraldo Thomaz: I will say something that popped off my mind. I would tell this Geraldo from the year 2000, "Don't forget to sleep." That's what I would tell him. Sleep is a habit, and we, as entrepreneurs, forget about it. I think that I would do better if I was not captured by the anxiety that would prevent me to sleep and be more productive in the next thing. Just ask me. This is very serious advice. I've been thinking a lot about this lately.
Alejandro: Well, you and many people. Right? I think this use to be the mindset, and now you have people like Alexis Ohanian, the co-founder of Reddit, talking that hustle-born is not the way to go. If you don't take care of yourself – your body is like a machine. If you don't feed it and give it what it needs, it's going to break down, and nothing else is going to matter.
Geraldo Thomaz: And also, it gives you the false sensation that you're being more productive, but you actually are not. You're just wasting energy. 
Alejandro: 100%. Geraldo, for the folks that are listening, what is the best way for them to reach out and say hi?
Geraldo Thomaz: I think by mail: [email protected].
Alejandro: Fantastic. Well, Geraldo, thank you so much for being on the DealMakers show today. It has been a pleasure to have you.
Geraldo Thomaz: Thank you, Alejandro. It was a pleasure and very good conversation. Thank you very much.
* * *
If you like the show, make sure that you hit that subscribe button. If you can leave a review as well, that would be fantastic. And if you got any value either from this episode or from the show itself, share it with a friend. Perhaps they will also appreciate it. Also, remember, if you need any help, whether it is with your fundraising efforts or with selling your business, you can reach me at [email protected].
Podcast: Play in new window | Download
Subscribe: Apple Podcasts | Google Podcasts | Spotify | Stitcher | TuneIn | RSS | More
Facebook Comments