Fahd Rachidy is now on his third startup venture. His second financial services startup was acquired for $200M. His latest venture has already raised close to $15M from top-tier investors like MassChallenge, ACE & Company, Downing Ventures, and Thames Trust.
In this episode you will learn:
Top book recommendations for startup founders
Building a global team
His top advice when launching your own business
SUBSCRIBE ON:
For a winning deck, take a look at the pitch deck template created by Silicon Valley legend, Peter Thiel (see it here) that I recently covered. Thiel was the first angel investor in Facebook with a $500K check that turned into more than $1 billion in cash.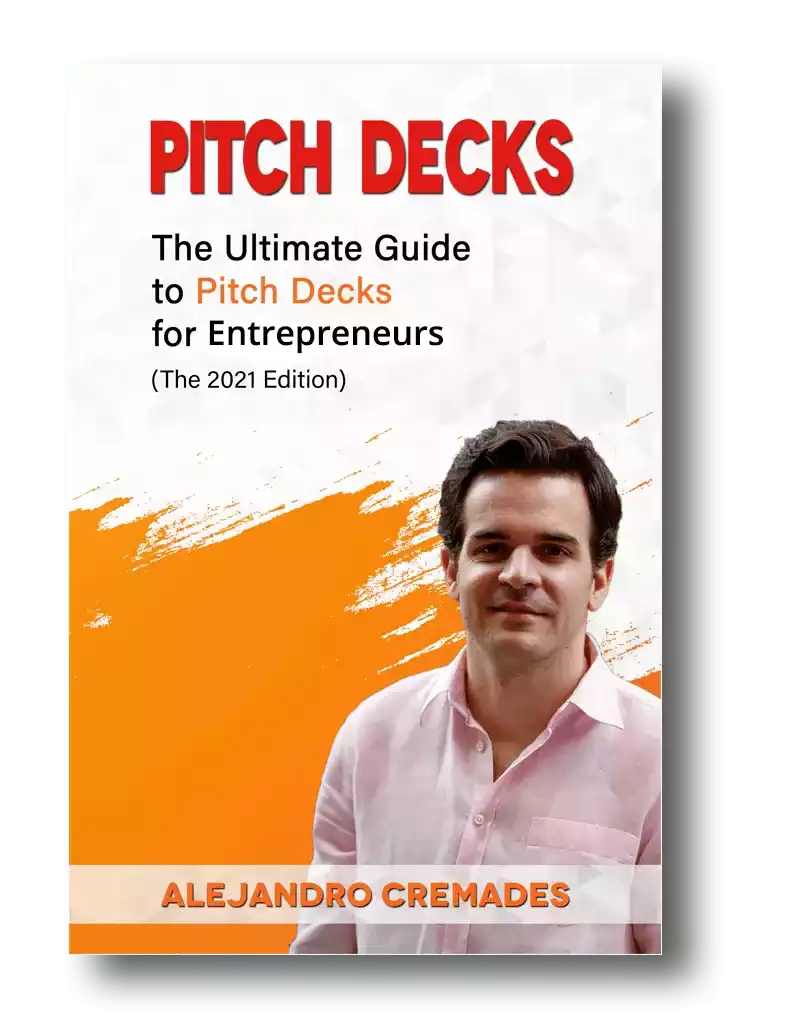 *FREE DOWNLOAD*
The Ultimate Guide To Pitch Decks
Moreover, I also provided a commentary on a pitch deck from an Uber competitor that has raised over $400 million (see it here).
Remember to unlock for free the pitch deck template that is being used by founders around the world to raise millions below.
Access The Pitch Deck Template
Your email address is 100% safe from spam!
About Fahd Rachidy:
Fahd is a serial entrepreneur passionate about helping the industry create secure financial futures for everyone, and re-inventing the way the financial industry works using Artificial Intelligence.
Fahd was previously co-founder of Scientificbeta.com, the leading index retirement digital platform recently acquired by SGX for $205m. EcoleCentrale, Sorbonne University, Lycée Louis Le Grand Paris.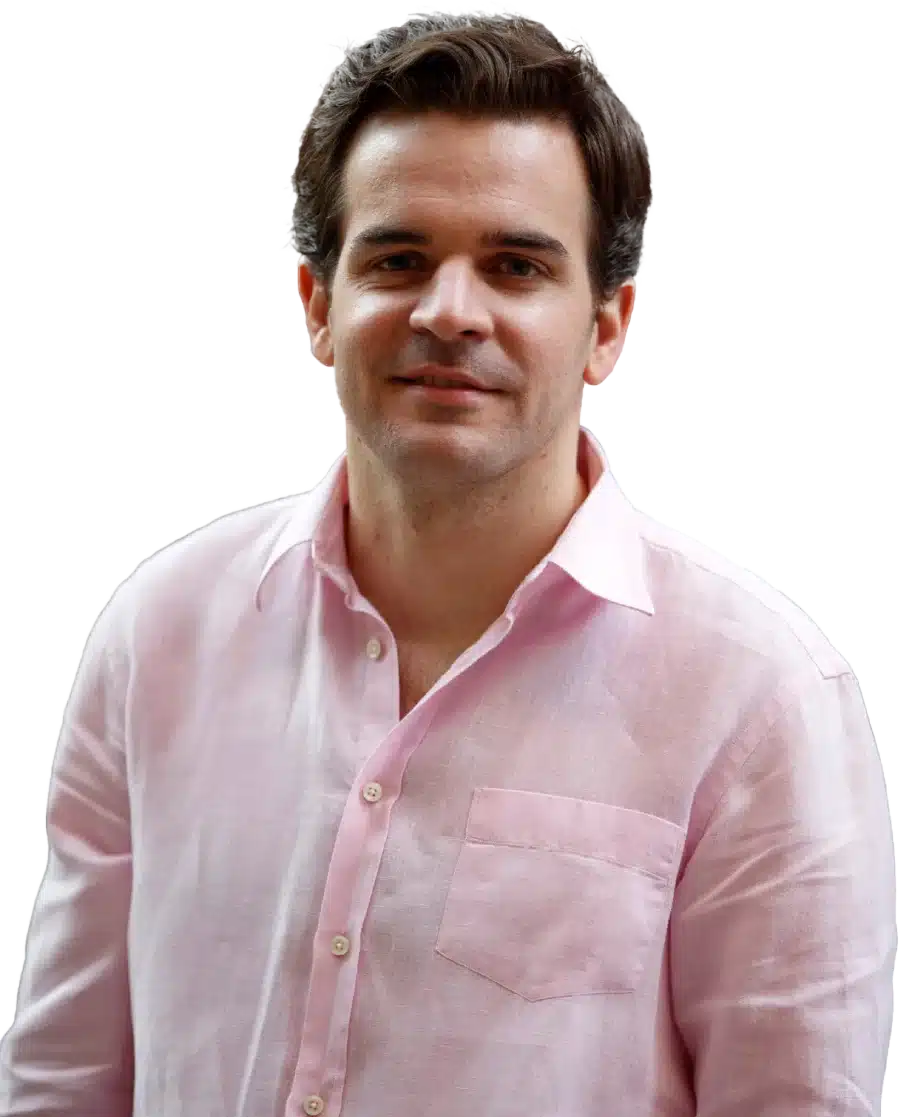 See How I Can Help You With Your Fundraising Efforts
Fundraising Process : get guidance from A to Z.
Materials : our team creates epic pitch decks and financial models
Investor Access : connect with the right investors for your business and close them
Connect with Fahd Rachidy:
Read the Full Transcription of the Interview:
Alejandro: Alrighty. Hello everyone, and welcome to the DealMakers show. Today we have a serial entrepreneur out of Europe, and he's going to share with us his incredible journey, a full lifecycle: built it, scaled it, financed it, exited it, and then also doing it again. This episode is going to be fun, but without further ado, let's welcome our guest today. Fahd Rachidy, welcome to the show.
Fahd Rachidy: Thanks, Alejandro. Thanks for having me. I'm super excited to be here today.
Alejandro: So let's do a walk through memory lane. In your case, you were born in France and raised there in France, but with immigrant parents. Your parents were from Morocco, so I'm sure that being there and having your parents work so hard to make or create a better future for you guys, I'm sure that was quite inspiring for you and an incredible influence for you, as well, as an entrepreneur later on. So tell us about your upbringing.
Fahd Rachidy: That's a great starting point, I guess because what happened during my childhood defines who I am today. You're right that we come from a very modest immigrant background. The place where we grew up was not an exciting environment to live in, to say the least. I think the conclusion of that experience is that you should never take no for an answer when you're an outsider, when your part of a [2:55], and you're trying to go to the best school in France, or you're trying to achieve great scores at school. You tell your best-known story; you apply to one of the top schools in France, [3:10], which is where most of the French presidents, prime ministers, and the top CEOs of the big companies are coming from. When I did ask my mathematics, physics, and science teachers to endorse me to go to that school, they initially refused, and then they put a really negative comment on my dossier to send me to school. I was really upset; I was very disappointed. It's hard to understand their rationale, but because I'm not a part of [3:46], it's challenging, but I still pushed for it. I still applied, and I went in. Also, I received the answer from the school where I was accepted, and then my parents told me, "You know what? We don't have the money to send you." So I had to find alternatives. That was my first experience of raising money, so finding a charity, [4:15] in Paris, who helped me pay for my higher education. Actually today, they are a shareholder in the company because we've given them shares for free because it's payback time. You should never forget where you're from and who helped you in the journey, and these guys are helping other entrepreneurs to build businesses to access higher education. That was a very tough experience, but a learning curve, and with the message of: if you want to get something, go for it, and don't take no for an answer.
Alejandro: Why do you think the teachers refused to endorse you?
Fahd Rachidy: Well, I think I was the top student in the class for years. Their own children were in the class, and I was well above the results of their own children. I think they would be upset with that. It's hard to describe. I don't hold any grudge for that, but they also maybe see you as an outsider, an immigrant. I don't know, actually. That's a good question.
Alejandro: Obviously, now the times have changed quite a bit, but if that were to happen in the U.S., that would be all over the media. Nowadays, I think we live in the information era, so information flows very fast, and that would not happen nowadays. But in your case, I think even from a negative, as you said, there's always a positive. It's remarkable that you are even giving back with the shares that you are allocating. But in your case, why, out of all things, math? It seems that math, economics, and all of these were an interest that you even went and continued with at the university.
Fahd Rachidy: Yeah, absolutely. When I was a child, I was always building things and interested in science. I was actually telling the story a few days ago to one of my friends. I was reading biographies of Newton, Galileo, who built the telescope. So I was always very interested in science, generally speaking. So I was really good at it, as well, fortunately. It's super exciting to be able to build stuff, to invent, to create new things, and to see the applications it can have and the impact it can have on people's lives. That's what drives me: improving things and changing the status quo, and helping people like my dad or kids like me to get access to better information and better products. And specifically in finance, giving them the tools and the ability to build a secure financial future for themselves.
Alejandro: After university, you did a little bit of banking, so either on the private or public, but you first went to Calyon and then to the European Central Bank. Why such a change from one another, jumping ship like that?
Fahd Rachidy: Yeah. I'll tell you right now, Alejandro, I started in training. Actually, I started my career in Ecole centrale de Paris, which was, at the time, top banking. I was a trader there. And then I also worked at the [7:50], which became Calyon, but I hated it. That's a very good lesson as well. I took the job because, coming from my background, I needed the money. It was a highly well-paid job, and it helped me pay back the mortgage of my parents, helped my brother go to university, etc. But I really hated the job. The concept of pure speculation and making money for the sake of making money was definitely something I didn't enjoy. So I didn't see the point. That's why I decided that I wanted to go back to my roots, which are building things, mathematics, science, building models. At the European Central Bank, I was responsible for building financial models. I actually designed the models that help the Board of Governors predict the interest rates [9:03], and then as a consequence, [9:06] from that inflation expectation and drive money through policy decisions. Today, that model is still used by the European Central Bank. It's the starting point where I realized you should never do stuff or take a job if you don't like it or enjoy it and if you're not having fun. So that's the main reason.
Alejandro: Then your first rodeo obviously was Vantage Capital Markets. It took you a little bit of time to become an entrepreneur. We're talking about probably around eight to nine years after being fully graduated from university, especially having that drive and that energy that was influenced by your parents, which was, "If you want something, just go get it," like they did by going to France from Morocco. Why do you think it took you so long to go at it as an entrepreneur?
Fahd Rachidy: I think it's the previous story I was telling you about that schooling experience was the constant thing of having to fight for everything. It takes some time to gain some maturity there and to become more aware and create that self-awareness, which basically is, "This is what I want to do, and I need to do it." It was a very good learning curve and a few years of the learning experience. I always had in mind the idea that one day I want to be my own boss and I want to start a business, etc., but I also wanted to take on some experience and see how the world of large corporations operate. Actually, it's quite powerful because then quickly, we'll probably talk about it later, but I'm used to targeting large organizations as clients. Having a good understanding of how this organizational period was full of insight, but yeah. I did the first drum after the Central Bank by joining with a number of partners and starting up a vintage, global investment strategy, which was an investment research platform. We started that just before the financial crisis in late 2007. So it was quite challenging, as you can imagine, because the crisis hit six months later. I got the [11:58], and then it collapsed in September 2008. We were just taking off. That's a good learning point, as well. Always leverage previous experiences and learn from what you've been doing before. So coming from a background of a Central Banker, it was powerful to talk to clients since most of the challenges for investment managers and investors were, at that point, to understand what Central Bank would be doing, the decision, what is [12:38], and then stop then. Now everybody knows about it, but at the time, it was completely new, and nobody understood what the consequences would be of those decisions on asset prices and on inflation. So we managed to still onboard new clients. But then the regulators started to change the way managers and clients were paying for research and basically could nail the coffin. So we stopped the business.
Alejandro: What was the lesson for you? Because as they say: you either succeed or you learn.
Fahd Rachidy: First of all, it's getting scaled fast. The business was growing, but it was reasonably slow. We were breaking even, but it was not scaling up fast. Then, secondly, it's like always keeping an eye on what's going on under regulatory space, especially in financial services, because that can completely change your business model. I didn't see that point coming. So we didn't anticipate the changes in the business, and therefore, we were a bit late to react.
Alejandro: So, in this case, this, at least, led you to your next company, which is probably your biggest success to date, and that is Scientific Beta. In Scientific Beta, what were you guys doing? It was a quick jump, so you went from failing to right away start another company—not leaving time for anything. So tell us about this.
Fahd Rachidy: Exactly. It's not a sprint; it's a marathon, so you need to be resilient and never give up. If you get hit in the face, just start again.
Alejandro: 100%. So how did you start again? What was that process like?
Fahd Rachidy: Very quickly. Actually, it's taking all the lessons from the previous experience. First of all, and again, following the financial crisis, what happened is that a lot of asset managers, pension funds, large asset owners started to shift their investment from active managers and active manager strategies to what is called active investment strategies indexes. We looked at the financial crisis, and we were paying 2% fees on the [15:20] manager, plus a 20% performance fee. These guys are just delivering the SNP500 investment returns. We pay for his bosses' [15:31] and his big house, but we should buy an index at a few business points and get the same return. So trustees, regulators, and larger [15:45] realized that it makes more sense to shift a huge amount of location to indexes. We benefited from that, so the business started by selling indexes and what is called smart businesses or automated investment strategies replicating or mimicking, if you want, what active managers are doing, capturing the different investment factors in the market, but at a fraction of the cost. We have a solution that is easily deployable, easily implemented by the asset manager. So that took off very quickly because we went for the strategy. I was leading the sales. We went in the strategy to target the big whale and secure big clients to build credibility on the product. The first lines were BlackRock and [16:54], the largest asset manager in the world. So, immediately, that created huge credibility, and subsequently, we signed up Morgan Stanley. Then it went on very quickly. That was an exciting experience and business which started out of the South of France in Nice and then expanded in Europe, the U.S., Asia, etc. Then, I think a lot of large players in the market took notice. What was happening at the same time is that there was huge growth in the ETF market and ETF, obviously replicating those types of indexes in particular. It attracted a lot of attention from the stock exchange, Nasdaq, New York Stock Exchange, ELC in London, or the Singapore Stock Exchange, where [18:09] came to build up the index capabilities. We had a few conversations, and the Singapore Stock Exchange bought the business for $200 million. It was quite a straightforward conversation there, and actually, they're still running the set of indexes today and still growing the business.
Alejandro: How long did it take from the first touchpoint to closing?
Fahd Rachidy: It was less than six months.
Alejandro: Wow. So they were the ones that approached you? Did you put an M&A process in place to find them, or was it completely [18:56]?
Fahd Rachidy: Yeah. I was mostly responsible to drive the sales at the time and focusing on that. So the CEO, at the time, knew I was driving that process, and we were having a limited number of conversations with the men in the stock exchange.
Alejandro: Got it. Incredible. Obviously, a fantastic exit. Then, in your case, you did a little bit of private markets, and you were lecturing, as well, and that led you to the next company, to ABAKA. Tell us about ABAKA and how you came up with the idea, and how you went about it with bringing it to life.
Fahd Rachidy: Sure. Today, I'm the CEO and founder of ABAKA, which is a company we started in late 2015 and registered the company in London in January 2016. Alejandro, it was an easy one, actually, to some extent, because in the previous business, all of my clients were telling me, "This is great. We have a great investment product. Thank you for indexes. This is fantastic. They're performing well." It's kind of a new product. Our next challenge is to make sure that we can explain that product to our customers, retail investors. We want them to use it. We want them to invest in it. We want them to understand it, and we want to be able to sell more. By the way, we want to be able to do that through a digital experience. This is back in 2015/2016 where we, the fintech trend, started to accelerate, especially in the wealth management space, the deployments, and the scaling up of the onboard vice industry, for example. Therefore, we were talking to these clients, "No problem; we can build it." In both cases, it's data-driven businesses, so the index business is just data. You need to get the data to build indexes. ABAKA is a data-driven business. Here, we build an AI recommendation engine that helps our clients, bank, insurance, and wealth managers, design high personalized customer experience, and help them identify which product they can sell to which clients and when. We do that in different industries in [21:49], obviously, where we started. We do that to insurance—that's life insurance. We do that in retail banking, typically savings accounts, consumer finance, loans, credit cards, and we do that in wealth management. That's a huge market today and is growing very fast, accelerating because incumbents have an urgency and an immediate need to control their distribution channel and the product distribution channel, which are being disrupted by new entrances like Revolut, for example, in '26. In Asia, we reach out and grab financial, and so all those players are market places and [22:44], where people can purchase any financial product that they want with a fantastic digital experience. If you're a bank, we need to compete with those guys and need to provide a solution that is the same level of digital experiences because that's the customer expectations. And you need to be able to build that marketplace. But the challenge is you've got the insurance guys. They don't speak to the wealth management guys. They don't speak to the retail banking guys. All the data is in different places, and different servers and the marketing guys are also running their own product companies separately. So you want to be able to bring all of that together. The key is a lot of energy, and to my point on understanding how large organizations work, there are a lot of issues for those large organizations to be able to reach the point where you can bring in all those companies together.
Alejandro: How do you guys make money in that equation?
Fahd Rachidy: We are a SaaS platform, Alejandro. We license [23:59] banks. We have clients, for example, today such as HSBC, where we work with them in the UK. In France, we have clients like Prudential. In Asia, where we have markets like Hong Kong, Singapore, Thailand, the Philippines, and Malaysia. Their licenses have technology. Their licenses are AI, [24:21] model for the recommendation engine, and they also license companies of our platform, which help to build the digital experience.
Alejandro: Obviously, in fintech, especially, there are a lot of regulatory hurdles that you need to go through. It's capital-intensive to start with. How much capital have you guys raised to date?
Fahd Rachidy: To date, we have raised about 11 million pounds in total. Since inception, we started by self-funding the business, and then we raised our first few rounds. We did a seed round, and just recently closed our Series A round. We are grateful to have a number of strategic investors and VCs. I think we are in a great spot to keep accelerating. We have tremendous goals. We've been starting from scratch and growing up our revenue base across the board. It is a fantastic business to be in SaaS because you're building the growth revenue from the [25:37] on your base, and you keep adding clients; it keeps growing, so it's very exciting. We think the most exciting part is to see demand coming from clients, to see our clients referring us to other clients, and it has a strong momentum, a positive [25:59] within the business. When I say that, I'm very happy.
Alejandro: And for the people that are listening, in terms of dollars, we're talking about $14.5 million, what you guys have raised. But you've raised that from great investors. You have people like Anthemis Group. This is not your first rodeo, as we've discussed earlier, the different companies that you've built. So why did you decide to go with the investors that you went with, like Downing Ventures, Anthemis Group, and so forth?
Fahd Rachidy: I'll tell you; the same reason why we're going after HSBC or Prudential for the same reason that in a previous business, I went after BlackRock and [26:33]. It was the beginning; especially, when you're a size B2B platform selling to financial organizations, you want to go for the big names. It builds credibility. Yes, it's a slow while to acquire those customers, but it builds credibility. It's a huge endorsement from those clients to use our solutions, and you do the same with your investors. When we decided to open the door to external investors, at the time, one of the top VCs in fintech was Anthemis. They still are. They're probably still one of the best in the early-stage space, so we just wanted to have them, so we went after them. As I said, we don't take no for an answer, so we went until they said yes.
Alejandro: That's it. It is interesting—the early days because your co-founder and CTO were taking most of the meetings out of his toilet. How is that possible?
Fahd Rachidy: Yeah, that's right. That's an interesting story because when you start, you don't have money. Previously, you had a nice lifestyle, and you lived in London or in Paris, and you gave up all those things. You shut down all your expenses, and move out and cut off everything, and don't take any salary for the next two years. So he moved out from Paris, and he moved into a small house in the countryside, and he didn't have any office, so he was working from his toilet room. I have a picture. I still have this picture. I told him, "I'm going to show this picture when we do the IPO on the Nasdaq."
Alejandro: That's amazing. I love it. Now, how are you guys thinking? Because you're in Dubai. You've got a team in London. How are you guys thinking about distributed teams and also building the team up?
Fahd Rachidy: It's a great question because, first of all, the global pandemic has put a lot of challenges and pressure on building a corporate culture and making sure that people are able to work together. For us, it's probably a level higher because you have different offices in different countries. But it's making sure that you are in contact with the team all the time. We've got a great management team. They are very involved with everyone, doing gatherings, team meetings constantly, putting on your camera when you do calls. Now, we have a structure where you can work from the office or from home, so it's the hybrid space workplace environment there. I think it's really important to keep the right work/life balance because, as I said, in the beginning, you want to do stuff, and you want to be happy when you work. So it's important to keep that in mind and to make sure that everybody enjoys what they're doing.
Alejandro: Imagine, Fahd, that you go to sleep tonight, and you wake up in a world where the vision and mission of ABAKA are fully realized. What does that world look like?
Fahd Rachidy: It looks like a very large global organization servicing banks and insurance companies globally. We've done our IPO. We are a public company, and I have to deal with some corporate [30:42] issues and stuff like that because that's what people do at the board level. But just on that point, I think I will still focus very much on the business and maybe put some people to take care of the governance there.
Alejandro: A hundred percent, you've got to delegate. You've always got to get people better than you. So imagine if I put you into a time machine, and I bring you back in time to that moment where you're still an employee of the European Central Bank and that moment where you are thinking about maybe starting something on your own. Imagine you were able to have a chat with that younger self, and see that younger Fahd, and be able to share one piece of advice before launching a business—just one. What would that be, and why, given what you know now?
Fahd Rachidy: Be more ambitious. Never take no for an answer, and reach for the sky.
Alejandro: And why: being more ambitious. Do you think you were not as ambitious before?
Fahd Rachidy: I don't know. It's difficult to say, but I think you can achieve more by being more ambitious. Sometimes, you put down your ambition, your dreams, or your expectations just because people are telling you to do so or just because there's a bit of negativity around you. I don't know; it's just human nature. If people keep riveting stuff to you, you start to believe in it. You shouldn't. You should listen to your inner self and believe in yourself and reach for the sky.
Alejandro: One book—when you're reaching for the sky, you've got to be armed with the right tools and with the right information and knowledge. What would you say is one book that you wish you would have read sooner?
Fahd Rachidy: Do I have to mention your book, Alejandro.
Alejandro: [Laughter] Well, let's not mention my book. Let's mention another one.
Fahd Rachidy: All right. Recently, I read the book by Marc Benioff, the founder of Salesforce, on The Blitzkrieg on how to scale fast.
Alejandro: Amazing. I love it.
Fahd Rachidy: I highly recommend that book.
Alejandro: Incredible journey that he's had, so it's really amazing.
Fahd Rachidy: Yeah, and to the point on, don't put down your ambition, reach for the sky, and go for it; he's a perfect example of that.
Alejandro: 100%. So, Fahd, for the people that are listening, what is the best way for them to reach out and say hi?
Fahd Rachidy: They can go on our website, ABAKA.me, or they can email me at [email protected].
Alejandro: Amazing. Well, Fahd, thank you so much for being on the DealMakers show today.
Fahd Rachidy: My pleasure. Thank you for having me, Alejandro. It was a pleasure.
* * *
If you like the show, make sure that you hit that subscribe button. If you can leave a review as well, that would be fantastic. And if you got any value either from this episode or from the show itself, share it with a friend. Perhaps they will also appreciate it. Also, remember, if you need any help, whether it is with your fundraising efforts or with selling your business, you can reach me at [email protected].
Podcast: Play in new window | Download
Subscribe: Apple Podcasts | Google Podcasts | Spotify | Stitcher | TuneIn | RSS | More
Facebook Comments