David Rosenberg is the cofounder and CEO of AeroFarms which is an urban cleantech company that provides aeroponic growing systems to produce plants without sun or soil. The company has raised over $200 million from top tier investors which include GSR Ventures, Newark Venture Partners, Middleland Capital, 21Ventures, Wheatsheaf Group, MissionPoint Capital Partners, Cibus Fund, and ADM Capital to name a few.
In this episode you will learn:
Choosing the right investors

Finding business opportunities with great moats around them

Finding the right way to sell your product

Hiring and firing by culture and principles

The future of farming

How AeroFarms has grown through COVID-19

Haitz's Law
David's top tips for other entrepreneurs
SUBSCRIBE ON:
For a winning deck, take a look at the pitch deck template created by Silicon Valley legend, Peter Thiel (see it here) that I recently covered. Thiel was the first angel investor in Facebook with a $500K check that turned into more than $1 billion in cash.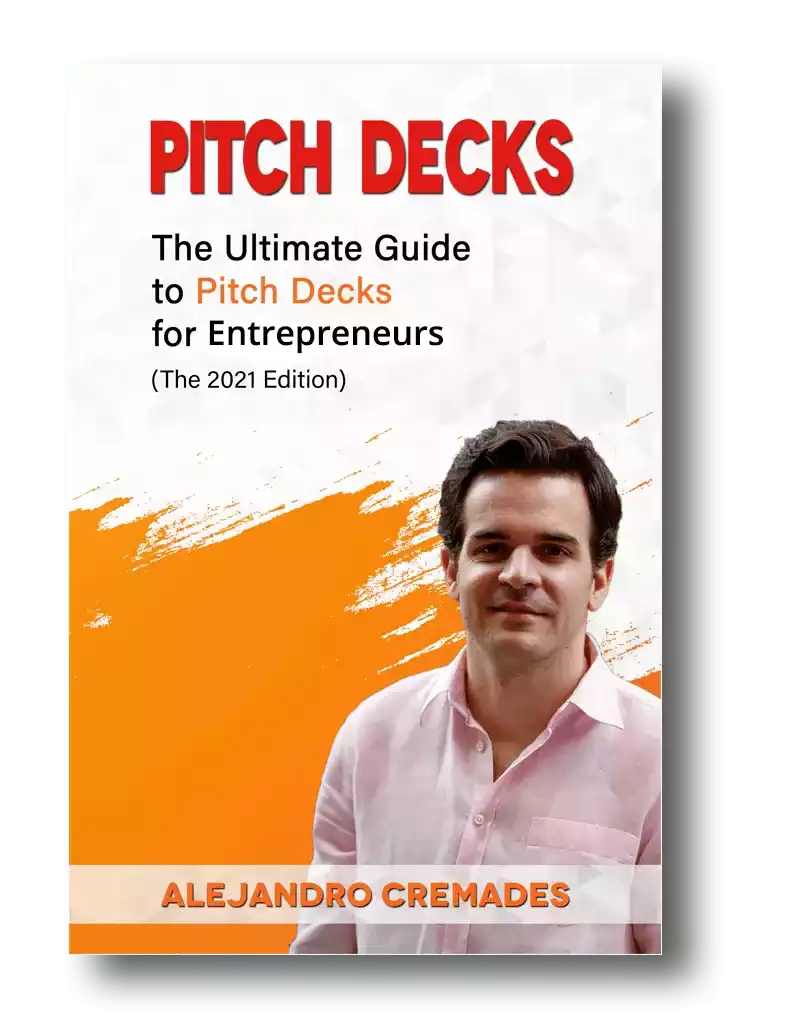 *FREE DOWNLOAD*
The Ultimate Guide To Pitch Decks
Moreover, I also provided a commentary on a pitch deck from an Uber competitor that has raised over $400 million (see it here).
Remember to unlock for free the pitch deck template that is being used by founders around the world to raise millions below.
Access The Pitch Deck Template
Your email address is 100% safe from spam!
About David Rosenberg:
David Rosenberg co-founded and leads AeroFarms. 
AeroFarms is a mission-driven company that builds and operates advanced vertical farms in urban environments. AeroFarms has been recognized as a Circular Economy 100 company. 
In addition, Aerofarms was listed on Fast Company's 2019 global list of Most Innovative Companies, and Inc. Magazine's list of the 25 Most Disruptive Companies.  AeroFarms also received the New Jersey Governor's Award for Environmental Excellence. 
The company was also voted as the Best Growth Company to invest in at the Wall Street Journal's ECO:nomics conference. AeroFarms received the inaugural Global Sustainable Development Goal Award for Zero Hunger. What's more, Aerofarms was listed as one of Time Magazine's 2019 Best Inventions, and received The Ethical Corporation's 2019 Responsible Business Award in Sustainable Innovation.
David Rosenberg dedicates his time to a number of local and international organizations. As a member of the World Economic Forum, David Rosenberg co-chaired the Young Global Leaders Circular Economy Taskforce.  And, David Rosenberg is a member of the WEF Global IoT Council. David Rosenberg was also a member of the U.S. delegation to the B20 Sustainable Food System Taskforce, which advises the G20.
In addition, David Rosenberg serves as a Managing Trustee of New Jersey's Liberty Science Center, prominent U.S. interactive science museum.  David Rosenberg also serves on the Board of Directors of Aspire, the world leader in cricket protein.
David Rosenberg was also privileged to co-chair New Jersey Governor Phil Murphy's Agriculture Transition Committee. David Rosenberg has been honored by the Liberty Science Center as a 2019 Genius Innovator and as  Ernst & Young's (NJ) Entrepreneur of the Year (Food and Beverage). 
David Rosenberg was also  named one of the 100 Most Intriguing Entrepreneurs at Goldman Sachs' 2019 Annual Builders and Innovators Summit. The World Economic Forum has also recognized David Rosenberg in 2008 as Technology Pioneer for his nanotechnology company and in 2010 as a Young Global Leader.
David Rosenberg received his BA from UNC Chapel Hill . He holds an MBA from Columbia University. David Rosenberg competed for the U.S. in fencing where he was a finalist at a world cup and represented the NYAC, winning three U.S. National Team Fencing Championships and two individual silver medals.
Connect with David Rosenberg:
* * *
FULL TRANSCRIPTION OF THE INTERVIEW:
Alejandro: Alrighty. Hello everyone, and welcome to the DealMakers show. Today we have a founder born in New York City, and obviously quite a tremendous journey in what we're going to be touching here on building, scaling, financing, and even exiting. So without further ado, let's welcome our guest today. David Rosenberg, welcome to the show.
David Rosenberg: Alejandro, great to be with you. Thank you very much.
Alejandro: So originally born in New York City. You don't come across a lot of people that are born, raised, and that stay here in New York City. So, how was life being born into a family where your mother was a philosopher and your father a lawyer?
David Rosenberg: You learn to grow up fast in New York. You also don't appreciate it as the melting pot, and you not only have to understand how to move around on the streets and how to get from A to B, and because of public transportation, you have a lot of independence at a young age, but you also have a lot of diversity around you, a lot of people from different countries, different backgrounds. I think it really gives a global view of the world, whereas a lot of places, specifically in the U.S., I think people have a smaller view. They're just not as aware. In the U.S., people tend to think, "Well, there's the U.S., and then there's everything else," which, obviously, isn't true. In New York, you very much have a global perspective. I think that helped me to not only develop empathy, but develop other perspectives in a much faster way.
Alejandro: Why business? Would you say that maybe growing up, being exposed to how incredible around finance New York City is, or maybe anyone in your family that influenced you was the reason behind you going after it in business?
David Rosenberg: No, but I would say the U.S. is great at capital formation, meaning it's great at putting capital to work. New York City is, obviously, a center of capital, so it makes it easier for an entrepreneur to have access to capital to put it to work. But the reason why I started off with business: I studied politics, I studied philosophy. Here, I believe that commerce business is a great activator for social change. Insomuch as a business does social good, not just shareholder good, does environmental good, not just shareholder good, and that business scales, there's more good that can come out of it. Where I've been around too many policymakers, while well-intentioned, some of the public projects just aren't as efficient as the private sector. So, personally, I believe commerce business is a great way for social activism.
Alejandro: Nice. Then, why did you go to North Carolina? Obviously, in New York City, there are great schools. So, what got you to go to North Carolina?
David Rosenberg: I wanted to see another part of the country as well as I grew up in a privileged background and a private school background appreciating that it wasn't representative of what's really out there in our country and elsewhere, so I only applied to public universities. I wanted to go to a public university. When I went down to North Carolina, I just fell in love with it. I knew, actually, when I got off the plane that this was where I wanted to go. I ended up meeting my wife there, so it worked out pretty well.
Alejandro: Then, why a financial analyst? Because right after North Carolina, that's what you did in a bank.
David Rosenberg: There's an element of, do what you know. Growing up in New York City as one of the financial capitals of the world, there's great access to great banks. Someone told me something that resonated, which is, great CEOs really understand finance. You have to understand what pushes the business model, what's an opportunity, and how to read financial statements; more than that, understand it and understand the levers of building businesses, so I thought it would be a great foundation. I got into an analyst program that gave me a lot of exposure to the financial markets. There's that great foundation in which to learn. I didn't like the culture of the bank I was in, or I'd joke around that I'd never met so many jerks in my life. So, for me, I learned as much of what I don't want as much as what I do want. I knew I didn't want that culture, but I did appreciate what I learned from a financing standpoint. And culture, specifically, was very back-stabbing, and a what's-in-it-for-me culture. I'm not saying all banks are like that, but certainly, the one I was at. It was a company called PaineWebber. The alias was House of Pain. I would say it was more of a back-stabbing culture. 
Alejandro: Got it. Right after this, you have a friend starting up a company, and this is your exposure into the world of startups. This was FinTech, but probably when FinTech was not as trendy as it has been in the past couple of years. So tell us about this experience.
David Rosenberg: Yeah. This really got me into disruptive innovation and appreciating disruptive innovation. My best friend, Matt Andresen, he became the CEO of a very successful company called Island, and part of it was the company called DayTech, and it was basically electronic trading. This company, when you think of electronic markets, this is in the mid-90s, they were the biggest – they had up to 12% of all trades on Nasdaq, went through this institution, Island – seeing my best friend who occasionally let me carry his briefcase, but seeing firsthand how he disrupted Wall Street. We were on Broad Street, perpendicular to Wall Street, about 200 people, very bright young people that didn't care about the old-school establishment of Wall Street and high commissions and trading. Seeing that they trumped margins on the commissions from buying and selling and the spread between the bid and the ask, and completely disrupted Wall Street was fascinating to me. Personally, I didn't like trading. Well, it's not that I didn't like trading. I wanted to build something tangible that I could see. I knew that wasn't necessarily the world for me, but I very much appreciated and admired what my friend did in disrupting this whole industry and the power of technology and what it could do to disrupt business and innovate and makes peoples' lives better.
Alejandro: In the company there, you were able to see the full cycle. It got acquired by Instinet. From this experience and from being exposed to the world of startups, obviously, you got hooked. What were the lessons that you took away before you joined the Israeli Incubator?
David Rosenberg: That with technology and a business plan with super bright, passionate people, you could accomplish a lot. You could set the bar really high, be bold, not being afraid to challenge the status quo, looking at the world. The people at this company were not afraid to challenge big Wall Street. This small little company was not afraid to challenge big Wall Street – go strong – just this passion of let's beat "the man" and be bold was exhilarating. It was exciting, and I knew that was something I wanted to be a part of. So being a part of and seeing that culture of what it was like was something I wanted to do again.
Alejandro: Tell us about the experience at the Israeli Incubator. How did you land there?
David Rosenberg: It was through a friend, and Israel is fantastic. They have per capita more patents than any other place in the world. The innovation coming out of the country is fantastic. This was a company that focused on incubating internet infrastructure companies. I tell people I like to apply some of the cultural aspects of what I learned at this firm, BRM, and apply them to my other experiences. But when I first started off at this portfolio company, the incubator, everyone was yelling at each other. I was like, "This is crazy. Why are people yelling at each other? I realized, they're not yelling at each other, they're debating for truth. They're not attacking people; they're attacking assumptions. It's very important at startups, where we're making decisions with imperfect information that we challenge each other. So, here, everyone has to come in with thick skin, meaning not afraid to be challenged and to challenge each other and not take it personally, where we're not attacking intent, but assumptions, and doing that again and again. And it was back to my mother being a philosopher. I grew up in a Socratic method, where we constantly debated during the dinnertime. Once I realized that the yelling was just passion for the truth, I was very comfortable in that situation. The other thing, at AeroFarms and my other company that I built, I try to do without the yelling, but I very much try and keep the debating and the debating for the truth. The other piece that was very powerful at the Israeli company, I realized the difference between Israeli companies and U.S. companies – at Israeli companies, everyone thinks that they're smarter than their boss. At U.S. companies, everyone thinks that their boss is smarter than them. When you want to debate the truth, it's often people closer to the information who have better information, so you want then to challenge the status quo and not be afraid to challenge their boss. So, it's really important to have that belief that you're smarter than their boss because then you're not afraid to challenge assumptions. So, that's a powerful distinction that I try to encourage at my companies: be bold, don't be afraid to challenge your boss, don't be afraid to challenge me. I think it was Larry Bossidy who said, "I don't need to be right going into the room; I just want to be right going out of the room." That is a very healthy dynamic to have in challenging assumptions.  
Alejandro: Maybe we take a page here out of what you've learned from your mother and going after always the Why, and we were saying the truth. How do you define the truth when you're looking at it from a business perspective?
David Rosenberg: Sometimes, you don't get to know if you're right or wrong, but the point is, with imperfect information, what's the best decision at that point and time? Given imperfect information, let's challenge assumptions. Put ourselves in a situation where we could try and make that great decision with imperfect information, so go for it. You have to make fast decisions, and you have to be comfortable in a space of where it's not clear. You just don't have all the facts. So you try and gather as much relevant facts that are possible so you could be objective, but then you have to make a decision. So, it's not necessarily the truth, but what I mean by the truth: it's the assumptions and not the intent. But how do we really attack the assumptions? Are we trying to solve? Are we asking the right questions? Do we have the relevant information? Given the information we have, how do we go forward? And not with any bias and being as objective as possible.
Alejandro: Got it. After the incubator, rather than starting a company, you actually started your MBA, so what got you to the MBA rather than starting a company?
David Rosenberg: I thought it would be a good tool to have in my tool chest. As one gets older, you lose your time. You need to do it – well, you don't need to, but it's beneficial to do it earlier in your career. So I realized as I was getting older, I'm either going to get my MBA or not get my MBA. My wife was in Columbia Law School, so I decided to go to Columbia Business School. It's a great business school, but it's also in the New York City area, so that worked out. Columbia, in hindsight, had more of a focus at the time on finance, and most people went into banking or consulting. It wasn't as strong as an entrepreneurship, which is where my focus was. It's stronger now, and I'm happy to see it. I'm happy to co-lecture where I can at Columbia, but it was often for business schools, at least in the U.S., it's about the relationships and being exposed to different opportunities and for me as much. If I'm being honest, it was a great way to figure out what I wanted to do next in my life in a socially-accepted way. Here, you're getting your MBA, when really, I was exposed to a lot of different career paths and trying to figure out what I wanted to do. For me, it became clear I wanted to do something entrepreneurial.
Alejandro: And that's when Hycrete comes knocking. Tell us about Hycrete, your first baby.
David Rosenberg: It was a nanotech material. I think the interesting point of this company was that we went from having an interesting molecule that was essentially a water that had properties of an oil. So, what do you do with it? It had a good application in concrete and reinforced concrete. So we went from an additive to concrete that helps with waterproofing and corrosion inhibition to when the company was sold, we really became an insurance company. That's a funny leap from a material company to an insurance company, but we started going into infrastructure, and the value proposition was, your roads and bridges would last longer, but that's a really hard sell, selling what's called lifecycle is really hard because you need someone that would appreciate that longer lifecycle and most customers want to see their return on investment sooner than a long-term investment. That's what I mean by a hard sell. We had to think, what's a business plan that delivers day one? Looking at the construction space, we realized that the most litigated part of construction is waterproofing because when there's a leak, everyone points their finger at others involved, whether it's a consultant, a contractor, a subcontractor, etc. We realized that there's a way to take ownership of this. How waterproofing is typically sold was two-dimensionally selling it in concrete three-dimensionally, we could essentially increase the price of the concrete, but still be lower than a two-dimensional membrane application. To make a long story short, the economics were, where we made good money and took away a step of construction, but it only works as a service component of tying it all together because the additive, in itself, didn't work. It had to be coupled with how do you waterproof joints? How do you fix cracks if they occur? Then, what we were selling was peace of mind. Peace of mind is essentially insurance. So we realized we had to be the best insurance company. I must have read 40 different warranties, and we created a strong warranty, and we started out to sell it, and this is warranty against waterproofing. Then we realized that customers weren't going to take on – if you're building a 100-million-dollar building, you aren't going to take a warranty of a small company. The next smart thing I did is, I partnered with the largest repair company in the country, a company called Structural Preservation Systems. They understood the cost of repair, and I said, "You guys act as my reinsure. If I can't fix the problem, you fix it." It's a marketing ploy. "I'll pay you, and that way it will make our customers comfortable." That's what eventually led to our first sale is bundling that together and becoming an insurance company – then going after the next one. In time, I didn't need to pay this third-party Structural Preservation Systems. They would just take on my company's risk. Unfortunately, when I sold it, the new owners didn't understand. They looked at it as a chemical company and didn't understand the insurance component, and part of that is sometimes you have to fix problems that you didn't create. You've got to stand by your product and think the biggest disconnect culturally. This was a valuable lesson on the culture, which is the underappreciation is sometimes, you just have to step up for projects, and back it up. Their approach was more "sue me" approach. That doesn't necessarily work in the construction space. It was also painful on how fragile a culture is and how much it can change. It was a bitter-sweet experience as a company I built, and I loved it. I didn't like where it ended up. So I had to mentally turn the chapter and focus on something else.
Alejandro: As they say, once an entrepreneur, always an entrepreneur, so I'm sure that there was one lesson that you took away from that, that you absolutely knew that you were going to apply for your next company. What was that lesson?
David Rosenberg: It was culture. As I built AeroFarms, it started with first, what's our mission? What's our vision? And then moving from that is, what are our principles, and what do we want to actively reinforce every day? Staying true to that, and some of it changes a little bit, but always looking at these fundamentals. I used to interview more for roles or experiences. Now, we hire and fire by our principles and sticking to that and appreciating how valuable culture is.
Alejandro: Nice, and we'll dive into it in a little bit. But after the acquisition of Hycrete, you spend time with McDonough, and that was the segue into AeroFarms. So, tell us about this. 
David Rosenberg: Bill McDonough is an architect that collaborated with a chemist to create Cradle to Cradle, which is a philosophy on how the world material flows and how the world should work from an environmental standpoint. It's beautifully thought of. Their biggest contribution to the environmental movement is this concept that materials are either biological nutrients or technological nutrients, meaning biological, they biodegradable to the earth, or technological, meaning they could be upcycled and reused again and again. Once one understands that, one should design with these design principles in mind, which means you should design for disassembly, and not creating what Bill McDonough terms monstrous hybrids, meaning you have biological nutrients and technological nutrients that are built together that are not easily separated. When they're not easily separated, then it goes right to landfill. So, how do we design for disassembly, so we keep these nutrient flows, biological and technological flows in their relevant cycles, so we don't have waste, to eliminate waste. There's more to it, but that's what I view as the big gift to society. What Bill and I work to do, we set out together. He was a mentor of mine. How do we build companies together that the world's not building fast enough? How do we be bold? At the end of the day, I decided to – we had a short stint together, and I thought I'd be more effective working on my own as an entrepreneur. He's, in essence, and architect, and he's a visionary for others. He gave me a lot of great ideas. Also, he taught me the power of language. It's not just about an idea, it's about how to communicate an idea, and he's this beautiful speaker, and I really value the time I spent with him in understanding the power of language, both written and verbal communication and the power of storytelling. He's a great storyteller. He helped me see the idea of vertical farming. He had a lot of ideas, and one of them is all the problems in our agricultural system. I started off at the micro picture. Agriculture uses over 60% of the world's freshwater. It also contributes to over 60% of the water contamination. You just look at that – Wow! In some segments, like the segment I focused on, leafy greens, there's over 60% spoilage in the supply chain, meaning 10 lbs. are grown; 10 lbs. are shipped off, and even after it leaves the farm, only 4 lbs. are consumed. So, there's tremendous waste. Like concrete, what I like about our agriculture from a business standpoint is, these are industries where you're not necessarily competing with one, all these people from the best schools that want to flood into agriculture or concrete. So from a competitive landscape, they're not attracting all the talent, all the money. So there's often a lot of inefficiencies in these industries that have been underinvested in. Where there are inefficiencies, there are opportunities. So, I was able to look, just like the concrete industry and looking at litigation in this industry, looking at the supply chain and realizing we're the opportunities. Then I saw that LEDs, light-emitting diodes are coming down in cost tremendously. There's something called Heights Law, similar to Moore's Law, which talks about computing power. Heights Law talks about the efficiency of a light-emitting diode and how it's improving and reducing the costs by about 50% every three years. I follow Heights Law. You realize this could have tremendous relevancy in certain industries, one of which is agriculture. So, the vertical farming: AeroFarms is the world leader in vertical farming. Vertical farming is growing plants without sun and soil. Instead of sun, you use light-emitting diodes, LEDs. So, zero sunlight. My co-founder wrote a book of why the sun is not free. If you think of a greenhouse – just think of the world greenhouse. Greenhouse is applied to the greenhouse effect of our planet, warming of our planet. The definition of greenhouse is where one grows plants with a glasshouse. It's called the greenhouse effect because greenhouses get really hot. It traps the sun, and it gets really hot. So if a plant wants, for example, and I'll use Fahrenheit, between 68 and 71 degrees Fahrenheit. But in the summer, a greenhouse gets to over 100 degrees. It illustrates how that's not the most effective way to grow a plant from a temperature standpoint. With LEDs and fully controlled agriculture, we could deliver the plant what it wants. But understanding that the costs of LEDs, which before the LED cost-curve went down enough, it was a point that didn't make vertical farming economically viable. So with those costs going down and seeing they're going to go down further – I like local food production, and I was considering making an investment in either greenhouse growing or vertical farming without sun, with just LEDs. I realized this is going to be a bigger and bigger space. Once I realized that then it became what plants to focus on, and I decided to focus on leafy greens because of high rates of spoilage, and that gets back to my point about the supply chain having 60% of the produce spoils. High rates of food contamination – the biggest category of food contamination, think Listeria, E. coli, Salmonella are in leafy greens. The number is about 11%. High nutritional density and this speaks to the social benefit. Think of Popeye eating his spinach, one of the most nutritionally-dense food is in salads, leafy greens, kale, arugula, watercress. The product is often very finicky. It wants a very specific temperature/humidity, so most of the leafy greens are grown on the western parts of continents. In the U.S., it's all California and Mexico. It delivers the products in the U.S.; most of the U.S. are grown in those areas. That really speaks to our value proposition of local food production and scale. That got me into the business. I'll share one of my Ah-hah moments was when I spent time with a field farmer. I realized if I'm going to be in this industry, let's spend time with the big farmers. So, I spent time with Brian Church. He's now the CEO of Church Brothers, a very large field farmer, and he was very generous to me and taught me the industry. When you realize, another term that's used in the industry is farm out your work. If you've heard that across industries, it's not surprising it comes from the farming industry where a lot of farmers aren't farmers. They farm out the farming, and they aggregate the produce, or the fruits, or vegetables from the farms, somebody asked, "What do these guys do?" They're great at processing. Leafy greens processing means washing and packaging. That's where the economies of scale are. It's in the washing and the packaging. If you think about it, growing in vertical farm scales in a linear way, meaning if you want more growing, you build more growing towers. Processing in a non-linear way – once you put an automation in packaging, you want to utilize it 24/7. You don't want to put in an automation line and just use it for ten minutes a day. So you need enough growing to utilize the automation and packaging. That's where I realized it's not just about growing, but it's about farming and having a business. So you need to bring all this complexity together. There's always that moment in any entrepreneur where they realize they have a business. When Brian Church came to visit a small farm we had, I'll never forget. He grabbed a whole bunch of our product by the fistful, popped it in his mouth, pulled out the roots, and everything. Often, the way plants grow inside before, I would argue, AeroFarms, the systems didn't scale, and the product didn't have the attributes that the taste and texture that the customer wanted. But he took this handful of products, roots and all in his mouth, chewed on it, and said, "This is the first system that I could visualize scale. Hearing an excellent field farmer say that gave me confidence to go ahead and build our first big farm and get on the challenges and opportunities for that.
Alejandro: One of the things here that was interesting was that you guys really put in a lot of data science behind it, especially after you couldn't see that the plants were growing. So, what happened there?
Read More: Lisa Alderson On Raising $60 Million To Bring Genetics To Everyday Life
David Rosenberg: It wasn't the plan. When we scaled up, sometimes the plans grew well, sometimes they didn't grow well, and we couldn't understand why. My co-founder had success before on smaller farms, and he couldn't understand why. We realized we need to track data for data's sake until we understand patterns. So we hired some really bright people. For example, a graduate from Harvard, a graduate from MIT, and they had a background in data science and biology. We said, "Just look at this and track information, and then hopefully, the puzzle will start coming together. That's what happened. We started figuring things out and making adjustments to our understanding of what the plants want. This is another thing that we learned is the world's relatively ignorant on why a plant grows. You talk to farmers and breeders why a crop is great one year and not so great another year; they all have guesses of why it is. But over a course of a year, maybe there was a hot spell, maybe there was a dry spell, maybe there was a cold spell, whatever it is, but it's not backed up by a tremendous amount of data. And nuances: there are a lot of nuances in a year that could make or break a crop. Here, we're able to fully control agriculture. I would argue at AeroFarms we're the world leader of understanding what a plant really wants. It starts with what a plant wants, and then from that, understanding what a plant wants. It's a tough business to build. Much harder than nanotech, where I'd say what AeroFarms – what we had to do is realize we need to be both a technology company and an operating company. As leaders in this space of vertical farming, there wasn't just a solution we could take and acquire. So we really need to lead from a technology standpoint. We also realized we're not going to understand the technology and the nuances of technology unless we're the farmers ourselves. We are both operators, and we have people in process engineering and lean manufacturing that understand how the workflows all come together, and how to solve problems. Then, we're a technology company, and the technology starts with biology. What I mean by that is understanding what a plant wants via a plant scientist, geologist, methodologist, molecular biologist, microbiologist that look at a plant, understand what the specifications to the plant are. We're very vertically integrated, so we'll work with the mechanical side, the biological side, the genetic side, the operational side, the environmental side to understand how to deliver what a plant wants. Whether we get that right or wrong can be big swings and CAPEX or OPEX. So, we're constantly investing resources to grow new crops, improve quality while reducing CAPEX or OPEX. We say it's about quality. Then, it's about price and volume. So there's no point hitting price if you can't hit quality, and there's no point hitting volumes if you can't hit price and quality.
Alejandro: Got it. How much capital have you guys raised for the operation today?
David Rosenberg: Over $200 million.
Alejandro: Obviously, this is your second rodeo, the second time that you've been at it raising capital. What have you learned about raising capital, David?
David Rosenberg: It's important to get the right capital. There has to be a match with investors, and the time, and how it will rise in the venture. Vertical farming, AeroFarms, it's a tough business, and it was really important that we have investors that have a long-term perspective and buy into our vision. I would argue, one of my frustrations is at my last company, we sold it sooner than I wanted. There was a construction downturn, and our investors wanted to sell. They were funds, and they had a very fund-mentality of the life of their funds. At AeroFarms, we have some great investors. For example, Wheatsheaf, which is part of the Grosvenor Estate and other parties with – we've had success with single-family offices. The Ingka Group, which is part of Ikea, the family that owns 90% of Ikea stores. The point is, we've had some really strong success with parties like those that have a long-term perspective. We do have some funds in us, and it was with the understanding and making sure there's alignment on a long-term perspective. So far, we have a very supportive investor base, and consequently, a very supportive board that allows us to make the long-term investments. We've been growing some crops that we've been growing for four years, and we haven't commercialized yet. We have confidence that when we do, they're going to be beautiful, and it's going to be a whole new revenue stream and opportunity for shareholders, but it takes some real fortitude to understand, "Okay. It's not just about growing a plant. It's growing it with consistent quality, and that quality and the challenges of scaling between small and big farms can be very different, so how do you design and build farms in a way where you de-risk elements of scale while hitting the business plan requirements, capital cost, operating cost, appreciation cost, etc. to make the economics work? It's hard farming. At the end of the day, the customer's not going to pay a big premium necessarily; you are our premium, so where do we be competitive. Our value proposition is taste, excellent flavor. This was surprising. I didn't realize we'd compete on taste and texture, when in fact, we win on taste and texture. Just a fantastic taste. For those in the New York area, I encourage you – my one sales pitch: try Dream Greens. It's sold under our retail brand under our product Dream Greens through Whole Foods, FreshDirect, AmazonFresh, and it's the best-tasting salads you've ever had. And the next value proposition is no pesticides. A lot of people think when you buy organics, you're buying pesticide-free. Typically, it's not the case. It's organic pesticides. Here, we're able to grow with zero pesticides, fungicides, herbicides – zero. Not organic, but zero. Then, it's fresh. So the biggest trend in retailing is fresh local, and that's one of the essences of our business plan is building farms locally, so people have fresh food.
Alejandro: Very nice. David, now we're dealing with COVID, and I'm sure that you guys have gone through certain adjustments. What has taught you dealing with this type of unforeseen events?
David Rosenberg: You have to respect it, first of all. Like everyone else, I think we've learned that we don't need to travel as much as we need to, and we can work very effectively and, in some cases, virtually – even hire, fire, project our principles, and so forth. The other part is, obviously, you need to respond fast to what the market is telling you. We lost most of our foodservice customers. How do you ramp up to retail customers? Second, we prioritized social distancing. We said we're not going to grow without social distancing. We had to change our packaging lines to social distance. We had to add a new packaging line. Those are often designed around shoulder-to-shoulder areas. Then, also, thinking long-term about the industry, our food system, certainly in the U.S., probably most of the world is really a centralized food production system. That's to take advantage of economies to scale and reduce costs because people want cheap food, and people want access to that food 365 days a year. What also comes with that is an increased risk in our supply chain. So, if there is a contamination in one of these central food-producing areas, it puts more risk in our whole food system. What's not clear to me is that is it a trend, or is it a fad? If people don't want that risk, but they want to democratize/distributed food system, that's what we can help deliver. I think people are often forgetful, so they might right now say they want distributed less-risky food system, but there's a cost that comes with that. But later, tomorrow, they might forget, and they might say, "Well, I just want cheap food that's available 365 days a year." That part, I don't know, but I do know that we could respond, we could make changes fast, or we need to, whether it's building a farm or spreading people out, and work with our customers and understanding what are the opportunities? Whether it's selling direct though like, AmazonFresh or FreshDirect. Some of these online retailers or prepared foods and working virtually, and doing it in a way where out of our 175 people, we've only had one person that had COVID, and they're doing great. So, if you're responsible is about wearing protective equipment, you can really live with this thing and manage the risk of its spreading to others.
Alejandro: David, what a remarkable journey. Now, the second startup that you've built from the ground up. I'm sure that in this journey of now with AeroFarms and previously with Hycrete, I'm sure that there are a ton of lessons learned, a ton of successes, a ton of failures, everything that you can tell in-between. I'm wondering if you had that opportunity of having a chance to chat with your younger self, maybe that David that was coming out of the MBA program with that idea of starting up something, what would be that one piece of business advice that you would give to your younger self and why knowing what you know now before launching a business?
David Rosenberg: It would be on the cultural aspect like we touched on earlier. 1) Life is too short to work with people you don't like to. For example, when my last company was sold, I don't want to work with people I don't want to work with. They didn't fit the culture I wanted, the principles that are precious to me, so just move on, sometimes, in a happier way and sometimes in a frustrating way, but it's just too short to deal with ugly people. 2) Culture principles are fragile, and they're important, so you have to nurture them, and you have to live by them. We fired someone for being rude not too long ago. It's important, and it's important to, like I said, hire. My younger self just didn't appreciate that. If I could go back, it would be emphasizing these softer skills. And, by the way, I think business schools aren't that good at teaching these softer skills, and they're vitally important. I think they're getting better. It's also part of the business that used to be just for shareholders. Understand, it's not just for shareholders. It's about the society we live in, the environment factors, the societal factors. How do we think about all of these different stakeholders as we build value?
Alejandro: Absolutely. I love that. Very, very profound, David. For the folks that are listening, what is the best way for them to say hi?
David Rosenberg: My email is [email protected]. I'm happy to connect with people. We're constantly spreading out all over the world. We're building a facility in the UAE, United Arab Emirates, and expanding internationally. We love connecting with other entrepreneurs and other people that are bought into our mission or excited by our mission and want to partner to expand.
Alejandro: Amazing. Well, David, thank you so much for being on the DealMakers show today.
David Rosenberg: Thank you very much. A pleasure. Take care.
* * *
If you like the show, make sure that you hit that subscribe button. If you can leave a review as well, that would be fantastic. And if you got any value either from this episode or from the show itself, share it with a friend. Perhaps they will also appreciate it. Also, remember, if you need any help, whether it is with your fundraising efforts or with selling your business, you can reach me at [email protected].
Podcast: Play in new window | Download
Subscribe: Google Podcasts | Spotify | Stitcher | TuneIn | RSS | More
Facebook Comments