David Poritz is the co-founder and CEO of Credijusto which provides an online lending platform designed to offer easy, reliable, and transparent credit for SMEs. The company has raised over $300 million from Goldman Sachs, QED Investors, Credit Suisse, Kaszek Ventures, Thomvest Ventures, GS Growth, Point72 Ventures, Ignia, Supernode Ventures, Broadhaven Capital Partners, and Victory Park Capital to name a few. 
In this episode you will learn:
What David Portiz spends 50-60% of his time on today

Who you really have to convince when it comes to attracting talent to move from the US to work in Mexico 

What the future holds for Creditjusto

The venture ecosystem in LATAM
SUBSCRIBE ON:
For a winning deck, take a look at the pitch deck template created by Silicon Valley legend, Peter Thiel (see it here) that I recently covered. Thiel was the first angel investor in Facebook with a $500K check that turned into more than $1 billion in cash.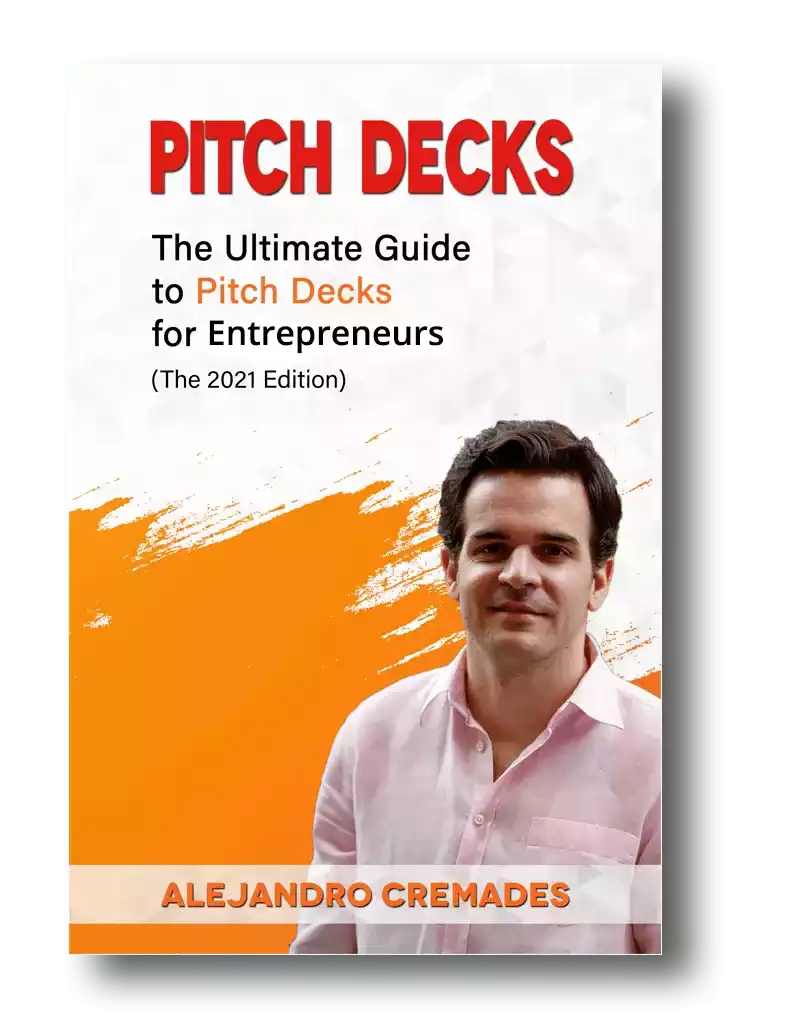 *FREE DOWNLOAD*
The Ultimate Guide To Pitch Decks
Moreover, I also provided a commentary on a pitch deck from an Uber competitor that has raised over $400 million (see it here).
Remember to unlock for free the pitch deck template that is being used by founders around the world to raise millions below.
Access The Pitch Deck Template
Your email address is 100% safe from spam!
About David Poritz:
David Poritz is the co-founder of Credijusto, a financial technology startup out to disrupt and change small business lending in Mexico and make it easier for small and medium-sized businesses to raise money and thrive.
Credijusto is the second startup business David Poritz has founded. While a student at Brown University, he started-up Equitable Origin, which created an innovative responsible certification program designed to promote higher social and environmental standards, greater transparency, and more accountability in oil and gas exploration and production.
David Poritz graduated Phi Beta Kappa and magna cum laude from Brown and holds a Masters degree in Public Policy in Latin America from Oxford University where he studied as a Rhodes Scholar. David Poritz is also a Henry David Thoreau Scholar and a Harry S. Truman Scholar.
David Poritz was a subject of the 2014 PBS documentary film, "Oil & Water."
Connect with David Poritz:
* * *
FULL TRANSCRIPTION OF THE INTERVIEW:
Alejandro: Alrighty. Hello everyone, and welcome to the DealMakers show. Today we have an interesting founder. I think that we're going to be learning quite a bit about the market in Latin America. Latin America has been a market that has been developing quite a bit over the recent years. With the founder today, we're going to really get a good understanding of what's happening there. So without further ado, I'd like to welcome our guest today. David Poritz, welcome to the show.
David Poritz: Thank you. It's great to be here.
Alejandro: Originally from Massachusetts, a child of New England. How was life growing up there?
David Poritz: Excellent. I grew up in Amherst, Massachusetts, which is like a little progressive basket similar to Berkeley, California. It was a great place to grow up. I always try to get back there when I can.
Alejandro: Obviously, there, your family are all creatives. I'm sure that gave you some type of creativity, too, to think about vision and execution. How was that being surrounded by so many creative people?
David Poritz: As you mentioned, I come from a family primarily of artists and creatives. I think one of the benefits is that my parents always showed a flexibility and openness and willingness to let me explore. The way that manifested itself the most was through my travels in Latin America. Starting as a 12-year-old, I started living and running around the Latin American region and getting excited by it. Although I grew up in Massachusetts, I feel like most of my middle, high school, and even my college years were defined by living in countries like Ecuador and Columbia, and most recently, Mexico. So it's been an exciting ride, and very, very far from Mexico and Columbia and Ecuador, as many people probably know are pretty exciting places to live on a day-to-day basis. So, far from the reality of Massachusetts.
Alejandro: For sure, and you were mentioning starting at 12. Were these exchange programs you were doing with school, or how did that happen?
David Poritz: The final sixth-grade project in my elementary school was to do a basic research, analysis, and project in a different Latin American country, and I was given at random, Ecuador, which is this tiny country in the northwestern part of Latin America. It was through that project that I learned about a very famous lawyer who was involved in a number of litigation cases there. Completely coincidentally, unknown to me, my seventh-grade English teacher, the following year, happened to be the daughter of this very well-known Ecuadorian attorney. So through her, I got connected to him, and I began working with him around 12, 13 years old, as like a paralegal, and he began taking me on his adventures down to mostly Ecuador. So, since a very young age, I've had some fun experiences living and working in The Amazon and exploring the region.
Alejandro: That's amazing! Then you ended up in Brown, and you were studying anthropology. What is anthropology, and I mean, why did you end up studying that?
David Poritz: It came out of my early work that I did. Before getting interested in financial technology and FinTech, my life path was to become a cultural anthropologist. I thought I was going to become a professor or something. I had lived and worked in Ecuador and Columbia, and I got very interested in indigenous communities and indigenous people based in the Latin American region. That's what I continued doing until my time after graduating from Brown. I went to Brown, and then after Brown in 2012, I spent two years at Oxford on a Rhodes Scholarship, and I used that opportunity to say, "I have two years where basically no one's judging me, no one's evaluating me. I can do what I want." I was fascinated by financial inclusion and the role that FinTech and financial services can play in helping people. I said, "I'm going to use these two years and explore and see what's happening in this space."
Alejandro: Obviously, this was life-altering and led you eventually to what you're doing right now. But before this, you actually studied a not-for-profit in the energy sector. Tell us about this.
David Poritz: Yeah. In 2008 I had been at Brown for about a year-and-a-half, and I said, "I'm passionate about finding ways to improve the oil and gas and energy industry more broadly," and it had built off a lot of the work that I had been doing with this lawyer that I mentioned. I decided to launch an organization called Equitable Origin, which developed the first environmental and social safety standards for the oil, gas, and energy industry—if you think like fair trade certification for oil, gas, and other forms of energies. We launched that, and we rolled it out primarily in Latin America. It continues to this day, and it's very active in the United States as well as Canada. That was my focus until the end of 2014 and early 2015.
Alejandro: Very nice. And you were in New York doing this. Then this idea of Credijusto comes and hits you, and actually hits you so hard that you end up moving to Mexico. Tell us about this entire incubation of the idea, how you brainstormed, and how you found your co-founder, and how you guys brought it to life.
David Poritz: One of my closest, best friends from Brown, was the other co-founder of Credijusto, Allan. Allan grew up in Mexico City, so he grew up here, and he's lived here his whole life. After graduating from Brown in 2012, Allan moved back to Mexico, started working in private equity while I was studying in the UK. We stayed in touch. This was right around the time when I'm sure a lot of people remember when FinTech was totally exploding in the positive sense in the U.S. and Europe. So you had LendingClub, Prosper, Funding Circle in the UK, Kabbage, OnDeck, and all these different alternative lending platforms. Allan and I saw what was happening, and we said, "If these platforms are having a disruptive effect in the U.S. and Europe, imagine what similar business models could do in the emerging markets in places like Latin America where there's significantly less competition. There's significantly lower credit penetration, and it's harder to get access to credit. So we said, "All the things that we like about these businesses is if we could take those and—we use the world tropicalize or adapt them to the Latin American region. We thought it would be an obvious opportunity. We started exploring. We said, "Okay. We know we want to do this in Latin America, but we don't yet know what country. We spent about six months studying every country from Argentina and Brazil and what they call the Southern Cone all the way up through Columbia and Peru and eventually to Mexico. Out of that assessment, we said, "Mexico is really the low-hanging fruit in the region given the size of the market, the fact that it's so difficult to get access to credit here, and that there was very limited activity in the startup ecosystem.
Alejandro: Got it. For the people that are listening, what ended up being the business model?
David Poritz: First, we did our Latin American analysis. Once we honed in on Mexico, we then spent another three to six months studying every financial product that you can imagine. We looked at heyday lending. We looked at credit cards. We looked at auto lending. We looked at leasing and factoring secured and unsecured. Out of that, we decided that the market most needed, a multi-product, small-business platform, that we said, "The Mexican market needs a real comprehensive solution to offer credit to small and medium-sized enterprises." That was the genesis of Credijusto. We said, "We're going to build a full-service, multi-product lending platform focused exclusively and built exclusively for the small business sector.
Alejandro: And this was back in 2015 where startups were unheard of in Mexico. Obviously, Spain is, to a certain degree, a little bit similar, but I think that probably Mexico is a little bit behind. Now, technology and startups have skyrocketed for quite a while in Spain. I think that Mexico and Latin America now have been picking up, but in 2015, it was like what it used to be in Spain, too. It was like you finish school, and you go into becoming a lawyer or becoming a banker or a consultant. But here, you guys are starting a startup in a place that they're not as used to startups. I'm sure that this was quite a battle for you guys.
David Poritz: Yeah. It was like literally a desert is the word I would use. Mexico is a very robust, fairly well-diversified economy, but the culture of launching a business and getting early-stage seed capital, it really wasn't something that was part of the national identity. I think Allan and I got involved early where it was still very, very hard. Early on in 2015, we started raising our first outside capital. We did a fundraise in the summer of 2015. I remember we decided to focus almost exclusively in the U.S. and primarily in New York. Everyone what like, "Mexico. No. No. No." Then finally, we found some folks who the story resonated with. The most notable of those people was John Mack, who is the former CEO of Morgan Stanley and Credit Suisse. He understood the opportunity set in Mexico. He was on the board, previously, of LendingClub. I think he saw the potential for a technology-enabled lending platform and what it could do for the Mexican market. But before that, I can tell you it was a very long road where we got rejected many times, as most entrepreneurs do. But it was just that much harder because people were not familiar with Mexico.
Alejandro: Got it, and obviously, this happens all the time where it really takes a lot. Finally, there's a big name that is the tipping point, and then everyone wants to be part of it.
David Poritz: Yeah. We feel fortunate, but that's kind of what happened in our case. I remember, vividly, John Mack was, "Yeah. Yeah. I understand it. Let's do it." Then, behind him, we got a group called Victory Park Capital, which was a well-known credit fund in the U.S., who were doing some equity investments. They came behind him, and then groups like Broadhaven Capital Partners, and Elevar Equity. It was a classic domino effect, but it's like literally people had no interest in the Mexican market. Early on, there were no success stories to point to. The analogies that we were using when speaking about our business were all outside of Mexico. So I think that made it particularly hard because usually, at least from my experience in getting an investor and convincing an investor is largely about getting them comfortable and giving them examples of where and why we could be successful. The problem with Latin America was, there were no examples of IPOs. The Brazilian market is much more developed than Mexico, so it made it that much harder.
Alejandro: Here, we're talking about John Mack, the former CEO of Morgan Stanley, so one of the most influential in the financial service space. How did you get in front of John Mack? What did you guys do in order to get in front of him?
David Poritz: It was an adventure. I had a friend from Brown, who originally was from Ecuador, so we shared a lot of interests in terms of the Latin American region. He, with one of his other friends, had started a company in New York in the financial services space. They had been able to get to John, and then through him, he said, "You know what? I think John would like this business." He eventually made the introduction. It was a surreal experience. It was definitely one of the more nerve-wracking early experiences. I studied anthropology. The joke inside of Credijusto is, "I can't even count." It's like my whole background was in social sciences. I knew nothing about finance. The last math class I took was geometry in High School. I had to learn about financial services and capital markets and indepth financing and all these things. The first two years, I definitely had to learn quickly.
Alejandro: I can imagine. Going back to fundraising, how much capital have you guys raised to date?
David Poritz: We've raised 60 million in equity across our seed and Series A and B. We've done three rounds of equity financing. Early seed, and then we did our Series A, which was led by QED, which is the former Capital One Bank folks, and Kaszek Ventures, which is the Mercado Libre founders. Then our Series B was our most recent round. This past August was our Series B, which is a 42-million-dollar raise, which was led by Goldman Sachs and by Point72, which is the hedge fund in New York. That's on the equity side. On the debt side, we've raised just about 250 million. We just closed about three weeks ago, a 100-million-dollar line with Credit Suisse with their New York Securitization Group. Last March, we closed 100 million with Goldman Sachs with their Special Situations Group out of New York. Then we work with a few other groups, like OPEC, which is part of the U.S. Development Funding, Partners Group, and a few others. It's been an interesting journey, and we feel really lucky because we're one of the more institutionally-backed startups today in Mexico.
Alejandro: Got it. And even with that, it's quite a challenge to recruit people. I've heard that you're the kind of individual that takes the entire family of whoever you're looking to recruit to an amusement park. So tell us about this.
David Poritz: The way I would describe Mexico is the process of starting anything here is just like 5x to 10x more difficult. Convincing talent to move from the United States, to move from San Francisco or to relocate from New York is extremely hard. I still spend today, 50-60% of my time on recruitment of high-impact people. You've got to be extremely patient. What I've learned is, it's not just about convincing the individual; it's about convincing their whole families. I've had multiple people who have signed offer letters who have said, "I'm ready to go," guns blazing, and then their wife decides, or the family decides that they're not able to pull the trigger and move down here. Most recently, I remember, two or three months ago, I had an individual signing off a letter. I had spent two or three days with him and his family taking them to restaurants, taking the kids to jungle gyms, visiting schools, looking at apartments, taking strolls down the nice areas of the city. You name it; we did it. But low and behold, I thought it was a done deal, and sure enough, I wasn't able to get it, I wasn't able to push it through. So, I think you have to be incredibly persistent, and you have to be incredibly accommodating and really flexible in order to get people to come down. I think once they move, and they experience what life is like down here, then they end up loving it, but it is a hard process.
Alejandro: In that process, you were mentioning San Francisco, which is the land of opportunity. You have all the capital. You have all the talent. You have everything in the world. What do you think pushes someone over the edge to make such an aggressive move and go to Mexico?
David Poritz: It's about convincing them on the opportunity, and it's about explaining to them how credit penetration, meaning the availability of credit in Mexico, is half what it is in Brazil. Yet, Mexico is about one-third of the size of the United States. It's really about getting them comfortable on the amazing opportunity that Credijusto has and the role that technology in smart-capital markets can play in building a business. You need to pitch both employees and investors on the market and the opportunity that we see and hopefully that they see in Mexico and in the region and on our strategy. I think that as the U.S. gets more and more competitive—there's a small business lender in every corner in the United States. There are a few of them down here in Mexico. I think people start to see, "Wow," the opportunity to build a market-leader in Mexico is in many ways so much easier than it is in the United States. I think that really gets people energized.
Alejandro: How many people do you guys have now in the business? How many employees?
David Poritz: We have around 300 today. We have 300 today. A year ago, we were about 100. We're definitely in a high-growth moment. It's a complex but exciting time to be in our business.
Alejandro: Exciting, for sure, and obviously, you guys must be super busy given what's happening in the world, now, with COVID-19. So what's happening now with you guys. You're deeply connected to small businesses and lending to them, so you guys must be very busy.
David Poritz: Yeah. It's a fascinating moment and definitely the most complex moment for our business because, on the one hand, you can imagine we are the lifeblood for many small businesses because we're one of the only groups that extends credit to them. On the one hand of the spectrum, we have a responsibility, and we have deep exposure to the small business space, and you need to work with those clients, and you need to be flexible, and you need to get them through this moment, which I think we're very well-positioned to do. But with that comes challenges. It's harder for small businesses to service their debt, given that their revenues have dramatically decreased. So everything that you could imagine: harming a small business, we feel that. But, on the other hand, we've never seen so much credit demand from remarkably strong companies. We're seeing larger companies that are looking for growth-capital to be able to improve their liquidity and take advantage of these opportunities. It's a really fascinating moment wherein certain ways, it's incredibly scary given the challenges that our businesses are going through, but on the other hand, it's like it's the biggest opportunity we've ever seen, which is to capitalize and take advantage of all the credit that is needed from high-quality borrowers in the market. It's like this juxtaposition between these two extremes.
Must Read: Jason Guss On Raising $100 Million To Empower The $14 Billion Powersports Market
Alejandro: Got it. David, imagine you go to sleep tonight, and you literally wake up in five years. It's an incredible snooze. Maybe you slept more than any time before. You wake up in a world where the vision of Credijusto is fully realized. What does that world look like?
David Poritz: I think it looks like us becoming the S&ME bank for Mexico and potentially in the region. I think what we're realizing is lending is important, but over time, we want to be able to take savings, and we want to be able to offer and serve our clients in a comprehensive way. I think if I say, where are we in five years? Where we are the go-to brand and the go-to S&ME purpose-built institution, S&ME bank, and S&ME-built institution for our market. I think that means clients are no longer bothering going to traditional incumbent banks. They're going to Credijusto because we're the solution. I also think, potentially, it means we have a presence in other countries that are outside of Mexico and have a regional activity. In the least, I think being the dominant go-to household name for S&ME finance in Mexico.
Alejandro: In the space that you guys are operating in is heavily regulated. Those companies in the U.S., it's big-time. The obstacles that you encounter on the execution, what is it like in a place like Mexico?
David Poritz: It's like the Wild West. I'll give you some examples. In the U.S., as you appropriately just said, finance and lending are regulated on a state-by-state basis. If you're especially finance or a FinTech lender, you have to navigate, in theory, 40 or 50 geographies or jurisdictions. In Mexico, you have one regulator. If you figure out how to do it on a national basis, you're covered across the entire country. Also, in the lending space, the regulatory regime is very light in a positive way because the government wants to support better access to finance and more financial inclusion. It's very unregulated. It's very open, and it feels like what banking was like in the 1980s in the United States. That's what it feels like—jump to the sophistication of generally what's happening. So it's incredibly exciting. It's an opportunity where I get up every morning, and I have hundreds of obstacles in front of us, but it feels like we're trail-blazers, and it feels like we're doing stuff that's going to have an impact, and be a lasting business over the medium and long-term.
Alejandro: Talking about experience, it's been five years with the business of crazy, hypergrowth of tons of ups and downs, which is what entrepreneurship is all about, and tons of the learnings and experiences. If you had the opportunity to go back in time, back to 2015 where you and Allan were thinking about what kind of future you wanted to build and what kind of company. If you had the opportunity to go back and speak to your younger self, knowing what you know now, what would be that one piece of business advice that you would give to yourself before launching a business and why?
David Poritz: Both Allan and I are what we would categorize as non-technical founders. Neither of us is an engineer. Neither of us has deep experience in sales and growth. We're truly like generalists. People go to Brown, and it's like you get a classic Liberal Arts degree. You leave as totally a generalist. I think the tactical error that Allan and I made is we did not bring on, early, the right partners to supplement our skillset. Specifically, we should have brought on a technical co-founder, someone who had been a CTO before, someone who had built a technology company, and we should have brought someone on who had deep experience in sales and growth. I think had we done that back in 2015 or early 2016, I think we would have been one and a half to two years ahead of where we are today. That's the very tangible thing that I would have done differently is that we needed to have supplemented what we were not good at very early on with other people, and concretely, it's on the technology side and on the commercial sales side.
Alejandro: That's because you guys had a big, steep learning curve, and you needed to learn for yourselves rather than [crosstalk 28:37].
David Poritz: Oh, my gosh. We wasted millions of dollars on stupid technology decisions or growth strategies. Yeah. We did not have the experience. We were first-time founders who had not done this before. We were operating in a market where it made everything more difficult, so we needed to have had experience in those two areas, and I think if we did, we would have been—look. Were super-excited where we are, but I think we would have been a year or two ahead in terms of our maturity and development.
Alejandro: Got it. Makes sense. Very cool. David, for the folks that are listening, what is the best way for them to reach out and say hi?
David Poritz: Send me an email: [email protected]. I'd love to hear from people about what they're up to. We're in an exciting period, and we're always looking for partners, whether that's new team members or investors. So, yeah. I love to get emails, and I love to speak and learn from folks.
Alejandro: Amazing. David, thank you for being on the DealMakers show today.
David Poritz: Thank you. It was great to chat, and I hope we get to meet in person soon.
* * *
If you like the show, make sure that you hit that subscribe button. If you can leave a review as well, that would be fantastic. And if you got any value either from this episode or from the show itself, share it with a friend. Perhaps they will also appreciate it. Also, remember, if you need any help, whether it is with your fundraising efforts or with selling your business, you can reach me at [email protected].
Podcast: Play in new window | Download
Subscribe: Google Podcasts | Spotify | Stitcher | TuneIn | RSS | More
Facebook Comments