Chuck Cohn is the co-founder and CEO of Varsity Tutors which is a live learning platform that connects students and professionals with personalized instruction to achieve any goal. The company has raised so far over $100 million from investors such as TCV, Learn Capital, and the Chan Zuckerberg initiative to name a few.
In this episode you will learn:
How Chuck took his business from offline to tech superstardom

The most important factors in managing a marketplace startup

The two things he would tell himself before starting another business

What to do before giving up a board seat
SUBSCRIBE ON:
For a winning deck, take a look at the pitch deck template created by Silicon Valley legend, Peter Thiel (see it here) that I recently covered. Thiel was the first angel investor in Facebook with a $500K check that turned into more than $1 billion in cash.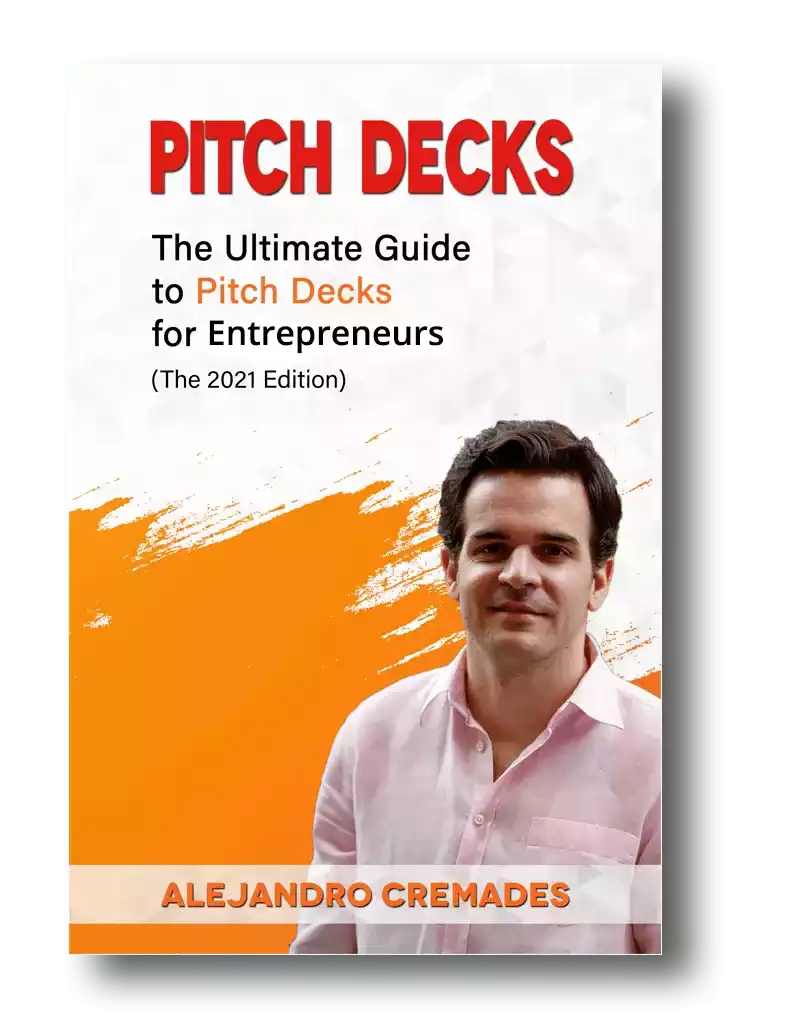 *FREE DOWNLOAD*
The Ultimate Guide To Pitch Decks
Moreover, I also provided a commentary on a pitch deck from an Uber competitor that has raised over $400 million (
see it here
).
Remember to unlock for free the pitch deck template that is being used by founders around the world to raise millions below.
Access The Pitch Deck Template
Your email address is 100% safe from spam!
About Chuck Cohn:
Chuck Cohn is the founder and CEO of Varsity Tutors, a platform that connects students and professionals with personalized instruction to achieve any goal.
Experts on the platform have delivered over two million hours of live, personalized instruction to students online, on mobile devices, and in person.
In 2015, the company announced that it had raised $57 million in funding from investors, including Technology Crossover Ventures and Adam Levine.
In 2016, Entrepreneur named Varsity Tutors the 15th most innovative company in America.
Chuck Cohn lives in St. Louis, and is an active participant in the local startup ecosystem.
Chuck Cohn graduated from Washington University in St. Louis with a BSBA in Finance and Entrepreneurship.
Connect with Chuck Cohn:
* * *
FULL TRANSCRIPTION OF THE INTERVIEW:
Alejandro: Alrighty. Hello everyone and welcome to the DealMakers show. Today, we have a very exciting founder. I think that he is going to really tell us a thing or two about the educational space like how that's transforming, how he was able to go from offline to online and build a solid business that he bootstrapped for seven years before taking any investments. So without further ado, I'd like to welcome our guest today. Chuck Cohn, welcome to the show.
Chuck Cohn: Alejandro, thank you for having me on today. I'm excited to be here.
Alejandro: So originally born and raised in St. Louis. How was life growing up there?
Chuck Cohn: I love St. Louis, and I'm still here today. It's a great city to raise a family and great schools, low cost of living, easy to get around, and lots of parks. It's a great place to have grown up.
Alejandro: Very cool. We're going to talk about your business in just a little bit. They say that ideas take time to incubate. It's a frustration that slowly you're starting to see with more callers, but for you early on, you started to experience this frustration. That was with needed extra assistance growing up in school. Is that right?
Chuck Cohn: It is. I had some remarkably positive experiences with private tutoring when I was in high school, going from an F to an A+ with the help of Brad, the geometry tutor. And there are other times I could have benefited from help and couldn't find anybody in time for a big exam. There were other times where I was paired with a tutor that we found online or a local university who just wasn't any good. In one case, it was a French tutor who didn't speak any English, and that was a very frustrating experience. That formed the business model later on and the idea.
Alejandro: And, obviously, we're going to talk about that, but you at a very, very early age, you made the decision. You knew that you wanted to be an entrepreneur, and I believe that was in kindergarten. How did this happen? It's a bit earlier than everyone else.
Chuck Cohn: Well, I think I'm just programmed this way. When I was in kindergarten, I had an idea that I was going to start a haunted house and charge kids in the neighborhood admission. It never worked out. I had the haunted house. Nobody paid me any money, but that was probably the first failed startup I had, and there were several more throughout the course of my next 12 years in school. There was a different business, and eBay-related business that I tried to start when I was in middle school. There was a summer camp in elementary school where I had the idea that I was going to post around the neighborhood and recruit students, and their parents are going to pay me for access to the summer camp. The police were actually called on me and forced me to take down flyers that I had put up for recruiting students to this summer camp. So there were a number of failed startups before my current business.
Alejandro: Did you see a pattern between all these failed startups that was an important lesson or learning for you that you applied later on?
Chuck Cohn: Honestly, I can't say that I did. They were so unrelated. I certainly wasn't equipped or set up for success as a K-8 student to pursue these. There's definitely a minimum amount of knowledge and skill necessary to execute, and certainly, that grows over time as you gain more life experiences.
Alejandro: Absolutely. How did this come about? Was there someone in your family or someone who you read about that was an entrepreneur? Tell us about this.
Chuck Cohn: My parents were always very encouraging of this. My father was a real estate developer and architect, and my parents, in general, recognized that I wanted to be an entrepreneur and supported me going to college to get my degree, specifically in entrepreneurship. I also majored in finance. In general, I had a lot of family support for this. I had a grandfather who was very entrepreneurial and had a business and ventures, as well. To some extent, it ran in the family, but I also had a lot of parental support.
Alejandro: And going to college and being in the university reinforced that you needed to get out there and start something new. Tell us about what happened. You got this spark going on again after going into this calculus course that you were taking in the university.
Chuck Cohn: Yeah. I was studying for a Calculus II course. I was majoring in finance and entrepreneurship at Washington University in St. Louis. It was the night before a big exam, and I realized that I didn't understand any of the material, and I was going to fail the midterm the next day. Two of my good friends, Louis and Dave, ended up helping me study for this exam. They were able to explain the material in a fundamentally different way. They had great communication skills. They had expert subject knowledge. They were patient, and they enjoyed teaching. The material finally clicked, and I ended up getting a great grade in that course. For me, I think was a B. I ended up coming to the realization that had I had access to people like this when I was in high school, I would have had a better experience. I would have gotten better grades. I would have enjoyed school more. I ended up asking these two friends if they'd be willing to work as tutors, and I'd be responsible for going out to the local community and finding students. We haggled over a rate, shook hands, and the business was born. I went to my parents and borrowed $1,000 to start the company, and spent $450 on letterhead and flyers to get the word out. I spent $500 on a three-page website, and that was the beginning of the business.
Alejandro: And it took you three years to make the decision of going full-swing. Why was that the case?
Chuck Cohn: I started the company my junior year in college and started answering the phones myself and posting in coffee shops. Very quickly, we had a good, stable base of tutors who were providing services to the local community as a result of interactions that occurred through our platform. We were getting great feedback. Very early on, I came to the realization that this was a data-intensive industry and labor-intensive industry, and it was necessary to invest in some technology to keep track of everything. So in the early days, we were limited by how labor-intensive and data-intensive this was, and it took us a while to figure out a technical solution for this. The whole time, I was working as a student. Then later, I graduated and had a couple of jobs after college before I decided to do this fulltime.
Alejandro: Those couple of jobs were probably very important because most of the founders that I interview, and that I also advise, they have similar backgrounds. They're either coming from consulting, investment banking, or the investment side as a VC, private equity, or so forth. You actually did two of them, which is investment banking and then also VC. What did you learn during this experience as an investment banker, or as an investor?
Chuck Cohn: I consider myself a recovering investment banker having only made it a year there before I decided to pursue more interesting lines of work that were less demanding. It's incredibly analytical. You have to demonstrate high attention to detail. You learn financial modeling. It forces you to understand the mechanics of a PnL. It gives you an appreciation for capital markets. I learned an incredible amount in investment banking. I was working for Wachovia in their Energy and Power Investment Banking Group working on debt issuances, equity, and M&A. Then I spent three years working for a health care, private equity in venture capital fund as the junior private equity associate – flying around the country with partners, hearing management teams and entrepreneurs pitch their businesses and outline a plan for why they needed capital and what they were going to do with it, and why we should entrust our funds to them, investing 10 to 20 million dollars in mid-to-late stage IT services and device companies in health care. And that was an incredible experience and provided me an opportunity to hear these seasoned entrepreneurs, walk through their business models, how they were going to build a product that delighted customers and generated long-term value. Then, ultimately, I was able to watch how they executed. I'd try to take a bit of what I learned during the day and employ it to some modest extent at night on my side-hustle Varsity Tutors.
Alejandro: A couple of questions here. Was there any type of pattern that you saw on the companies that you guys would end up investing, and then also a pattern on the companies that ended up having a good execution that led them to succeed?
Chuck Cohn: Absolutely. The companies that had great products had a markedly easier time selling those products and scaling. The companies that had focused, disciplined founders and management teams tended to outperform those that were less disciplined in their focus or were less clear on their execution strategy. The takeaway for me was that you had to focus on delighting customers and building a great product. If you did that, everything else would be easier. That was probably the most influential thing I took away from the process in addition to all of the capital raising, venture capital, and private equity-related skills you inevitably develop in the role.
Alejandro: During this time, you were saying that you were spending time at night on building your business. So who was managing this because you need someone fulltime or someone that you can rely on, on the day-to-day?
Chuck Cohn: We had area managers. The original business was akin to a territory manager model where you would expand city by city, building up a supply base of instructors taking inventory of who had what knowledge and then making them available to the local community through a vertically integrated marketplace model. And each market was run by a mini-general manager or territory manager. Initially, it got to the point when I was in college, and I was personally answering the phones and stepping out of classes that I thought to myself, "I'm going to fail out of college if I don't do something." So I went on Craigslist and found our first area manager, regional director as we called them. After I graduated, we got up to the point where we had 10 or 11 full-time people when I was working in venture capital, and I was coming home at night at 8:00 or 9:00 at night. Then I was giving them a call, and it started getting to the point where one, it was weird that everybody else was ending their day, and I was just starting my day at Varsity Tutors. Separately, it became clear that I was the thing holding back the business from growing – my time and attention.
Alejandro: What was that day for you, Chuck, that you got back from working the 9 to 5, you arrive back to your house or to the office, and you said, "It's time for me to give my notice and to dedicate my life now to Varsity Tutors"?
Chuck Cohn: I remember it well. We had a team dinner, and all our area managers who lived in the St. Louis area went out to dinner, and they brought their spouses or significant others. The husband of one of our area managers very pointedly asked me why I hadn't quit my job. What he said was, "My wife is dedicating her life to this business. She's passionate about it. Why aren't you passionate enough to quit?" It really hit home. I thought about it all night long. The next day I came to the realization that I had just not quit out of fear – fear of the unknown. I did, in fact, believe in this business. I did, in fact, think that it could transform an industry and help eventually hundreds or thousands or millions of people, but I had let my fear hold me back from doing it fulltime.
Alejandro: I guess looking back now, Chuck, do you regret not jumping into it earlier?
Chuck Cohn: I do. That said, there was a lot of value in bootstrapping the business and figuring out exactly what we needed to do before I put my full time and attention on it. I say that partially because I was able to take a lot of the money that I made in my day job in the form of a salary and plow it back into the technological infrastructure. So we wouldn't have had the capital available to pay software developers had I taken an amount of salary and not have a day job. I do wish I had quit earlier, but there was also real value in bootstrapping it and de-risking it.
Alejandro: Of course. Then you give your notice. What happens next?
Chuck Cohn: At the time, we were in five cities, and we had ten fulltime employees and several hundred tutors working through the platform. I had this idea that markets outside of the Midwest were going to be more competitive and sophisticated. It was going to be very challenging to enter the largest markets in the country like New York and San Francisco just because it was different than our local markets, and it was more evolved and more competitive. I actually worked as the first regional manager of our New York City location, had phone calls routed to my own personal cellphone. We turned on advertising. We launched and very quickly, I was completely overwhelmed. I remember getting 60 or 70 phone calls a day to my phone. I couldn't keep up. So within about six weeks, it got to the point where I realized I had to hire several people to help me manage the territory and backed out of a role talking to customers and focused on growing the business. But that was a pivotal moment when I realized, "We're going to be able to scale this thing nationally, and we have a very high-quality service and experience that we're facilitating, and people throughout the country are going to be able to benefit from this, and they're willing to pay for it because it's a great service."
Alejandro: Now that you were fulltime, I'm sure that you were able to unlock and discover all of the beautiful challenges that you had in front of you. So what were some of these challenges during the early days of being at it in full swing?
Chuck Cohn: When you're not focused on something full time, you don't realize all the available underlying business drivers and levers that you have available to you. In our case, a lot of it comes down to the instructor quality and finding the right person for a given student's needs, and then doing that highly efficiently, so you can provide substantially more value at a lower cost. If you can provide a higher-quality service at a lower cost and more convenient manner, in any services-based environment, you will ultimately take market share win. In order to do that, you need to invest heavily in technology to become more and more efficient and be able to make sure that what a customer's paying for is something that they would actually value. We invested heavily in the process automation and technology around identifying and credentialing great instructors and making them available to people. Despite the fact that over the course of the last four or five years, we've transitioned the business from almost entirely in-person to entirely online. The reality is that the instructor quality still matters greatly and that process automation in the early days served as a foundational piece of the infrastructure that we built.
Alejandro: What is the business model, so that the people listening understand? What is the business model of Varsity Tutors?
Chuck Cohn: Varsity Tutors is a live learning platform that seamlessly connects experts and learners in any subject, anywhere, any time. We can help students learn any of about 2,500 different subjects in person, online, on mobile, or in a live group class setting. Students will actually buy buckets of tutoring, hours of tutoring, and they can use that across any of the 40,000 instructors on the platform in any of the 2,500 different subjects. So you actually pay per hour, and it's volume-based for the more you purchase, the less it is per hour as would normally be the case.
Must Read: Pierre-Francois Thaler On Raising $200 Million To Make Supply Chains More Accountable
Alejandro: I understand that one of the critical moments in the journey of building this business was really transitioning from the offline to the online world. I believe that during the early days for you guys, you were getting some negative feedback and your conviction was what broke you through those bumpy days. Tell us about this pivot because it's a significant one.
Chuck Cohn: Tutoring is a profession that goes back thousands of years. People, thousands of years ago, received tutoring in Greece, Rome, and all those ancient civilizations. So there's a lot of history behind the idea of working one-on-one with a master teacher of some sort and doing so in person. In 2014, there was a shift in how a couple of the big technology companies that have internet browsers were thinking about transmitting audio and bit video packets peer-to-peer. They wanted to do so in a browser-based setting to an extent that hadn't been possible in previously. We sensed that there was a technological transition happening that we can seize upon that would allow us to replicate this offline experience online and enhance it in ways that weren't previously possible. We became one of the first services-based companies in the world that we know of that was heavily investing around this new internet protocol called WebRTC. When we started building it and started talking about it, I received an incredible amount of resistance from just about anybody I talked to – people outside the company that I knew, business advisors, parents of students, tutors, our own internal team. It was surprising to me because I thought, "Maybe nobody's built this yet, but you can see all the building blocks that are in place." You should be able to meet at home; that would remove friction of driving and scheduling time. You could get paired with the best person for you within 5,000 miles as opposed to the person who lives within five miles. The instructors are going to be happier because they don't have to drive anywhere. They can do everything from the comfort of their home. Then you're going to be able to enhance this with content and tools in a way that isn't possible in person. And lastly, you can record the whole experience to an extent you can't in person. So you can continue to get value out of it on an ongoing basis. Those were things I considered to be truths. I believe that if you could enhance the experience in all those different ways to an extent that you couldn't in person, eventually, you'd get the tech right, and you'd be able to build a product that removed enough friction that it was better than the offline experience of meeting with a tutor in your home or coffee shop or something else like that. That eventually meeting online would enable the instructor and the student to have superpowers that weren't possible in that offline world. So I had conviction that eventually we'd get there. We spent six months building an MVP. We launched this thing, and it completely flopped. The tutors hated it. The parents hated it. WebRTC, at the time, was unstable, and there were a number of glitches in our own software infrastructure. It was a humbling experience, but I still believed we'd eventually be able to get it right. We spent another nine months, really listening to our customers. That was a key lesson there that I took away from that experience is how critical customer feedback is. We spent nine months getting feedback to make sure we got all the bugs out of the system. We removed friction, and we delighted customers and users of the platform, and eventually, we got it right. And when we got it right, the feedback was outstanding right out of the gate, and it became clear that we were onto something big.
Alejandro: How were you able to filter the feedback and take it in a way that you could implement it because there are some people that have the thought, for example, Steve Jobs, that in many instances the customers don't know what they want.
Chuck Cohn: In the early days, a lot of the feedback was so foundational, you realize you just had to do it. It had to do with platform stability. It had to do with sharing information. Some of it was so basic that it almost seemed obvious that we had to do it to replicate key aspects of that in-person interaction, which was the base expectation that a customer had going in. I want this to be at least as good as the end-person experience. As it relates to some of the more advanced features are things that people wouldn't have thought of their own. Those are things that even to this day, we experiment with. Sometimes, if we have conviction that they could be additive, we'll just roll them out if we believe that the market may not be aware of them yet but would benefit from them.
Alejandro: In terms of marketplaces, because here you have the tutors on one hand and then the students as well. What have you learned about building the supply and demand?
Chuck Cohn: Figuring out equilibrium is always a challenge. Anytime you have tens of thousands of people on two sides of a network that are reliant upon one another, you effectively have to serve as market maker and be really conscious of volume. We've had to build a lot of systems and do a lot of math-based work that allows us to at a very fine level predict, demand, and understand supply to an extent that maybe isn't necessary in other types of business models. So in particular, in our case, there are more than 2,500 different subjects. Each of those subjects could be multiplied by every single city or every single zip code in the country, and you can end up with millions and millions of skews. So figuring out the way to group that information so that it's actionable is one of the things that allows you to deliver on your promises to customers and ensure that you have a high-quality instructor available for them that can fulfill their expectations and allow them to get the raised test scores and confidence boost they're looking for.
Alejandro: You guys were, obviously, executing, bootstrapping the operation for seven years. So why did you decide to raise money?
Chuck Cohn: As we were building this online platform, it became apparent that while the platform itself was relevant for private tutoring, it was actually relevant for facilitating knowledge transfer and all sorts of other categories as well. You could just as easily connect somebody with a programming instructor, or somebody to help with music lessons, or effectively anything that was involved with one person teaching somebody else a skill could be facilitated through this same platform. And a lot of the processes and technology that we'd built related to efficiently bringing on tens of thousands of instructors per year, and ensuring that they had the right skills and background necessary to be successful could similarly be applied in areas outside of traditional academic tutoring and test prep. Prior to that point and time, we thought about the business as a marketplace for private tutoring. After that moment in time, we started thinking about it as something that we call a live-learning platform. The big idea that we're going after is that for the first time in human history, it's now possible to build a platform that allows anybody who needs expertise to connect with somebody who has that expertise in real-time anywhere in the world with a click of the button. I consider that to be a once-in-a-generation opportunity. Around that point and time, Airbnb was doing well. Uber was doing well as a result. Verticalized marketplaces were getting a lot of attention, and we had probably 40 or so venture funds reach out to us. I ended up going in and asking two local entrepreneurs here in St. Louis for some advice. They're running a company called Answers.com, and instead of providing me advice on how to raise capital, which is something that they had done extensively having raised several large institutional rounds, they came back to me and said, "Wait a second. This might be something we'd be interested in investing in. Would you consider coming and pitching us the actual business like you would an investor as opposed to coming in and asking for advice? So I was caught off-guard, but I came in and did that the next week, and we really hit it off.
Alejandro: Got it. Obviously, a shout-out to David Karandish. He did a great episode as well. He was one of the guys that sold Answers.com for over 900 million. So super, super smart guy. Out of curiosity, how did you get Adam Levine from Maroon 5, the singer, to come in and put some money on this?
Chuck Cohn: That was our Series B investor; Technology Crossover Ventures made that connection. One of our investors Ramsey Ramsey who is now at SoftBank made that introduction, and we were fortunate enough to connect with Adam's team, and he's passionate about education and learning, and we hit it off there.
Alejandro: Very cool. You guys have done a couple of rounds. How much capital have you guys raised to date that is publicly disclosed?
Chuck Cohn: We've raised about 110 million dollars over the course of the last five years.
Alejandro: During these different financing milestones, what have you seen? What has changed? What expectations have been there? Can you walk us through how this has been over time?
Chuck Cohn: Sure. Our initial Series A round from David Karandish and Chris Sims, two local entrepreneurs and angel investors here in St. Louis was 7 million dollars. Their pitch to me was, "You don't have a board of directors. You're running this company from the home office that adjoins your bedroom. We can help you prepare for an institutional round and be better prepared to do so. While I worked in venture capital, I was a first-time entrepreneur and CEO. I found that prospect pretty appealing. So over the course of the next year, they helped me prepare for that first institutional round, ensure that we had our metrics in order, and generally pass along some advice on how to scale a business and ensure you're still delighting customers as you grow, and setting yourself up for success. The next year, we went out to a handful of funds who had reached out and had a lot of interest and excitement around the idea that we're going after, building a platform that could facilitate all of the knowledge transfer, and bringing live instruction online to an extent that it wasn't possible before. We ended up talking to about five funds out of those 40 or 50 that had reached out, and ultimately chose to work with one fund, TCV, Technology Crossover Ventures that we felt had the deepest set of experience in consumer internet marketplaces. But also had a deep passion around the product we were building and the problem set that we were going after, and were similarly convinced that we were going to be able to help millions of kids better prepare for life experiences and get the help that they needed and build a really great business around bringing live instruction and tutoring from offline to online.
Alejandro: Very cool. How big is the business today? How many employees do you guys have?
Chuck Cohn: We have about 650 fulltime employees.
Alejandro: Wow. We're talking here about learning and tutoring, but what about yourself? How did you develop yourself as a leader? How were you able to grow at the same pace as your own business so that it didn't outgrow you?
Chuck Cohn: That's a great question, and frankly, it's always ongoing. I ask for a lot of feedback. I'm fortunate to have a strong board of directors. They're not shy about providing feedback. One of the things that I think is most important for founders, CEOs, in particular, is to be cognizant of how limited your own experiences are and try to take all the feedback that you receive, actively solicited feedback, and then try to make yourself better. It requires being humble, being able to take sharp criticism, and then being willing to adjust your behavior accordingly. It's something that I pride myself on. You can always do a better job, but I think first and foremost, you have to recognize how limited your own skillset is and that there's a need to get better to make sure you can properly support the company and all your employees and set yourself up for success.
Alejandro: Absolutely. In terms of the board, any type of takeaways on how you can make it super effective, especially for the folks that are listening, and starting to put together the corporate structure of their business, and the governance, and all of that? How do you think boards work effectively or should work effectively with a founder or with a CEO?
Chuck Cohn: First off, I think you should do a lot of research before you add somebody to your board. I often see startups become impressed by somebody's background and very quickly extend them a board seat, and that's something that I'm very thankful we haven't done. We've been very careful in getting to know people before we either allowed them to invest in the business or alternatively, extended them a board seat. I'd say first off, be really careful about who you pick. Make sure you find people who share your values, that you're going to get along with. You're going to have to spend an incredible amount of time with them in good times and in high-pressure situations, and everything in-between. You want to make sure that you can get along over what could be a really long relationship. Separately, I always try to overcommunicate and structure all my communications so that I can get as much feedback as possible from our board. So I see them as a resource, and I need to arm them with as much thoughtful information as possible presented in a structured say, so they can give me the feedback necessary for me and the rest of our team to do a good job.
Alejandro: Very cool. Being in St. Louis, obviously, this is not Silicon Valley or not New York City where there's a ton of money and then also a ton of people that come from colleges and so forth to get a job. Did you experience any challenges or how do you see the region developing in terms of access to capital and access to talent?
Chuck Cohn: Well, the regions evolved significantly over the course of the last 12 1/2 years since I started my business. There are a lot of Biotech and healthcare-related funds here that provide access to capital. And there's a lot of innovation involving pharma, therapeutics, devices, and AgTech. Monsanto is headquartered here as well. In the consumer internet world, the ecosystem is much less robust. Over the course of the last couple of years, a couple of big consumer early-stage funds have emerged that have helped build this community. I would say I didn't have access to the same community that exists today, but the St. Louis startup ecosystem is going well. In the early days, I received a lot of support from Washington University in St. Louis and the faculty there who made a number of connections that were helpful. But as it related to raising capital, I was a bit on my own, but that's clearly changed in the last few years.
Alejandro: Talking about you being on your own, when it comes to raising capital, how do you deal with the rollercoaster of emotions that are involved with raising money?
Chuck Cohn: The rollercoaster emotions probably isn't limited to raising capital. It probably extends to building a business or building anything, whether it's a business or something else entirely that you care about. From my perspective, it's a process. At the end of the day, if you have a good business model that customers love, it's a lot easier to generate Unilever economics that are going to excite investors. That's where I put the super-majority of my time. In the early days, I'd say I wasted time and energy taking a lot of investor calls when I should have been spending time figuring out how to build a great product to grow the business in general. But as it relates to capital, it's a process. You need to talk to people that understand and share your vision and are going to have a shared set of values and have a lot of conviction that you can build this business.
Alejandro: Talking about the business itself, Varsity Tutors, in a world where the vision of Varsity Tutors is fully realized, what does that world look like?
Chuck Cohn: One of the products that we spend a great deal of time building over the course of the last several years was the instant tutoring capability. You can download our mobile app, click a button, and video chat with an instructor in as little as 20 seconds in more than 250 different subjects, which is a magical experience. It's not an experience you can get in either tutoring or any other industry. In health care, it can take you 20 minutes with some of these on-demand doctor programs to get connected to a live doctor. That's not magical. But clicking a button and video chatting with an expert that you've never talked to who has the skills that you need in real-time, really is. That's a capability that we spent many years building, and eventually, we will be able to extend it to more and more subjects and help people in a wider range of topics worldwide. For me, it's important that we evolve the platforms that we meet students where they want to meet. That could mean providing different modalities like mobile, online, group classes, etc. It can also mean helping them in all the different ways they might need to receive help. So we have a broad mandate, and we're trying to go after the most exciting opportunities within that mandate.
Alejandro: It's interesting how – you were mentioning earlier how tutoring has been out there for quite a while. Obviously, education and all these universities have been out there for quite a while. In your case, you guys experience that transition from offline to online. Now, when you're taking a look at the world of education, where do you think things are heading?
Chuck Cohn: People increasing want help quickly. They want a deep level of personalization and customer expectations in all categories, and certainly, in this one, are going up each and every year. We feel the need to better personalize the services, to increase the quality and reliability of the service, and generally up our game a bit with each passing month. We're investing heavily around diagnostics, around machine learning infrastructure that can allow us to find the best solution for you out of the thousands that may exist – and trying to provide a higher-quality service at a lower cost in a more convenient manner.
Alejandro: Chuck, for the folks that are listening, what is the best way for them to reach out and say hi?
Chuck Cohn: Just check out VarsityTutors.com and look through all our different products and services and see how we might be able to help you. There are thousands of different subjects, and there's a variety of modality, so whatever your learning goals are, we should be able to help you.
Alejandro: Amazing. And just one last question and this one is one that I always ask the folks that come on the show, and that is knowing what you know now – Chuck, you've been at it for a while. If you had the opportunity to have a chat with your younger self and be able to give that younger self one piece of business advice before launching a business, what would that be and why?
Chuck Cohn: Very early on, I operated to a great extent on gut and intuition, and I didn't spend enough time listening to customers. If you do that, you can generate a much better sense of where you ultimately want to go and how you can better meet their needs. You can have a north star that you're working towards. In the early days, I don't think I had it. We were iterating and building the business step-by-step, but we didn't have a sense of where we wanted to get to. So I would tell my younger self to figure out where you want to go, find that north star, and then build towards that.
Alejandro: Very profound. Well, Chuck thank you so much for being on the DealMakers show. It has been a pleasure.
Chuck Cohn: Absolutely. Thank you for having me on, Alejandro.
* * *
If you like the show, make sure that you hit that subscribe button. If you can leave a review as well, that would be fantastic. And if you got any value either from this episode or from the show itself, share it with a friend. Perhaps they will also appreciate it. Also, remember, if you need any help whether it is with your fundraising efforts or with selling your business, you can reach me at [email protected].
Podcast: Play in new window | Download
Subscribe: Google Podcasts | Spotify | Stitcher | TuneIn | RSS | More
Facebook Comments