Chaitanya Kalipatnapu is the cofounder if Eruditus which collaborates with top universities to make executive education accessible globally. The company has raised over $160 million from top tier investors including Prosus Ventures, Sequoia Capital, or Bertelsmann.
In this episode you will learn:
Building an education startup

Using failure as the stepping stone to success

How to get in touch with Chaitanya
SUBSCRIBE ON:
For a winning deck, take a look at the pitch deck template created by Silicon Valley legend, Peter Thiel (see it here) that I recently covered. Thiel was the first angel investor in Facebook with a $500K check that turned into more than $1 billion in cash.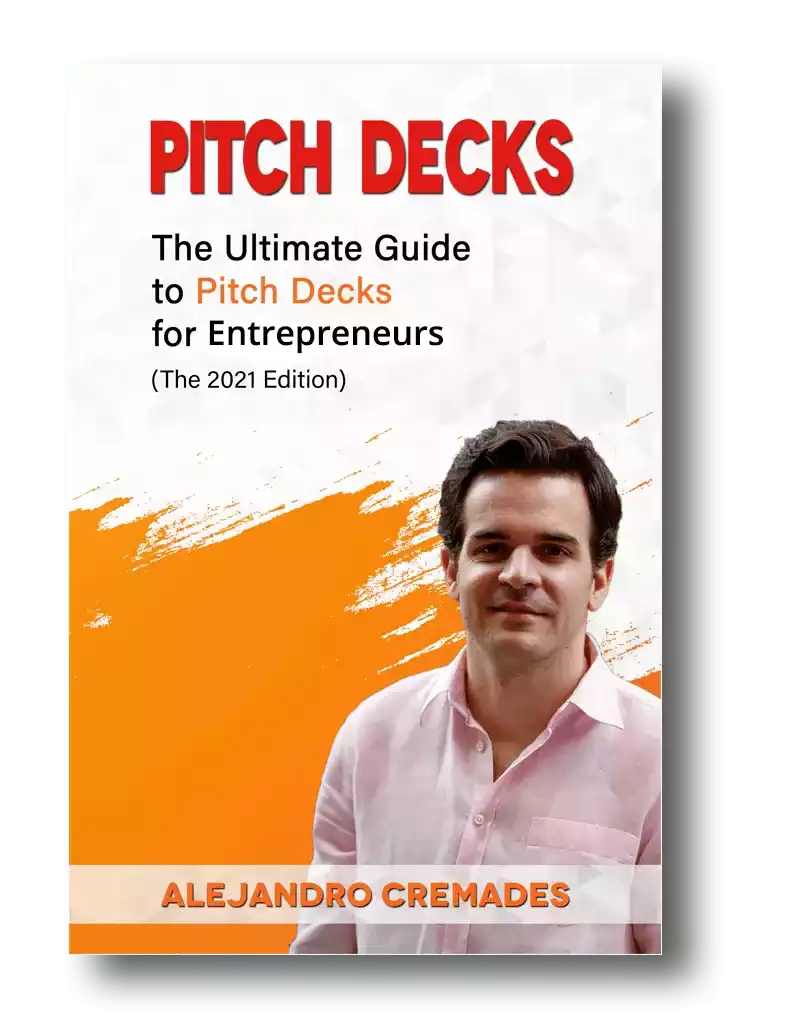 *FREE DOWNLOAD*
The Ultimate Guide To Pitch Decks
Moreover, I also provided a commentary on a pitch deck from an Uber competitor that has raised over $400 million (
see it here
).
Remember to unlock for free the pitch deck template that is being used by founders around the world to raise millions below.
Access The Pitch Deck Template
Your email address is 100% safe from spam!
About Chaitanya Kalipatnapu:
Chaitanya has over 15 years of experience in executive education. He spearheads Eruditus' blended programs' business line and Latin American operations, besides working on university collaborations.
Prior to co-founding Eruditus, Chaitanya Kalipatnapu worked at Sun Microsystems and later at INSEAD for their open enrolment programmes in France and Singapore. He graduated in Information Systems from B.I.T.S, Pilani and holds an MBA degree from INSEAD, and currently serves as the President of INSEAD Alumni Association – India chapter.
Chaitanya Kalipatnapu is passionate about mentoring startups and in taking ideas to action. He enjoys  learning everyday – not just at work but also from his children, sports and movies.
Connect with Chaitanya Kalipatnapu:
* * *
FULL TRANSCRIPTION OF THE INTERVIEW:
Alejandro: Alrighty. Hello everyone, and welcome to the DealMakers show. Today we have a very exciting founder. Definitely, a founder that has been able to build something really meaningful, and in fact, it took him quite a bit of time before he went at it and started to raise money. He thought hard and thoroughly about product/market fit and all of those great things that many of you are dealing with today. So without further ado, let's welcome our guest today, Chaitanya Kalipatnapu. Welcome to the show.
Chaitanya Kalipatnapu: Thanks, Alejandro. I think you did quite a hard effort in terms of pronouncing my first name and last name. It's not easy, even if it takes two pages in the immigration form. So, thanks for saying it out loud and for inviting me. It's a pleasure to be here.
Alejandro: Yeah, you're very welcome. It's lovely to have you. So, Chaitanya, tell us about your upbringing. You were born and raised in the south of India, so how was life growing up there?
Chaitanya Kalipatnapu: Yeah. I was born in the south of India near the coast in Andhra, the region that's called [2:23]. I had a middle-class upbringing, and I know very traditional in the sense that success is always equal to how well you perform in academics. There's a lot of emphasis on sticking with academics, taking exams, etc. and it's very concentrated and less risk-taking or risk hours, I would say. It was my first brush with opening up the outlook that happened, going to undergrad at a university called Birla Institute of Technology and Science, where it was with computer science. That, in fact, opened my eyes in terms of how education can give us an impactful platform for us to open our avenues, as well as open our outlook to do creative things.
Alejandro: In this case, did you feel that social pressure in India for really high schooling and good degrees and perhaps what pushed you into information systems?
Chaitanya Kalipatnapu: Definitely, and until that juncture, and in undergrad, when you're 17 or 18, always you are in that bubble pushing you to perform. I think thanks to the education and the ecosystem that I was exposed to at my undergrad, and later in my MBA, I was able to make some choices, which have defined how others would have expected me to go, and I'm very happy with that.
Alejandro: Tell us about landing the internship at INSEAD because this was a really big breakthrough in your life.
Chaitanya Kalipatnapu: It is true. It's just that in my undergrad university, they have a six-month internship program, and they have some in India, companies in India, and some outside. At that time, working when you're 20, 21, getting to work outside of India is very, very glamourous, and at that time when I was applying, I hadn't heard much of INSEAD nor of a business school. It's only after I landed that I understood the priorities of that institution. As luck would have it, I applied and was selected. Seldom, I don't give enough importance to luck, but it should be given. Getting to INSEAD really opened my eyes in terms of the further impact that higher education could have on a professional's career, and that definitely is a tipping point, as you've mentioned.
Alejandro: So, why did you decide to switch to Sun Microsystems? What happened there?
Chaitanya Kalipatnapu: INSEAD was just a six-month internship, so I had to go and get back to a regular role. That's why I had a campus placement at Sun Microsystems. It gave me a great company, and was doing interesting work on that application service at that time. It was also great to be autonomous and earn your own breaks, so to say. I took it; I was there for a year in Bangalore, which was buzzing at the time in 2002. In the process, I always had a connection at INSEAD. A role came up at the end of 2002, so I had a chance to go back to INSEAD to work on product management of pedagogical truth that they use in executive education.
Alejandro: In this case, like you were saying, you went back to INSEAD. Obviously, there, you were able to be part of seeing from a really big 30,000-foot view the whole educational system for the Master's Degrees and high-quality education. I know that after doing this for a couple of years, you went back to India, and here is where you met your co-founder, and you started to brainstorm a world where education could be more accessible. So tell us about how you found your co-founder and what was that brainstorming process like.
Chaitanya Kalipatnapu: Sure. At INSEAD, not only how it has delivered and be a graduate; it's also on executive education, how the schools, the institutions of that caliber can deliver impact to people who come for its open-enrollment programs. I had a ringside view of seeing that, and it boosted my experience at INSEAD. I also got my MBA there, and it reinforced that this is something that I would love to make a dent or be involved in, in terms of this sphere of executive education, and, more precisely, high-quality executive education that makes an impact. After that, I came to India in terms of trying in with this idea and how we could take this to market. My co-founder and I were introduced by a common friend who was at INSEAD, and we hit it out because we shared the same mission. Both of us were beneficiaries of high-quality education. He went to Harvard Business School; I went to INSEAD. Both of us had to pack our bags, get highly leveraged in the process in terms of taking student loans. We went there. Not everybody might have had the chance or might have had the time to do so. Our intent was, how can we make this kind of high-quality education more accessible and more affordable to people worldwide or to a greater set of people. That's what we were trying to solve, and that's the kind of challenge that we thought we could take a crack at. That's how ERUDITUS was born and ten years.
Alejandro: Let's talk about taking the idea to action because that was probably not an easy process, and I'm sure that it was quite challenging. So how did you guys go about that?
Chaitanya Kalipatnapu: Our initial premise was that we could put together some high-quality content in terms of what executive working professionals would need and assemble some of the best faculties that are out there and contact executive programs. So we had all the ingredients, so to say, for economic classes in terms of having a blog-buster program in terms of enrollments. The first program we did was a failure. So, our stepping stone was a failure. It was never a linear success, so to say. Then, we learned that it didn't have product/market fit because what we realized is, we need a brand to carry this kind of a program, even though we are trying to – in context we're getting the best of everything, be the content or be it the faculty. That's what gave us the chance to refine or pivot our model to say, "If you were to do something in executive education or in educating working professionals, we have to have an association out or collaboration with one of the top academic institutions. We knocked on multiple doors, and it was never an easy part that took on the first partner to come on board. I had a connection with INSEAD because I worked in executive education there. At the same time, they had a strategic initiative in terms of wanting to do something in executive education in India. So I think we had a meeting of the minds, so to say, in terms of opportunity, and that's when our first program was born, which is a general management program for mid-to-senior executives in India.
Alejandro: It's interesting here because talking about these types of partnerships, I know them firsthand, and I had to develop them for one of my previous companies, but dealing with universities, there's a lot of red tape, so how do you guys work around that?
Chaitanya Kalipatnapu: It's not actually red tape because the institutions didn't become institutions of that caliber because either spent the barriers that you, the stereotypes that are existing, or that people think about it. I think in that sense, in our journey, we seldom give enough credit for timing and for luck, and we should definitely do so. We started doing and trying to scale this model at the time when universities are trying to look at markets outside their home built. For example, we went to INSEAD. INSEAD has its presence in Singapore and in France, as well as starting the Middle East Campus. There, the strategic initiative to do something in India. Similarly, Wharton, who was a second partner that is extremely strong in the U.S., and they were trying to expand their footprint in the emerging markets. So the timing was equally important there, so we knocked on the doors at the right moment with these institutions, which were trying to expand their wings much further in terms of increasing their impact, and that has helped us. All the schools that we spoke about, we run programs with these institutions since their inception, so all these programs are successful in their own right. It also depends on the leadership of these schools and who are very forward-thinking, which has helped us secure these partnerships, and at the same time, scale them.
Alejandro: What did achieving product/market fit look like?
Chaitanya Kalipatnapu: I think it's in phases. The first phase for us is about having and developing executive programs for mid-to-senior professionals working with some of the top business schools. This was the first phase of our journey, which happened between 2010 to 2013, '14. That's when the [12:52] evolution was happening with Coursera and edX launching and scaling. Then we consciously took the call of "Let's not go the [13:01] way or a massive online course way. Let's do a converse in terms of for us – the learnings are very important, maintaining the high-quality education is very important. So we came up with a model of small private online courses where you have smaller cohorts. There are more touchpoints: the faculty or the teaching facilitators. At the same time, the pricing is very different. In both these cases, because of the institutions we worked with and the kind of topics that we have worked on based on our market research, that has led to a good product/market fit in terms of scaling these programs or the product.
Alejandro: Just for the people that are listening to really understand the business model inside and out, how do you guys make money here?
Chaitanya Kalipatnapu: You think of us like a platform. On one side, we have our university partners, which we go to them with market research and develop programs. It would be multiple formats: entirely online, partially online, or in-class. On the other side, the sales and marketing in terms of these programs to participants worldwide. Currently, we work with 30 university partners, which are globally renowned, as well as regionally, Latin America, India, or China. On the other side, we cater to working professionals. Over the past decade, we would have accumulatively touched maybe 100,000 participants worldwide, 80 geographies. In terms of how we make money, it is typically with the universities, we have a revenue share, and that's basically how the revenue model works.
Alejandro: In your guy's case, it took you a little bit of time to raise money. We're talking about six years. Typically, the model of the companies that one can think of in the Bay Area, or perhaps in New York, are those that, right away, whenever they have an idea, go out and raise money. In your case, six years. Why did it take so long?
Chaitanya Kalipatnapu: I think it's not that we've been trying to raise money from year one. First and foremost, we bootstrapped it for the first six years. The first way as we would describe it is for us to nail down the business model in terms of work with these schools in an exceptional way in terms of making the programs that could run with them very, very successful. The first phase of our journey inherently has some scale issues in the sense that if you are running a program that has in-class complement, we could only get maybe 50, 55 participants. More than that, it's not possible because of the physical limitations. There's an aspect of the constraint with respect to scale, and it opened up, and we started offering online programs. What we fundamentally believe is in terms of the best form of funding is from the participants of the students of the customers. I think that's what we did in the first phase of our journey. Really, the question anybody or an entrepreneur should ask is, why do we need the money? In the first phase of our journey, how we would develop in partnerships, how we are expanding our portfolio. We didn't need the money to do what we're doing or raise external funding to do what we're doing. It only came into bearing when we expanded the product portfolio to online courses, and by definition, it's a huge advantage of scale online in the sense that if a course that we were doing in class has a 55 online, there is no such limitation. Second, in terms of the openness of the university to develop more online courses meant that we needed capital in order to expand our team, our second to reach scale, as well as to work with the universities in terms of developing these programs. That's when, in 2015 and '16, we have reached out. We had our first institutional raise with Bertelsmann. They helped us open up. At that time, we were an emerging marketplace. Bertelsmann coming in with their longer-term view, and with the introductions to the ecosystem, they helped us think about Latin America, China, and global markets, and that has helped us in terms of spreading our wings or global scale.
Alejandro: To date, how much capital have you guys raised?
Chaitanya Kalipatnapu: We were lucky to count Bertelsmann, and then we had Sequoia. Most recently, we raised funds from Chan Zuckerberg and Leeds Equity [18:06]. We raised over 160 million. We're quite proud to say that we're one of the most capital-efficient company sectors that is operating.
Must Read: Ramu Sunkara On Selling His First Business For $150 Million And Now Taking On Google, Apple Or Amazon
Alejandro: In this case, why would you say that you're more interested on impact versus value?
Chaitanya Kalipatnapu: For us, it actually goes back to the fundamental mission that we have, which is, there's always this game of valuation or what value can you command in the market for funding. But for us, what's more important is that how can we – it just ties back to the mission of how can we make this platform. At Eruditus, we have the platform Ameritas platform for high-quality education that's accessible and affordable. For us, even as we interfaced to the online program offerings, the question we had or the self-doubt that we had is, at this scale, can we create the learning outcomes? Can we achieve the learning outcomes that the participants would want from this kind of university partnerships that we have or the kinds of expectations they have in terms of taking courses from this university? That's fundamentally important. To that effect, in terms of how the courses are designed and how the engagement of the participants happens on our platform, and this is core to the design of our programs. Can the participants meet the learning outcomes that they expect to achieve at the start of the program? Through that comes impact, so that's fundamentally important to us. Once we have that, having the revenues of the valuation [19:59].
Alejandro: It's interesting. You guys have raised quite a bit, over 160 million, and from really top-tier investors. Obviously, those top-tier investors ultimately are reporting to their own limited partners, which are the investors in their own funds, and they are seeking returns. So how would you – for example, what's the process of enrolling an investor around this so that they also get the impact versus value?
Chaitanya Kalipatnapu: In fact, all the investors that we have, have a longer-term view that's important for us. It's not to say that the first investor we knocked on doors some, and they opened and laid out their red carpet and welcomed us with a term sheet and funds. It's a two-way street in the sense that we did have a lot of rejections in terms of the fundraise process when we intended to go out first in 2015, '16, and we have zeroed in, and the process was vice versa is that the partners that we have, they have a longer view. The second is they fundamentally believe in the impact that through our vehicle, they could create in the professional education market like they're able to do, and not rest in one geography or one region, but globally. Also, count on some of the marquee universities that we partner with. At the end of six years, 10 million in revenue, and the next four years, we scaled it to make sure that the last year we closed, it was 100 million. So that's a great growth. Obviously, our investors are quite happy. If you look at the realm of professional education that's out there and what we could do in terms of positive impact here, it's still a very small dent. So, there's a lot of headroom for us to grow and to make further impact, and that's what our investors are also excited about the journey ahead.
Alejandro: Around education, there's a lot happening. You have now the COVID factor and how it has shifted things and influenced where things are going to go. Where do you think that education as a whole is headed?
Chaitanya Kalipatnapu: It's a good question, Alejandro. The COVID has accelerated a lot of change in terms of education, across K-12, undergrad, higher education, etc. What we believe is, 1) online is not a fad; it's here to stay in terms of people getting to learn or getting educated online. What we're also already seeing is in terms of not just for using online as a medium for upscaling or rescaling, but even for longer durations, a degree program, credential-granting programs. It's becoming a huge medium. A lot of universities – if you look at some of the biggest ones, as well, are embracing online. Be it in terms of launching online degrees or boot camps or professional courses or certificate programs. Looking ahead, what we see is that if you look at it, education is one of the least disrupted, in the positive sense of the word, sector, amongst all sectors, with technology, in the sense how it was started centuries ago. It's the same way how a professor teaches within the confines in four walls in a classroom for maybe a decade ago. That's fundamentally changing in terms of how people are taught. The second thing that's changing is that in terms of stackability. It's not to say that a lot of models that are out there, it's not that four years for an undergrad or two years of the post-grad. You need to spend it in one go, but you can accumulate your credits as you go, as you work, and as the skillsets change. That's another center mediation that's happening in the higher education sector. And all preferred by technology and online. In fact, COVID is accelerating the process. 
Alejandro: That's really amazing. In your case, for the people who are listening to get an idea of the size, anything that you can share in terms of the employee number or anything else?
Chaitanya Kalipatnapu: We are quite a global company. We do have, from time zones, ranging from Shanghai or Singapore to Palo Alto on the West Coast. We have 638 team members, we call it. We prefer team members to employees. We do have a presence on the West Coast, where our technology team is based. We have a presence on the East Coast at Boston, where we have our central excellence in learning design, as well as where the university partnership team is based. In Latin America, we have a 60+ member operation, looking at the Latin American market. We also have presence in France, a presence in the UK, an office in Tabai, India, Singapore, and Shanghai. It's quite a global operation. What unites us and the thread that runs through is our common passion in terms of making these offers and being ready through this mission that I was talking about.
Alejandro: So, talking about the mission and also the vision, especially the vision, imagine, Chaitanya, that you go to sleep tonight, and you wake up five years later. Imagine; you haven't slept like this in your whole life, and you wake up in a world where the vision of the business is fully realized. What does that world look like?
Chaitanya Kalipatnapu: We talked about that in the company to make our impact 10x. What I mean to say is that if over the last decade, we are able to create a dent, say, with 100,000 participants or students around the world, can we make that impact 10x in the medium terms. That's what we aspire for; that's what we challenge ourselves with. What that means is, can we impact the one million participants in terms of them taking programs through our platform in the short-to-medium term?
Alejandro: Very cool. One of the questions that I typically ask the guests that come on the show is if you could go back in time, and you could go back in time, let's say 12 years where you were thinking about what would be next. You actually went to India, and you met your co-founder, but right before that, if you had the opportunity to go back in time and give yourself one piece of advice before launching a company, what would that be and why given what you know now? 
Chaitanya Kalipatnapu: It's a very [27:27] question, Alejandro, but maybe the irony of this or the catch 22 of this is that if I had given that advice, maybe the chain of events wouldn't have happened, wherein I wouldn't be talking to you today, or the milestones that the company had would never have happened. Nevertheless, if I were to tell my younger self, it's something one of our investors has told us, which resonates a lot with me is the question whenever one is in self-doubt, which happens a lot to entrepreneurs or you're at some crossroads, the question is to ask: what would you do if you couldn't fail? I think that's one big takeaway for me. That is to think about that we always run with biases. We always, at least, have some risk-averse measures that we try to do, mostly in terms of making decisions. So this question I have it in the back of my mind in terms of demystifying that and to help think with more clarity and not getting biased.
Alejandro: I love it. So for the folks that are listening, Chaitanya, what is the best way for them to reach out and say hi?
Chaitanya Kalipatnapu: The easiest is to our website, eruditus.com or America's .org – or through LinkedIn. I'm happy to hear a hi and for those of you who have listened or endured this long in this podcast, thank you for doing so and for your time.
Alejandro: Amazing. Chaitanya, thank you so much for being on the DealMakers show today.
Chaitanya Kalipatnapu: A pleasure, Alejandro. Thank you for having me, and I wish you the very best.
* * *
If you like the show, make sure that you hit that subscribe button. If you can leave a review as well, that would be fantastic. And if you got any value either from this episode or from the show itself, share it with a friend. Perhaps they will also appreciate it. Also, remember, if you need any help, whether it is with your fundraising efforts or with selling your business, you can reach me at [email protected].
Podcast: Play in new window | Download
Subscribe: Google Podcasts | Spotify | Stitcher | TuneIn | RSS | More
Facebook Comments